FARSNEWS2018/10/9
Toll in Indonesia Earthquake, Tsunami Tops 2,000 with Thousands Still Missing
TEHRAN (FNA)- Teams in the earthquake and tsunami-devastated city of Palu, Indonesia, dug through rubble and mud looking for bodies Monday as the death toll rose to 2,002 with thousands more unaccounted for.
FARSNEWS2018/10/6
Indonesia: Death Toll Rises to 1,571 In One Week
FARSNEWS2018/10/4
Indonesia Earthquake, Tsunami: Death Toll Rises to over 1,420, +110 Still Missing
RT2018/9/30
Death toll from devastating quake & tsunami in Indonesia hits 832
RT2018/9/29
At least 48 people killed after quake & devastating tsunami ravage Indonesian island
Scores of people have been killed in Indonesia's Sulawesi island, struck by a 7.7-magnitude quake, which triggered a tsunami that swept through two coastal towns. Dozens of houses have been flattened, burying victims under rubble.
Harrowing images have come from Indonesia, showing the scale of destruction that the Sulawesi quake inflicted on the towns of Palu and Donggala, located close to the epicenter of the quake that wrought havoc on the island on Friday afternoon.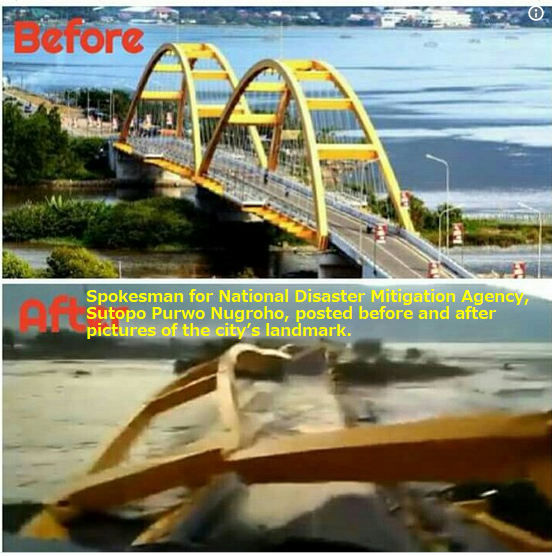 RT
Indonesia's geophysics agency confirmed Friday's Sulawesi earthquake triggered a tsunami, AP reports. The statement comes after a video emerged online of a huge tsunami hitting a town in the region.