ISISに属したテロリストは1日の日当が100米ドルとも言われていました。支度金が支給される例もあったようです。
ISISの内部では若者を戦闘に駆り出す宗教的な洗脳も興奮剤の薬漬けも行われています。
ですが、基本は傭兵です。彼らは食べるため、稼ぐためにテロリストになったのです。
ですから、テロリストがクルド系のSDFに加わったり、トルコ傘下のSFAに移ったりして何も不思議はありません。世帯持ちのテロリストは家族丸ごと引き連れて移動しています。
注目すべきは、そういうテロリストの賃金や糧食の費用をだれが負担しているかです。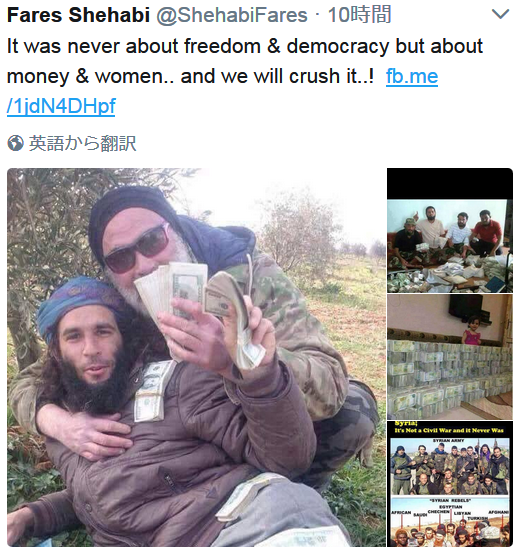 1日100ドル1万人なら100万ドル、1億円です。5千人で5千万円。こんなカネを誰が出しているのでしょう。
テロリストは、米国やサウジ、湾岸諸国などが拠出したカネで養われています。その基本的な事実から目をそらしてはなりません。
トルコ傘下のFSAに入ったテロリストはトルコが、クルドのSDFに入ったテロリストはクルドが費用を負担しているのです。
FARSNEWS2018/2/18
Kurdish Media Reveals Secret Cooperation between ISIL Terrorists, Turkish Army in Northern Syria
TEHRAN (FNA)- A Kurdish media outlet disclosed on Sunday that one of the notorious commanders of ISIL terrorist group has assisted the Turkish army's Operation Olive Branch against the Kurds in Afrin region in Northwestern Aleppo.
Hawar news reported that Seif Bulad Abu Bakr, a former commander of ISIL in al-Bab region, is now one of the commanders of Ankara-backed militants against the Kurds in Afrin.
It went on to say that Bulad Abu Bakr was Emir of ISIL in al-Bab region in Aleppo province before the Army and the Ankara-backed militants could take control over the region, adding that Abu Bakr in now the commander of Ferqa al-Hamzah affiliated to the Turkey-led Euphrates Shield that has participated in Afrin operation.
Hawar news quoted well-informed sources as disclosing on Friday that the Turkish government agreed to transfer the ISIL groups, deployed in Idlib, to the Turkish territory and later forward them to Jandariseh region in Northwestern Aleppo.
Local sources in Jandariseh reported movement of black-wearing militants with ISIL flag.
The militant-affiliated sources had previously reported that hundreds of ISIL gunmen have joined other terrorist groups in Idlib.
注:名前が少し違いますが、上の画像にあるテロリストです。
TEHRAN (FNA)- Saudi Crown Prince Mohammed bin Salman is anxious about his failures in Iraq, Syria, Yemen and other regional states, whistle-blower Mujtahid, who is believed to be a member of or have a well-connected source in the royal family, revealed, adding that bin Salman pays millions of dollars to the western media to improve his image.
"In private meetings, Bin Salman doesn't want to admit failure of his foreign policies but always complains that his affairs don't progress well in Qatar, Yemen, Kuwait, Iraq, Syria, Egypt and Turkey as he desires, and he is angry that the western newspapers mock his views," Mujtahid wrote on his twitter page.
He added that the Saudi crown prince praises his foreign policy and then complains that the pressures on Qatar have backfired and Riyadh's attempts against Iraq, Syria and Lebanon didn't yield desired results.