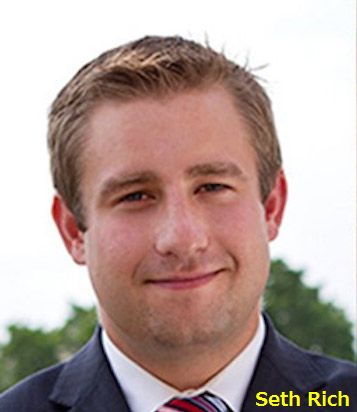 RT2017/5/16
Murdered DNC staffer Seth Rich was in contact with WikiLeaks – reports
Seth Rich, a Democratic National Committee staffer who was murdered last year, was in contact with WikiLeaks, multiple sources have claimed. Rich's family have branded the claims as "unsubstantiated," however.
Rich was shot on July 10, 2016, in Washington D.C. in what was reported to be a robbery. However, the DNC staffer's wallet, phone, keys, watch and a $2,000 necklace weren't taken. Rich remained conscious during the attack but died in the hospital two hours later.
An anonymous federal investigator told Fox News he reviewed an FBI forensic report which showed that Rich had been in contact with WikiLeaks director and investigative journalist Gavin MacFadyen.
"I have seen and read the emails between Seth Rich and WikiLeaks," the investigator said, adding the emails are in the FBI's possession.
The investigator said 44,053 emails and 17,761 attachments from January 2015 to May 2016 were sent from Rich to MacFadyen before May 21. These figures are the exact same ones as those published on WikiLeaks' DNC email database. MacFadyen died of lung cancer in October 2016. WikiLeaks published more than 19,000 emails from the DNC emails on July 22, leaking the rest later.
Rod Wheeler, a private investigator and Fox News contributor, was hired by a "third party" to look into the case.
"My investigation up to this point shows there was some degree of email exchange between Seth Rich and WikiLeaks," Wheeler told Fox News. "I do believe that the answers to who murdered Seth Rich sit on his computer on a shelf at the DC police or FBI headquarters."
Speaking to NBC News, however, an unnamed FBI agent denied the agency had ever received Rich's laptop, while a former law enforcement official with "first-hand knowledge of Rich's laptop" told the outlet that the laptop "never contained any e-mails related to WikiLeaks, and the FBI never had it."
Brad Bauman, a spokesperson for Rich's family and a PR professional experienced in crisis management, responded to the report, saying that Wheeler was not authorized to speak for the family and that the WikiLeaks email claim was "unsubstantiated."
"We are a family who is committed to facts, not fake evidence that surfaces every few months to fill the void and distract law enforcement and the general public from finding Seth's murderers," the family said in a statement.
"The services of the private investigator who spoke to the press were offered to the Rich family and paid for by a third party, and contractually [he] was barred from speaking to the press or anyone outside of law enforcement or the family unless explicitly authorized by the family."
"My investigation shows someone within the D.C. government, the Democratic National Committee or the Clinton team is blocking the murder investigation from going forward," Wheeler said. "That is unfortunate. Seth Rich's murder is unsolved as a result of that."
WikiLeaks founder Julian Assange has not said Rich was its source. WikiLeaks, meanwhile, offered a $20,000 reward for information leading to the conviction of Rich's murderer.
"Whistleblowers go to significant efforts to get us material and often [face] very significant risks," Assange told Dutch television in 2016. "There's a 27-year-old who works for the DNC who was shot in the back, murdered, just a few weeks ago for unknown reasons, as he was walking down the streets in Washington."
WikiLeaks later clarified that Assange's words "should not be taken to imply that Seth Rich was a source for WikiLeaks or to imply that his murder is connected to our publications."
While it's understood Washington's Metropolitan Police Department has no suspects at present, it previously said there was "no indication that Seth Rich's death is connected to his employment at the DNC." They have also offered a $25,000 reward, and urged people to come forward with any information.
A GoFundMe page was started by Rich's brother, Aaron, on March 19 to raise money to investigate his murder. The page has raised $19,000 of its $200,000 goal.
"These funds will allow my family to investigate, and help solve Seth's murder," Aaron Rich explained. "We know somewhere, someone has the information on who murdered Seth. We intend to use these funds to hire professional help that can discover new facts and information, cooperating with the police and solving this in the fastest way possible."