Kiev being pressed into concessions to Moscow – Zelensky
People worldwide are growing "war-weary" and pressure on the country is mounting, Ukrainian president has claimed
War-weariness over the ongoing conflict between Moscow and Kiev is growing worldwide, Ukrainian President Volodymyr Zelensky admitted on Monday. Therefore, "people want some kind of result for themselves" and the pressure on the country to reach any kind of peaceful resolution to the hostilities is growing, he claimed.
"Of course, everyone wants to push us a little towards some kind of result, definitely unfavorable to us, because they don't ask us yet, but it's beneficial for certain parties that have their own interests, both financial, and political ones," Zelensky told reporters.
He did not elaborate on exactly which parties have been putting pressure on Ukraine to reach a peace deal with Moscow. The president himself, as well as other top Ukrainian officials, have repeatedly ruled out any possibility of territorial concessions to Russia, vowing to reclaim all of the country's territory.
彼は、どの当事者がモスクワとの和平協定に達するようにウクライナに圧力をかけているのかについて正確に詳しく述べなかった。 大統領自身と他のウクライナの高官は、ロシアへの領土譲歩の可能性を繰り返し否定し、国のすべての領土を取り戻すことを誓いました。
US accuses Russia of profiteering – NYT
American diplomats have claimed Russia is seeking buyers for plundered Ukrainian grain, according to the NYT
The United States has accused the Kremlin of trying to profit from plundered Ukrainian grain by selling it to drought-stricken countries in Africa, the New York Times reported on Sunday.
According to the newspaper, in mid-May, the US warned 14 countries, mostly in Africa, that Russian cargo vessels were leaving ports near Ukraine laden with what a State Department cable described as "stolen Ukrainian grain."
Moscow explains stance on peacekeepers in Ukraine
A peacekeeping mission by the Russia-led CSTO bloc could be possible once the hostilities are over, a top Russian MP has said
A peacekeeping mission of the Collective Security Treaty Organization (CSTO) could eventually be deployed in the "liberated" regions of Ukraine, the head of Russia's State Duma Defense Committee Andrey Kartapolov said Monday.
"It cannot be ruled out that peacekeepers from the CSTO countries will be needed in the liberated territories of Ukraine, as well as the Donetsk and Lugansk People's Republics," Kartapolov told reporters.
The CSTO is a Moscow-led regional security organization, which brings together six post-Soviet countries: Armenia, Belarus, Kazakhstan, Kyrgyzstan, Russia, and Tajikistan. Earlier this year, the bloc's peacekeepers were briefly deployed in Kazakhstan after the country's authorities requested assistance from the CSTO amid a wave of violent unrest.
Moscow is "unlikely to agree that some NATO countries would try to creep in there under the guise of peacekeeping," the official stressed. Still, it's too early to talk about a peacekeeping mission while the hostilities between Moscow and Kiev are ongoing, but "different variants may be possible at the post-conflict stage," Kartapolov continued.
Biden declares US energy emergency
The nation's ability to provide sufficient electricity is under threat, partly because of Russia-Ukraine conflict, president says
US President Joe Biden has blamed Russia for another crisis, saying his country might not be able to generate enough electricity to meet consumer demand. He partially blamed the ongoing conflict in Ukraine.
Bidendeclared an energy emergency on Monday, saying national security and quality of life are jeopardized by potential shortfalls in power supplies. He invoked the Defense Production Act – originally part of an industrial mobilization effort in response to the Korean War – to spur domestic production of solar panels and other forms of "clean" energy to boost power supplies.
"Multiple factors are threatening the ability of the United States to provide sufficient electricity generation to serve expected customer demand," Biden said in his emergency declaration. "These factors include disruptions of energy markets caused by Russia's invasion of Ukraine and extreme weather events exacerbated by climate change."
This illusionist managed to lure European capitals with him, which are now ready to commit economic and geopolitical suicide in order to please him.

Look at his facial expressions, how can you trust a person through whose nostrils all the Colombian traffic passed)
2/2

— DONBASS Z (@TrumpFix) June 6, 2022
「鼻孔をコロンビアの貿易物が通った」というのは、コカイン常習者は鼻がむずがゆくなったり鼻水が出たりすることを指します。
Ukrainian 'barrier troops' blow up bridge to prevent retreat – Russian MoD
Despite the blockage, some 80 Ukrainian soldiers trapped in the town of Svyatogorsk managed to escape Russian troops by swimming
Ukrainian military is using barrier troops, a discipline-keeping unit comprising hardcore nationalists, to prevent other units from retreating, Russian military claims.
On Monday, Ukrainian barrier troops blew up a road bridge in the town of Svaytogorsk in the northern part of the Donetsk People's Republic (DPR), Defense Ministry spokesman Major General Igor Konashenkov said during a media briefing. The move left Ukrainian military units, namely "remnants of the battalions of the 95th Airborne Assault Brigade and the 81st Separate Airborne Brigade" trapped in the town.
月曜日、ウクライナのバリア部隊がドネツク人民共和国(DPR)北部のスヴァイトゴルスクの町で道路橋を爆破したと、国防省報道官のイゴール・コナシェンコフ少将がメディアブリーフィングで述べた。この動きにより、ウクライナ軍の部隊、すなわち「第95空挺突撃旅団と第81空挺分離旅団の大隊の残党」が町に閉じ込められることになった。
"Cut off from the main forces and supply lines due to the destruction of the bridge, [the troops] abandoned military equipment and their weaponry and scattered along the bank" of the Seversky Donets river, Konashenkov said.
「橋の破壊により主力部隊と補給線から切り離された部隊は、軍備と武器を放棄し、セヴェルスキー・ドネツ川の土手に散らばった」とコナシェンコフ氏は述べた。
Up to 80 Ukrainian servicemen crossed the river by swimming. Russian soldiers have knowingly not opened fire on them.
最大80人のウクライナ軍兵士が泳いで川を渡った。ロシア兵は故意に彼らに発砲していない。
Konashenkov commended the retreat of the Ukrainian soldiers, stating it was the right thing to do and save their lives instead of "defending the useless Kiev regime."
コナシェンコフは、ウクライナ兵の撤退を称賛し、「役に立たないキエフ政権を守る」のではなく、「命を守る」ための正しい行動であったと述べました。
"We call on all military personnel and members of the territorial defense units of Ukraine to follow this example and stop thoughtless resistance in order to save their lives," the official added.
また、「ウクライナの全ての軍人と領土防衛部隊の隊員に対し、この例に倣い、命を守るために軽率な抵抗をやめるよう呼びかける」とも付け加えた。
Ukraine has, so far, not offered any comment on the developments in Svyatogorsk as claimed by the Russian military.
スヴァイトゴルスクは、スランビャンスク、リマン、イジュームに囲まれた中央辺りにあります。ドネツ川は川幅50m以上。川岸は切り立っているように見えます。兵士は裸になって崖の上から飛び込んだのでしょう。これも命がけです。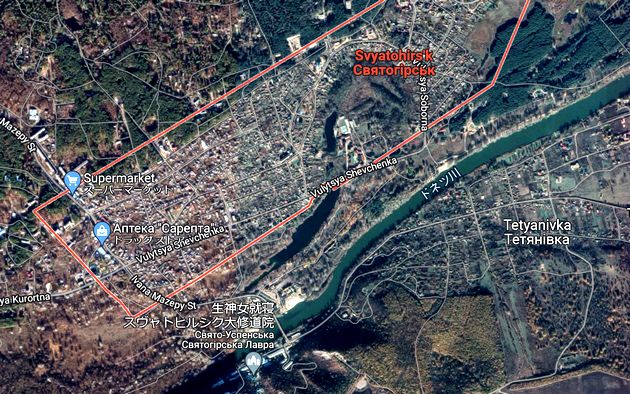 裸で泳いで逃げる兵士には発砲しない、これが今のロシア軍です。
でもおぼれた方もいたようです。降伏すればよかったんですよね。
️ 解放されたスビャトゴルスク・ラブラの最初の映像。 ロシア軍はスラビャンスクで攻撃を続けています https://t.co/be3xgDlDQg

— mko  (@trappedsoldier) June 7, 2022
Part of the panicked military fled by swimming before the complete defeat, there is information about the drowned.
3/3

— DONBASS Z (@TrumpFix) June 7, 2022
Ukrainian victory not in the cards – former top US official
The US and its allies should persuade Ukraine to negotiate with Russia, Hugh De Santis says
Ukraine won't be able to win against Russia, and the US must persuade Kiev to negotiate with Moscow to end the conflict, Hugh De Santis, who oversaw NATO and arms control policy planning in the Reagan administration, has insisted.
Defeating the Russian forces on the battlefield and restoring Ukraine's territorial integrity, including taking back Crimea, "would be condign punishment for Russia's unprovoked invasion," De Santis wrote in his opinion piece for The National Interest magazine on Saturday.
"But would it be worth the cost of more carnage in Ukraine, the possibility of a wider war in which chemical or tactical nuclear weapons might be used, further disruption of the world economy, and renewed European polarization?" he asked.
According to the former State Department official, the answer to that question is negative.
"A Ukrainian military victory is not in the cards, and a negotiated outcome is the only realistic goal," he insisted.
Because of this, "the US and its allies must persuade Kiev to bring this war to an end, including by imposing limits on further military aid as leverage," De Santis suggested.
Washington has been actively backing Kiev during the conflict, supplying it with weapons, funds and intelligence. In May, US President Joe Biden approved a $40 billion aid package for Ukraine.
President Volodymyr Zelensky and "his advocates in Eastern Europe and the Baltic states" should come to terms with the fact that Ukraine will become a neutral state and that it would have to hand over the Donbass and Crimea to Russia for the peace talks to be successful, he pointed out.
Current high-ranking US and EU officials have also recently identified negotiations as the preferred outcome of the conflict as Russian forces continue their steady advance in the Donbass.
Last week, the chairman of the US Joint Chiefs of Staff, General Mark Milley, said that "a negotiated outcome is a logical choice, but both sides have to come to that conclusion on their own."
米国と同盟国はウクライナにロシアと交渉するよう説得すべきだ、とHugh De Santisは言う。
レーガン政権でNATOと軍備管理の政策立案を担当したヒュー・デ・サンティス氏は、ウクライナはロシアに勝てないだろうから、米国はキエフを説得して紛争を終わらせるためにモスクワと交渉しなければならない、と主張した。
戦場でロシア軍を倒し、クリミアの奪還を含むウクライナの領土保全を回復することは、「ロシアのいわれのない侵略に対する容赦ない罰となるだろう」と、デサンティス氏は土曜日のThe National Interest誌に寄稿している。
「しかし、ウクライナでさらなる殺戮が行われ、化学兵器や戦術核兵器が使用されるような戦争が拡大する可能性があり、世界経済がさらに混乱し、ヨーロッパの二極化が再び進むという代償に見合うだろうか」と彼は問いかけている。
元国務省高官によれば、この問いに対する答えは否定的である。
「ウクライナの軍事的勝利はあり得ず、交渉による解決が唯一の現実的な目標である」と主張した。
このため、「米国とその同盟国は、テコとしてさらなる軍事援助の制限を課すなどして、キエフにこの戦争を終わらせるよう説得しなければならない」とデ・サンティス氏は提案した。
アメリカはこの紛争でキエフを積極的に支援し、武器や資金、情報を供給してきた。5月、ジョー・バイデン米大統領はウクライナに400億ドルの支援策を承認した。
ヴォロディミル・ゼレンスキー大統領と「東欧やバルト諸国の支持者」は、ウクライナが中立国になること、和平交渉が成功するためにはドンバスとクリミアをロシアに明け渡す必要があるという事実を受け入れるべきだと指摘した。
ロシア軍がドンバスで着実な前進を続ける中、現在の米国とEUの高官も最近、交渉が望ましい結果であることを確認した。
先週、米統合参謀本部議長のマーク・ミルリー将軍は、"交渉による結果は論理的な選択だが、双方は自分たちでその結論に至らなければならない "と述べている。
➊ハンガリーに避難したウクライナ難民がハンガリー政府に暴動に近い抗議デモを仕掛けている
➋ハンガリー政府はウク難民の支援打ち切り
➌ゼレンスキーが怒り狂い、
 ハンガリーに宣戦布告し、
 リトア、フィン、スエ、デンマも参戦可能性
 戦争経費はバイデンとイスラエルが供出? https://t.co/1DxZdygNL5

— 知足隠遁 (@SukiyakiSong) June 7, 2022