コロナ再感染の事例で、初回と2回目の間隔の最短記録が更新されていた。10日の間隔をあけて感染。ウイルスの遺伝子も調べられている。Detailsのリンクから、詳細が記された論文が見られる。https://t.co/d00dyahkS7 pic.twitter.com/ahrUZi0kEY

— Junichi YANANOSE (@pluredro) December 6, 2020
Eric Feigl-Ding@DrEricDing氏の2020/12/3のツイート
警告
RE-INFECTION CAN HAPPEN TO ANYONE: 26-year old world class cyclist
自転車に乗る女性
Gaviria caught #COVID19 in Feb−hospitalized for 2 weeks. Prevailing wisdom suggested he'd at least be immune for foreseeable future. He was wrong. Reinfected 8 months later. Worrisome.
https://wsj.com/articles/the-p
ガビリアは2月に#COVID19に感染し、2週間入院しました。一般に知られる知恵は、彼が少なくとも予見可能な将来に免疫があることを示唆しました。 彼は間違っていた。 8ヶ月後に再感染。
2) "We don't know how long [immunity] lasts... I wouldn't be surprised that the COVID immunity also doesn't last very long when acquired from natural infections" says @VirusesImmunity.
3) That said, others point out that vaccines might offer better stronger immunity than natural infection.
4) As @michaelmina_lab explains, vaccine is more targeted to the #SARSCoV2 receptor while natural infection has a more "choose your own adventure" what parts of virus one develops antibodies to. Targeted likely better.
5) The analogy @michaelmina_lab explains is that natural infection can develop non-useful antibody recognition like to a less useful "pinky toe" part. While the vaccine is targeted to the spike protein that is critical in virus latching and entering human cells.
6) the best REINFECTION TRACKER online is run by @BNODesk. They've tracked 26 officially confirmed cases so far (27 once they add cyclist above), with genomic comparisons of virus strains. Also 1167 suspected reinfections too. Notice the age ranges.
https://bnonews.com/index.php/2020
7) did the pro cyclist Fernando Gaviria recover fully from his Feb 2020 hospitalization? Oh yes. After his first bout, he won more
自転車に乗る男性 races this year − Giro della Toscana, a stage of Vuelta a Burgos and a stage of Tour du Limousin. So yeah, he recovered.
https://procyclingstats.com/rider/fernando
8) Many originally didn't believe that vaccines could be superior to natural infection immunity. But now it seems true. Another reason to go for vaccine rather than natural plow thru infection.
多くの人は当初、ワクチンが自然感染免疫よりも優れているとは信じていませんでした。 しかし、今ではそれは本当のようです。感染による自然な免疫獲得ではなく、ワクチンを選ぶもう1つの理由。
9) there is something with vaccines we need to prep people for: the initial reactogenicity of fatigue that naturally happens. It's a sign it's working but it could scare people at first.
ワクチンに関して私たちが人々に心の準備をさせることがあります:自然に起こる疲労の最初の反応原性。 それはワクチンが機能している兆候ですが、最初は人々を怖がらせる可能性があります。
※ Dr. Safa Mote@SafaMote氏の2020/11/22のツイート
It worries me that this reinfection happened in an immuno-COMPETENT 21 yr old patient within 26 days from her initial infection.
The probability of a mutation that could evade the innate or vaccine immunity increases with the number of hosts (cases).
We must contain the virus.
※ Eric Feigl-Ding@DrEricDing氏の2020/11/22のツイート
画鋲
Reinfection worry re-emerging−another documented reinfection case - this time of a 21 year old women in South Korea. There are now officially 26 confirmed reinfections and 1 death, and 572 suspected reinfections of #COVID19. Infection is rare but not blue moon rate it seems.
yumi ゆみ@ygjumi氏の2020/11/22のツイート
【#COVID19 再感染】
最初の感染からわずか26日後の #SARSCoV2 再感染:
軽症の #COVIDの患者 臨床的に回復、陰性の結果、帰宅。
退院6日後、患者は再び症状を報告。
ウイルスの遺伝子配列決定により、異なる株による再感染が確認
※ Dr. Safa Mote@SafaMote氏の2020/10/15のツイート
Yesterday, @nytimes published an article titled "Coronavirus Reinfections Are Real but Very, Very Rare."
I wish this statement were true. But it is not only inaccurate, it may lead to dangerous outcomes.
I will explain why in the thread below.
https://nytimes.com/2020/10/13/health/coronavirus-reinfection.html
※ Dr. Safa Mote@SafaMote氏の2020/10/15のツイート
1. For a case to be officially reported as reinfection, the current standard requires obtaining distinct genomic sequences of the virus for the first and second infections.
But genomic sequencing is expensive and therefore is not usually conducted for viral samples. 1/
2. The percentage of people who have been confirmed as infected is still very low, e.g., about 8M/330M = 2.4% in the US.
Assuming independence of the two instances of infection, the probability that someone in the US has been infected twice is 0.024 × 0.024 = 0.00058.  2/
3. Many patients did not even get a PCR test during the initial wave. So, we have missed many cases between January 2020 and May 2020. 3/
4. If the infecting viral load is not too high, many reinfections tend to be milder since the acquired immune response from a first infection seems to last for a few months.
So, many reinfections are either not detected b/c asymptomatic, or not reported & tested b/c mild. 4/
5. Finally, this virus has been with us for only ~ 10 months. Since there is some degree of innate immunity (due to infection) which may last for a few months, not enough time has passed to allow for many reinfections. 5/
6. There have been many anecdotal reports of reinfection in the news and on social media.
@BNODesk tracks officially reported cases of reinfection. Only some of them have already been published in peer-reviewed publications.
https://bnonews.com/index.php/2020/08/covid-19-reinfection-tracker/
  6/
7. Why do I believe stating "reinfections are very very rare" without definitive proof is dangerous?
A. It is against the Precautionary Principle.
https://twitter.com/SafaMote/status/1300131603260334081?s=20
 7/
B. It can encourage risky behavior by recovered patients, which might lead to their reinfection.
For example, they might decide not to wear a mask or have close contacts with other infected people, because they believe they cannot be reinfected.  8/
9. Even patients who have recovered from a prior infection might become severely sick or die if exposed to a large viral load. 9/
C. Reinfected patients can infect other susceptible people and fuel the chain of transmission even further. 10/
D. The outcome of COVID is not just death vs recovery.
COVID may lead to permanent damage in major body organs such as heart, brain, lungs, kidneys.
Also, many patients are suffering from Long Covid.
(Article by @edyong209)
https://theatlantic.com/health/archive/2020/08/long-haulers-covid-19-recognition-support-groups-symptoms/615382/
  11/
As immunologists such as @VirusesImmunity & @RMedzhitov
have explained, I will remain optimistic for a vaccine, since vaccine immunity and innate immunity (i.e., due to infection) can be different.
https://nytimes.com/2020/07/31/opinion/coronavirus-antibodies-immunity.html
 12/
But until a safe, effective vaccine becomes available, I strongly recommend wearing a FACE MASK and following Japan's 3 C's rule.
13/end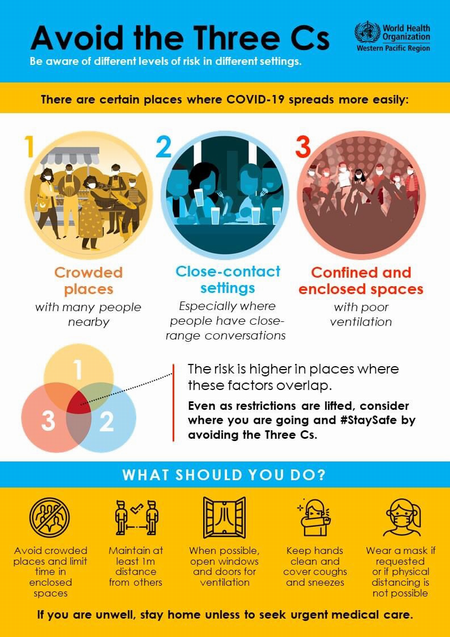 Dr. Safa Mote@SafaMote氏の2020/10/15のツイート
返信先: @fbear2014さん
Great question. As immunologists such as @VirusesImmunity & @RMedzhitov have explained, innate immunity acquired through infection is not necessarily the same as the immunity induced by a vaccine.