欧州の感染者増大がすさまじくなっています。最近時点の欧州の日次新規感染者数が北米あるいは南米のそれを上回りました。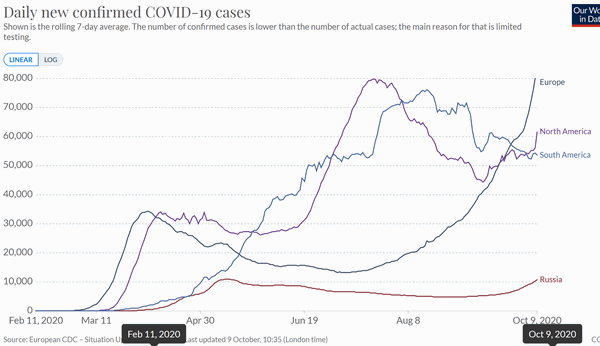 米国の新規感染者数は一時落ちましたが、また増加してきています。すでに21万人の死亡者が出ており、「虐殺」だとする声も出ています。英国の新規感染者のグラフはまさに棒上げとなっています。イスラエルは感染者急増に驚き規制措置を導入して反対運動が起きていますが、少し減りました。ロシアも新規感染者が過去最高を更新。イランも緩やかですが増え続けています。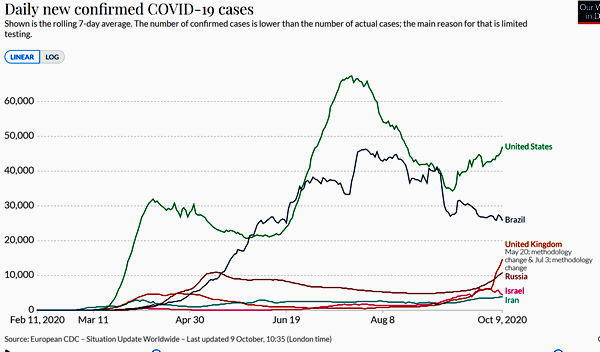 新コロナウィルスの感染者を抑え込むのは極めて難しいのです。欧州、北米に関しては気温が低下してきたことが感染者数再増加の一つの要因でしょう。日本だけが例外ではなく日本も増えてきていますが、PCR検査を絞っているため正しい数字が出ていないだけだと見られます。
次の表でペルーでは新コロナウィルスで人口千人当たり一人死んでいます。スペインの悪化が目立ちます。10万人当り陽性者でイタリアの3倍を超えました。スウェーデンと比べて感染防止努力が足りないことが明らかです。英国はさらにワースト上位に上がるでしょう。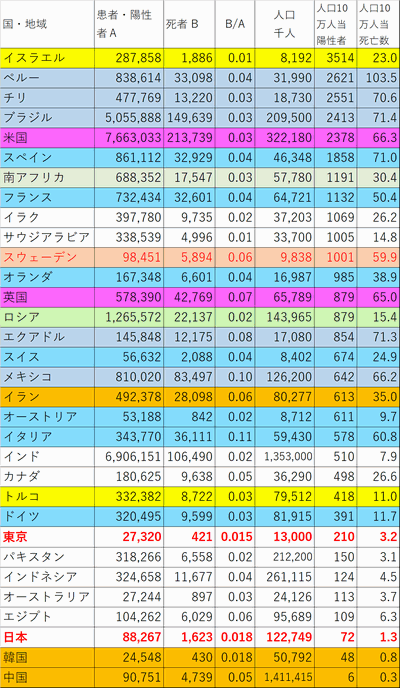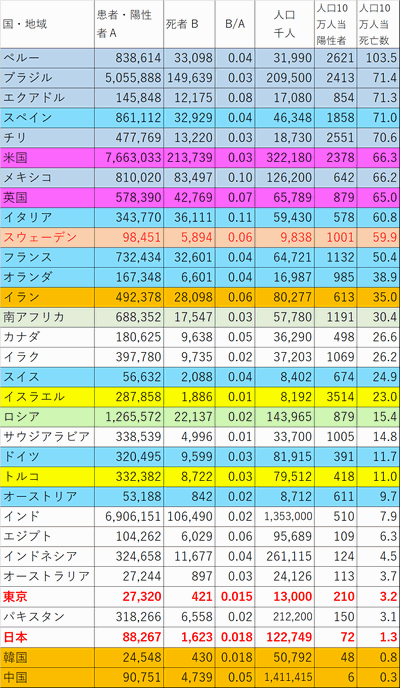 欧州各国は、国民の抵抗を押して感染防止措置を強化しています。GotoトラベルとかGotoイートは、世界の動きに逆行する感染者増大策です。
スペイン首相、マドリッドに非常事態宣言 10/9
Spain prime minister Sanchez set to declare state of emergency for Madrid
レストランやバーの営業は午後11時までに制限されるほか、レストランやジム、商店での収容人数は50%に制限
ドイツは、飲酒に時間制限
イタリアは、外出時のマスク強制
英国は一部地域でロックダウン
ベルギーのブリュッセルは、バー全店に対し、8日から1カ月間の営業停止命令
ルーマニアのブカレストは7日に、市内の飲食店で屋内飲食禁止、劇場や映画館は閉鎖
フランスは、午後8時以降の屋外での酒類販売と飲酒を禁止
ロシア首都モスクワはバーやナイトクラブの閉鎖を検討している。
aljazeera.
Jordan enters 48-hour nationwide coronavirus lockdown
The gov't orders 48-hour curfew which will apply every weekend following an 'exponential' rise in the number of cases.
RT2020/10/13
Dutch PM closes pubs, restaurants and cafes as coronavirus cases rise
Bars, restaurants and cafes in the Netherlands will close their doors as the Dutch government tries to control the spread of Covid-19. Unlike many of its European neighbors, the Netherlands has thus far avoided harsh lockdowns.
Prime Minister Mark Rutte announced the "partial lockdown" on Tuesday evening, after health officials in the Netherlands reported a record 7,393 new cases of Covid-19 that day. A total of 43,903 new infections were recorded in the preceding week, along with 150 deaths.
The new measures, which come into effect on Wednesday, will see all bars, restaurants and cafes close, and the sale of alcohol banned after 8pm. In addition, the wearing of face masks will be mandatory in all indoor spaces.
Rutte's government has held off on some of the harsher lockdown measures imposed in other European countries since the pandemic began. Masks were only mandatory on public transport, and bars and hospitality venues operated as usual – albeit with some social distancing measures, and contact tracing forms given to customers.
These rules tightened somewhat late last month, with restaurants and bars in Amsterdam, Rotterdam and The Hague ordered to close by 10pm, and workers in these cities advised to do their jobs remotely if possible.
"It hurts, but it's the only way," Rutte said of the new restrictions on Tuesday. "We have to be stricter."
The Netherlands has so far recorded nearly 190,000 cases of Covid-19, and more than 6,600 deaths, according to a tally by Johns Hopkins University.
RT2020/10/13
'Pandemic fatigue': Sweden didn't impose Covid-19 lockdown to avoid the wrath of the public, health chief says
Sweden did not adopt a nationwide lockdown so as to avoid long-term "pandemic fatigue" among the population, according to the director general of the country's National Board of Health and Welfare.
"We did not choose the path of a complete lockdown of society, because we had other arguments for a systematic response to a pandemic," explained Olivia Wigzell. The official was speaking at the conference 'Pandemic 2020: Challenges, Solutions, Consequences' held in Moscow this week.
"We were very afraid, we feared that people would develop such a pandemic fatigue, that people would get tired of restrictions. But in Sweden, practically everyone followed the recommendations," she added.
Sweden famously bucked the trend around the world and opted not to impose a statewide lockdown to prevent the spread of coronavirus among its population.
Schools, gyms, bars and restaurants remained open with minimal restrictions in place and a more laissez faire, voluntary approach adopted to public health guidance such as social distancing and the wearing of masks.
Office staff and university students worked remotely where possible and at-risk groups were advised to stay home or to limit their social interactions in public.
Wigzell claimed that, throughout the pandemic, Sweden reinforced its healthcare system while keeping between 30 and 40 percent of its beds free, with ventilators available if needed, to accommodate any and all surges in coronavirus patients.
Meanwhile, one young woman has gone viral on social media after sharing a video of what life in Sweden is like during the pandemic.
In several areas in Spain and Italy for example, the wearing of face masks is compulsory at all times when out in public.
Meanwhile, in the US, Australia and some European countries, there have been multiple instances of violence among the population or perpetrated by the police in the name of enforcing the wearing of masks.
RT2020/10/13
Italy's Conte gets tough on Covid-19, banning parties and amateur sports, as cases surge
The Italian government has passed a decree curbing socializing both at homes and in public spaces, limiting the operations of bars, and sports and school activities as coronavirus infections soar across the country.
Prime Minister Giuseppe Conte's decree was passed on Monday evening and published in the early hours of Tuesday morning. The new restrictions are an attempt to tackle soaring Covid-19 cases as Italy is seeing its daily number of infections returning to April levels.
The restrictions, effective from Wednesday, will remain in place for 30 days. The new rules stipulate that bars and restaurants can be open until midnight for table service, but cannot serve people standing up, inside or outside the premises, after 9:00pm. Large gatherings outside of bars and restaurants have been linked to the recent surge in cases.
Conte's measures also ban parties in night clubs and restaurants, as well as in the open air, while strongly recommending that Italians refrain from holding parties in their homes. The decree advises the wearing of face masks in the house when non-family members are present and introduces a maximum gathering of six people, similar to the regulations covering much of the UK.
Italians will also experience a clamp down on contact sports that are not organized by established clubs recognized by official bodies, such as five-a-side football games between friends.
Conte's new measures come just a day after World Health Organization chief Tedros Ghebreyesus slammed politicians favoring the herd immunity approach for dealing with Covid-19, declaring it "immoral" and "unethical."
Until recently, Italy had avoided a major resurgence, unlike their European counterparts in Spain and the Czech Republic. Commentators even suggested that
Daily new coronavirus infections have doubled over the last week, reaching nearly 6,000 on Saturday. To date, Italy has registered a total of 359,569 cases and 36,205 deaths, one of Europe's worst tolls, according to the European Centre for Disease Prevention and Control (ECDC).