RT2020/7/3
Abdulmanap Nurmagomedov, father of UFC champ Khabib, dies from Covid-19 complications aged 57
The father and trainer of Khabib Nurmagomedov, Abdulmanap, has died in a Moscow hospital due to complications stemming from Covid-19 infection aged just 57.
A world-renowned mixed martial arts coach, Abdulmanap suffered a heart attack after being diagnosed with the deadly coronavirus, which required emergency bypass surgery, after which he was twice placed into a medically-induced coma.
His condition had been reported by doctors as 'serious but stable', but it has now been reported that the elder Nurmagomedov has sadly finally lost his battle with the disease.
ハビブの父親は新コロナウィルスにり患しており、それが心臓病の原因だったようです。軍の病院で新コロナウィルス感染で重症の患者に心臓手術。当然医師は防護服を着てやったのですね。外科は、最低限の機器があれば、あとは医師の腕次第のはずですが、ロシアの医師の腕はすごい。私にとっては、そちらのほうがよほど大きいニュースです。ロシアは、ダゲスタンまで新コロナウィルスが蔓延していた。コーカサス山脈の北側カスピ海に面した地域です。ロシア内の人の交流はずいぶん活発になっています。そしてもう一つ、ハビブが感染していないのか。大変懸念されます。
RT2020/6/10
Abdulmanap Nurmagomedov 'opens eyes, speaks to Khabib' during recovery from Covid-19 stroke, says manager
Follow RT onRT
The father and trainer of UFC champ Khabib Nurmagomedov, Abdulmanap, has opened his eyes and spoken to his son during his convalescence from a stroke brought on by Covid-19, according to the fighter's manager Ali Abdelaziz.
READ MORE: 'Abdulmanap remains in stable but serious condition': Russian MMA boss gives update on Khabib's father
Nurmagomedov Sr is currently recovering in a Moscow hospital after undergoing emergency heart bypass surgery and twice being entered into a medically-induced coma following a stroke caused by coronavirus, most recently on May 19.
The 57-year-old's condition since has been described as "serious but stable", by doctors and now Abdelaziz says he is making "progress" and is "responding" to those around him and even managed to speak to his son, the UFC's undefeated 155 lbs champion, who had earlier confirmed on Instagram the serious state of his father.
"Khabib is very strong, his family is very strong and his father is very strong," Abdelaziz told ESPN.
READ MORE: We have a prospective month': Khabib manager names potential NEXT FIGHT date & opponent
"He's improving. He opened his eyes, responding a little bit, good sign. Allah is in control. We have faith he will be better, but at the end of the day, it's completely up to his health whether it progresses or not. But he's progressing, and we're very happy about this."
Abdulmanap first fell ill in his native Makhachkala, Dagestan, in April but was misdiagnosed as having simply pneumonia-like symptoms. It was only when his condition deteriorated his family sent him to a military hospital in the Russian capital, where he was diagnosed with having the deadly virus.
Upon his arrival, Khabib, 31, was offered to be tested for the disease, but instead insisted all focus be centered on his father, who later suffered a stroke and underwent the emergency operation to restore normal blood flow around his body.
RT2020/5/14
Heart attack brought on by Covid-19: Details of Abdulmanap Nurmagomedov's health reported in Russia
Details have emerged on the health of Abdulmanap Nurmagomedov, father and trainer of UFC lightweight champion Khabib and who on Thursday woke from a coma, with reports revealing he suffered a heart attack brought on by Covid-19.
On Thursday, it was reported the renowned martial arts trainer had regained consciousness after entering into a medically-induced coma the previous day following heart surgery, but that he remained in a 'serious but stable' condition in a Moscow military hospital.
It was later revealed that upon arrival at the hospital from his native Dagestan, the 57-year-old was diagnosed with Covid-19 infection, which in turn brought on the attack, according to the Telegram channel 'Baza'.
Abdulmanap initially fell ill in his Makhachkala hometown in Russia's Republic of Dagestan on April 24, having to be persuaded by family members to visit a doctor, and was later diagnosed with suffering from pneumonia-like symptoms.
Despite warnings from doctors, who prescribed him a strict course of treatment, Abdulmanap continued to go about his daily physical workout regime. He also refused to undergo testing for coronavirus.
After his condition worsened, Abdulmanap was sent by his family to a hospital in the Russian capital, despite his own wishes to remain in Makhachkala, although the facility was not equipped with extracorporeal life support which provides cardiac and respiratory assistance to those whose heart and lungs are not adequately working.
Abdulmanap suffered the heart attack on May 3, after which his condition drastically deteriorated, forcing doctors to perform heart surgery and connect the Nurmagomedov family patriarch to a life support apparatus and enter him into a coma.
Nurmagomedov family friend Ramazan Rabadanov explained that despite regaining consciousness, Abdulmanap is yet to speak following the operation. Doctors described his condition as 'serious but stable'.
"He regained consciousness today. He hasn't yet spoken. Yesterday [Wednesday] he was in a coma after a heart operation," Rabadanov said, talking to 360 TV.
A number of high-profile names in the combat sports world expressed their support for the father of the UFC's 155lbs champion, including UFC head honcho Dana White who paid tribute to a "true martial artist who lives a life of pride, honor and respect."
There was also an unexpected show of support and humility from his son's former foe Conor McGregor, who said he was "praying" for his recovery.
"Praying for the recovery of Abdulmanap Nurmagomedov. A man responsible for more World champions, across multiple fighting disciplines, than we even know," 'The Notorious' tweeted.
"A true martial genius! Very saddened upon hearing this news tonight. Praying for the Nurmagomedov family at this time," he added.
The Irishman lost via fourth-round submission to Khabib in Las Vegas in October 2018 for the UFC lightweight title. In the lead up to that fight McGregor engaged in a vicious war of words with the Russian in which he repeatedly made reference to his father and family.
In Russia, a total 252,000 cases of coronavirus have been reported, which has led to a 2,305 confirmed deaths from the disease.
RT2020/5/14
Khabib's father & trainer Abdulmanap Nurmagomedov WAKES from coma following heart surgery
RT2020/5/5
ハビブの父親が心臓の疾患でモスクワへ運ばれる。57歳、コロナ感染はなかったようです。
Khabib's father Abdulmanap Nurmagomedov 'transferred to Moscow hospital with heart problems on special flight' – reports
次の写真は2018/10です。ハビブを見る父親の視線は厳しいです。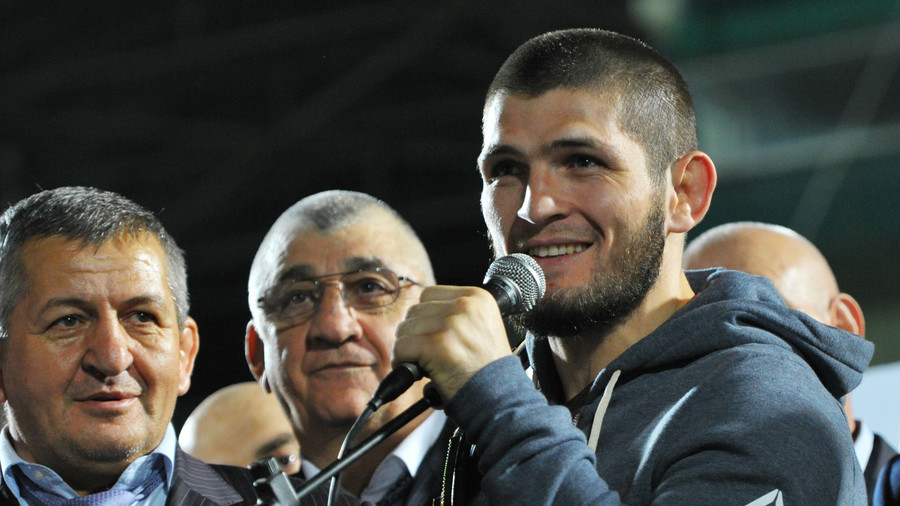 次は2020/5、父親を見るハビブの視線が何か心配そうです。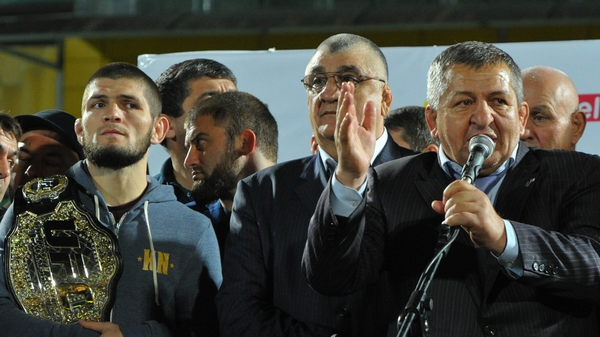 RT2020/5/13
Khabib's father & trainer Abdulmanap Nurmagomedov in COMA in Moscow military hospital – reports
Khabib's father presents Dagestan's newest MMA academy ahead of opening
2020年01月24日
ハビブは多動児だった
2019年09月13日
若きチャンピオンの登場