※ mko@trappedsoldier氏の2020/1/25のツイート
怒! Farsニュースを米政府が凍結した!
トランプがソレイマニを暗殺し、イラン特使ブライアンフックが後継のカッヅ司令官イスマイル・ガニも「同じ運命だ」と暗殺をほのめかし、イランとロシアの外務省が厳しく批判していた。で、追い詰められ、FARSを凍結?
引用ツイート
Soureh@3sdiestanding氏の2020/1/25のツイート
Domain blocked by the order of US government
#sanctions
#FreedomOfspeech #US #Iran
#Farsnews
※ Fars News Agency@EnglishFarsの2020/1/25のツイート
FarsNews.Com Domain Blocked Under US Sanctions
http://fna.ir/devm6p
TEHRAN(FNA) - The US Treasury has cut off access of Iran's Fars News Agency to its .com domain in a flagrant violation of the freedom of expression after enlisting it as a sanctioned entity on Friday.
In an e-mail to Fars News Agency, the international service provider has plainly explained that "the US Treasury Department's Office of Foreign Assets Control (OFAC) has included the news agency in its SDN list and ordered it to stop domain services to Fars News Agency" in an illegal move.
Fars News Agency is still up and available on its .ir domain. The FNA's IT section is working on removing current problems on this domain as a huge number of readers have shifted from the .com – that was usually more referred to – to the .ir domain.
FNA extends its apology to our dear readers for inconvenience and the problems resulting from this uncivilized move by the US administration.
Fars, a leading news agency in Iran, started work as the first non-state news agency in 2003 and under the registry name of Fars Press and Culture Institute.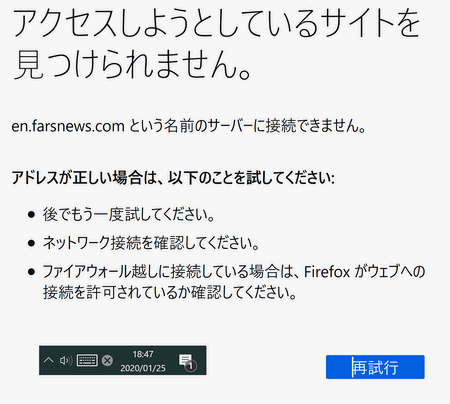 都合の悪いサイトは手当たり次第に妨害です。DNSserverへの登録を消せばつながらなくなります。 





ツイッターは削除されていない。
Fars News Agency@EnglishFars・49分(18:59時点)
You Can Follow Official English Website of Fars News Agency (FNA) at
http://en.farsnews.ir
何がそんなに気に障ったのでしょう。次の記事かな。それともこっちかな。2020年01月26日 
ロシア、IRGCコッズ部隊の新司令官を暗殺するというアメリカの脅迫を強く非難
FARANEWS2020/1/25
Pentagon Admits 34 US Troops Suffered Brain Injury in Iran's Missile Strikes
TEHRAN (FNA)- Some 34 American forces were diagnosed with traumatic brain injury following Iran's attacks on two US bases in Iraq, the Pentagon announced, despite the US administration's initial claims of no injury.
traumatic brain injury:外傷性脳損傷
Eight US soldiers previously airlifted to Germany have been removed to the US for further treatment, the Pentagon acknowledged in a press conference on Friday, after President Donald Trump and US defense officials initially claimed no one was hurt.
Nine more remain in Germany, where they are being evaluated and treated. Another is back in Iraq after being sent to Kuwait for evaluation, and sixteen are back on duty in Iraq following their diagnosis.
Last Thursday, US Central Command had revealed that 11 personnel stationed at the Iraqi airbase had to be sent out of the country after displaying concussion symptoms. On Tuesday, the center reported that apart from the 11 previously announced injured, additional troops were being treated.
concussion symptoms:脳震盪の症状
The US president and the Pentagone initially claimed no service members were killed or wounded, and they signaled that Washington was not looking for additional armed conflict with Tehran. President Donald Trump stated soon after the missile attack that "no Americans were harmed", and the United States suffered "no casualties", noting that "all of our soldiers are safe, and only minimal damage was sustained at our military bases".
Later, it emerged that "several" were being treated for concussion symptoms. Trump has consistently tried to minimize the injuries, stating earlier this week that he had "" but insisting "it is not very serious…relative to other injuries I have seen".
On Sunday, a leading Kuwaiti newspaper disclosed that
The Arabic-language Al-Qabas paper quoted informed sources as saying that the 16 US militaries, included some whose bodies had been severely burnt and some others who had sustained shrapnel wounds, have been transferred to a US military hospital in Kuwait under strict security measures.
It added that the wounded military men have gone under surgical operations and are still kept at the ICU section of the hospital.
According to the paper, several other US forces who had sustained mild injuries in Iran's missile strike are being treated in Iraq.
Ein Al-Assad, which houses US troops, is one of the largest and oldest military bases and located in Al-Anbar province in Western Iraq. It found itself under fire from volleys of ballistic missiles launched from Iran days after a US drone strike near Baghdad assassinated Islamic Revolution Guards Corps (IRGC) Qods Force Commander Lieutenant General Qassem Soleimani who played a major role in beating the Islamic State of Iraq and the Levant (ISIL, ISIS or Daesh) terror group in both Syria and Iraq.
His assassination has inflamed tensions between Washington and Tehran, and drew a harsh rebuke from Baghdad, prompting the Iraqi Parliament to pass a resolution ordering American forces to leave the country.
Briefing media on operational objective of missile attacks on US bases, IRGC Aerospace Commander Brigadier General Ali Hajizadeh stated that
Supreme Leader of the Islamic Revolution Ayatollah Seyed Ali Khamenei has called the military operation "only a slap across the face" of the United States, stating that "military moves like this are not enought. The Americans' corruption-stirring presence should come to an end".
Tehran reiterates that its strategic objective is expelling the US troops from the region, naming it the true vengeance for the terror attack on its most popular commander.
さんざん市民を殺しておいて、いざ自分の陣地にミサイルが落ちたら、脳震盪? traumatic brain injury:外傷性脳損傷? 拷問したイスラム教徒の外傷性脳損傷は、どうなんだ! イランのミサイルには特殊な脳震盪を引き起こす効果がある?
このブログが突然消えたら、これを運営している爺があっち側に行ったか、官憲に逮捕されて拘留されているか、某国機関の妨害でブログが消されたかのいずれかです。長らくお世話になりました。サヨウナラ! 早めにご挨拶しておきます。
FARSNEWS2020/1/29
Time to Put Hypocritical HRW in Its Place
TEHRAN (FNA)- On Friday, January 24, The United States Treasury cut off access of Iran's Fars News Agency to its .com domain in a flagrant violation of the freedom of expression after enlisting it as a sanctioned entity on Friday.
The registrar company that was rendering service to the Fars News Agency blocked FNA's access to its .com domain on Friday and explained in an e-mail that the established regulations of the US Treasury Department's Office of Foreign Assets Control (OFAC) and its list of Specially Designated Nationals (SDN) prohibit services to Fars News Agency.
The move came as neither the Fars News Agency (FNA) nor any of its directors and executives have ever been blacklisted in the Specially Designated Nationals (SDN) list which is enforced by the US Treasury's Office of Foreign Assets Control (OFAC), implying that the US unilateral sanctions that are illegal per se as they fall outside the UN Security Council and UN Charter have been used as an instrument to contain the voice of the Iranian news agency in a flagrant violation of human rights and freedom of expression.
Fars News Agency is still up and available on its .ir domain. However, the question now is whether human rights groups like Human Rights Watch which claim they support and promote human rights and freedom of the press are going to do something about this latest rant.
Experience tells us it can take years and decades for Human Rights Watch and its 400 staff members to go beyond lip service and hold US violators of human rights to account - if at all. When it comes to Iran, however, it takes only a fraction of a second for them to yap their unsubstantiated claims in false reports and briefings and suchlike.
For instance, in its annual reports, HRW and without providing any hard evidence keeps telling us that Iran is under scrutiny for its human rights abuses across different sections. This includes allegations of lack of freedom of the press, speech and expression.
The truth is the NGO is getting it wrong when it talks about human rights violations and lack of freedom of the press in Iran. The world is growing tired of this rant and the time is now to give HRW and its staff members a taste of their own medicine.
So HRW has gone beyond lip service and held American violators of human rights to account and now it just wants to have a go at Iran because this is its final problem. They have launched numerous tirades about Iran's policies. However, when it comes to the US Treasury and its flagrant violation of the freedom of expression after enlisting Fars News Agency as a sanctioned entity, they look the other way. It's so ironic and HRW is so hypocritical.
To this day, the hypocrites at the nongovernmental human rights organization have been so busy fighting for irrelevant issues and claims, they hardly seem to notice that through their lip service and inaction they risk becoming complicit in US violations. Common to all is a progressive loss of vision, with politics and annual reports used for self-serving political interests and points.
It has become the order of the day that no one will ever document this grave violation against an Iranian media outlet, which is to say HRW's lip service and inaction will only exacerbate such violations elsewhere. Keep in mind that OFAC's decision offers an opportunity for HRW to act. In order to hold perpetrators accountable, HRW's report and briefings must be executed without fear or favour at the United Nations, where the US government that has committed this particular violation is included. But no HRW "experts" will ever raise a storm and nobody of any significance will ever do much of anything.
It's a hell of a story that just like the US government, HRW has no shame. Its head and staff members systematically avoid any discussion of such violations, unwilling to publicly demand an end to illegal sanctions and pressures against Iran and its independent media outlets. Maybe they are worried of losing their lucrative jobs and lots of privileges?
HRW has betrayed Fars News anyhow. The media outlet deserves accountability for being cut off from access to its .com domain.
2020/2/8の日本時間夕方FARSNEWSのサイトが見にくくなっていました。FARSNEWSは、イランのニュースだけでなく、米国の侵略国のニュースも載せますので米国としては見せたくないでしょうね。私のブログにも攻撃が継続しています。
FARSNEWS2020/2/9
Deputy Minister: Iran Repels Massive Cyberattack
TEHRAN (FNA)- Iranian Deputy Minister of Communications and Information Technology Hamid Fattahi announced that the country has repulsed the most extensive cyberattack against its infrastructures on Saturday.
"The hired hackers carried out the most extensive attack experienced in Iran's history against the country's infrastructures," Fattahi wrote on his twitter page on Sunday.
He warned that the hackers are after distorting the entire internet in Iran, adding, "The (recent) attack was repelled and the hackers are facing firewalls."
The Iranian internet service suffered hours of disruption on Saturday in what telecoms authorities say was the result of DDoS cyberattack that was dealt with swiftly.
A senior telecoms ministry official said that a "powerful" distributed denial-of-service (DDoS) attack that began 11:54 a.m local Iranian time on Saturday caused users to experience connection issues.
Sajjad Bonabi said that the attack had affected several service providers in Iran, including two notable mobile operators.
He said in a post on Twitter that the DDoS attack was dealt with immediately using the Iranian Information Technology Fortress, known as DEJFA.
"Through an intervention by DEJFA and cooperation of colleagues in Infrastructure Company, the communications are now in a normal condition," said Bonabi who himself is the deputy head of Iran's Telecommunication Infrastructure Company.
The official later posted another tweet saying that a last service provider affected by the attacks had reported normal conditions later on Saturday.
Iran has previously reported cyberattacks sponsored by the United States and the Israeli regime that has targeted its key information infrastructure.
DDoS attacks in September targeted Iranian websites that were involved in cryptocurrency trade. Authorities said those attacks were 20 times more powerful than similar attacks in other countries.
2020年01月22日 
ハッキング攻撃と戦う
2020年01月21日 
日頃からIPアドレスを把握しておいたほうが良い

2020年01月11日 
サーバーに障害発生かと思ったらIPアドレスが変わっていた
2019年11月02日 
米国の当局はこのブログの何が嫌いなのか
2019年10月19日
このブログが炎上? それともハッキング攻撃中? 本日のアクセス15万PVになる?