この話は、イランの説明通りなのでしょう。英国政府は完全に米国追随ですからイラン国内の抗議行動をけしかけていたということは大いにありうること。犠牲となった英国人の追悼に参加していただけだとの説明ではすまない。香港では米国総領事館の職員が暴徒とホテルで会っていました。写真を撮られるだけではなく、イランの副大臣が電話で被逮捕者と話して本人確認しています。
SPUTNIK2020/1/13
Video Allegedly Showing UK Envoy Attending Gathering in Tehran Released by Iranian Media の動画をキャプチャー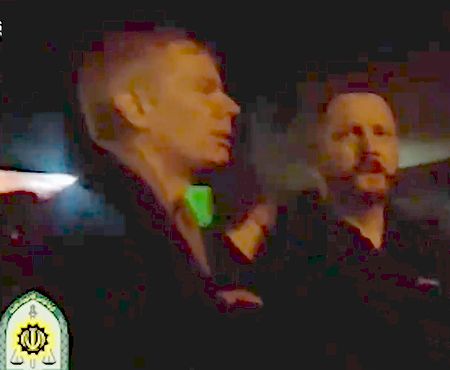 SPUTNIK2020/1/15
UK's Ambassador to Iran Has Left Tehran Amid Diplomatic Row – Reports
UK Ambassador to Iran Rob Macaire departed Tehran Tuesday night by airplane via the Qatari capital of Doha, IRIB news agency correspondent Ameneh Sadat Zbihpour has reported.
The news comes a day after Iranian judicial spokesman Gholam Hossein Ismaili said Tehran was considering expelling the ambassador, saying the Iranian people "and the international community expect[ed] him to be expelled from the country".
Macaire raised the ire of Iranian officials on Saturday after being spotted at an unauthorised protest in Tehran in reaction to the country's admission that the Revolutionary Guards air defence troops had accidentally shot down a Ukrainian aircraft, mistaking it for an incoming US missile amid tensions with Washington over the assassination of a senior Iranian general.
The British ambassador denied taking part in any protests, saying Sunday that he came to "pay respects" to the victims of the plane crash, and reporting that he had left the scene after five minutes.
But Iranian media later released footage Monday purporting to show the envoy attending the protest, surrounded by a mob of unidentified individuals.
Macaire was detained by Iranian authorities for several hours, with Iran calling his actions "completely" unacceptable. The British Foreign Office blasted Tehran over the arrest, calling Macaire's detention a "flagrant violation of international law," and summoning Iran's ambassador to the UK. The US State Department called on the Iranian "regime" to "formally apologise to the UK."
SPUTNIK2020/1/13
Great Britain Summons Iran's Ambassador Over Tehran's Envoy Arrest
Earlier, an Iranian government spokesman said that the British ambassador's actions were "completely" unacceptable after media reported that the envoy was arrested at a rally in Tehran.
Great Britain has summoned the Iranian ambassador to the Foreign Office to express its objections over the arrest of London's ambassador to Tehran during a rally earlier this week, a spokesman for UK Prime Minister Boris Johnson said.
"This was an unacceptable breach of the Vienna Convention and it needs to be investigated," the spokesman said on Monday. "We are seeking full assurances from the Iranian government that this will never happen again.
On 11 January, it was reported that UK ambassador to Iran Rob Macaire was briefly detained for allegedly participating in an illegal demonstration in Tehran. He was released 15 minutes later after his identity was verified.
The next day, Macaire tweeted that he was not taking part in a demonstration but came to a vigil for the victims of the Ukrainian jet crash tragedy in Tehran. "I left after 5 mins, when some started chanting," the envoy wrote.
RT2020/1/12
Iran summons UK ambassador over his participation in 'illegal rally' following his arrest at anti-govt protest
The UK envoy's detention during an anti-government rally in Tehran has sparked a diplomatic scandal. The envoy, summoned on Sunday by the Iranian Foreign Ministry, says he was at a "vigil" for victims of the Ukrainian plane crash.
"Today, Rob Macaire was summoned because of his unconventional behavior of attending an illegal rally on Saturday," the Iranian Foreign Ministry said in a statement. It also demanded that the British government provide clarification on the matter.
The diplomat was briefly detained late on Saturday outside of Amirkabir University in Tehran, as part of a group of people attending a chaotic vigil – held for the victims of the Ukraine International Airlines Flight 752 crash – which turned into an anti-government rally. According to Iranian state media, the official was seeking "to organize, instigate and direct some radical and destructive actions."
While many people brought candles and flowers to the event, seeking to mourn the dead, some showed up with anti-government banners and began chanting slogans, demanding "prosecutions and constitutional changes." The event escalated into clashes between the police and protesters, who were ultimately dispersed.
The ambassador, however, maintains that he was only seeking to attend the vigil. The Ukrainian plane was accidentally downed by Iranian air defenses on Wednesday after the passenger jet was mistaken for an incoming cruise missile.
"Thanks for the many goodwill messages. Can confirm I wasn't taking part in any demonstrations! Went to an event advertised as a vigil for victims of #PS752 tragedy," the diplomat tweeted earlier on Sunday, insisting that he was detained half an hour after he left the event.
UK Foreign Secretary Dominic Raab called the incident a "flagrant violation of international law," insisting that Macaire was detained without any "grounds or explanation." Commenting on the issue, the EU's High Representative for Foreign Affairs Josep Borrell called for "de-escalation and space for diplomacy".
The Iranian Foreign Ministry said in a statement that the British ambassador was arrested "because of his participation in an illegal gathering," but he was released "due to his diplomatic immunity and after confirming his identity". The country´s Deputy FM Seyed Abbas Araghchi explained in a tweet that he was deeply surprised the arrested man turned to be the UK ambassador.
※ Seyed Abbas Araghchi@araghchi
He wasn't detained, but arrested as unknown foreigner in an illegal gathering.
RT2020/1/11
UK envoy to Tehran briefly detained for 'inciting & directing' anti-govt protesters at Amirkabir University
British ambassador to Iran, Rob Macaire, was briefly detained outside of Amirkabir University in Tehran for questioning over his alleged role in 'inciting and directing' anti-government protesters, Tasnim news agency reports.
according to the Tehran-based news agency. He was released several hours later, but will reportedly be summoned on Sunday for further questioning.
Foreign Secretary Dominic Raab called the incident with the British diplomat a "flagrant violation of international law," insisting that Macaire was detained without any "grounds or explanation," for simply taking photos of a peaceful rally. Tehran has yet to issue official comments.
Hundreds of people flocked to universities in Iran earlier on Saturday, for vigils and protests, after Tehran admitted to accidentally shooting down a Ukrainian plane with 176 on board,
In the evening, security forces deployed tear gas and water cannon to disperse an agitated crowd still chanting slogans outside the Amirkabir University of Technology, videos shared online show. An unspecified number of activists were detained, the British envoy allegedly among them.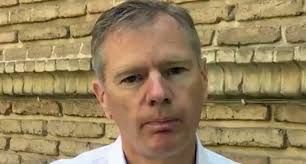 ロバート・マケアーRobert Nigel Paul Macaire
イランの英国大使になる前に、BG Group plcの政治的リスクのディレクター
生年月日: 1966年2月19日 (年齢 53歳)
学歴: クランリー・スクール
アミール・キャビール工科大学はイラン・テヘランの 男女共学の公立研究大学。自然科学、工学、技術における国内最高の教育機関
FARSNEWS2020/1/11
Police: British Ambassador Organizing Protests in Tehran
TEHRAN (FNA)- British Ambassador to Iran Robert Macaire was arrested in front of the Amir Kabir University in downtown Tehran where he was organizing and provoking people to turn a mourning vigil for Wednesday plane incident victims into an anti-government protest, a senior police official told local media.
Macaire was briefly detained during a mourning vigil which turned into a protest in front of the Amir Kabir University in downtown Tehran where he was organizing and provoking people, senior police official told local media late on Saturday.
"The ambassador was released several hours later but it is believed that he will be summoned (by Foreign Ministry) tomorrow and the case will be pursued," said the report.
Britain's Foreign Secretary Dominic Raab issued a statement condemning the detention of Macaire, saying it had been carried out "without grounds or explanation".
However, local media cited "informed sources" as saying that Macaire had been holding secret meetings inside a shop opposite the main gate of the Amir Kabir University to monitor the developments that led to the protest on Saturday.
In November, Iran's Intelligence Ministry announced any form of cooperation with the British Council − which has a record of helping London recruit spies − is forbidden and will lead to prosecution.
The ministry's Public Relations Office said Tuesday that "the UK − which has a long history of infiltration, creating networks and generating propaganda in various countries − was planning to implement a project for cultural networking purposes" in cahoots with the British Council in Iran.
With timely action, it said, the country's intelligence forces prevented Britain from "implementing [the project] and achieving its goal" of infiltrating into Iran's educational sphere.
The British Council describes itself as the United Kingdom's "international organization for cultural relations and educational opportunities."
Due to the nature of its work, and specifically its proximity to the FCO and by extension to MI6, the British Council has run into difficulties with host governments.
The most publicized case of the Council's troubles was in Russia where it was ordered to close down its offices in December 2007.