America & Europe
Trump's lie revealing slowly! Casualties of Ain al Assad is revealing
America & Europe, Iraq, Middle East, News 21 January 2020
ISWNews Analysis Group: US media released just a bit of casualties due to Iran missile attack to Ain al Assad.
Business Insider reported that 11 US soldiers were transfered to hospitals in Germany and Kuwait with concussion symptoms.
On Friday US army claimed that 11 soldiers have concussion, while before it, US president and its terrorist army claim that no American was injured at all!
The Pentagon spokesperson, said that US army statement regarding evacuating 11 US military members to out of Iraq was released a few hours after informed to defense minister. He also claimed that Mark Esper was informed a week later about the casualties and then informed Trump!
P.S. Indeed the casualties are a lot more and this is just the start of revealing the truth.
RTが掲載した2020/1/8のアルアサド空軍基地の画像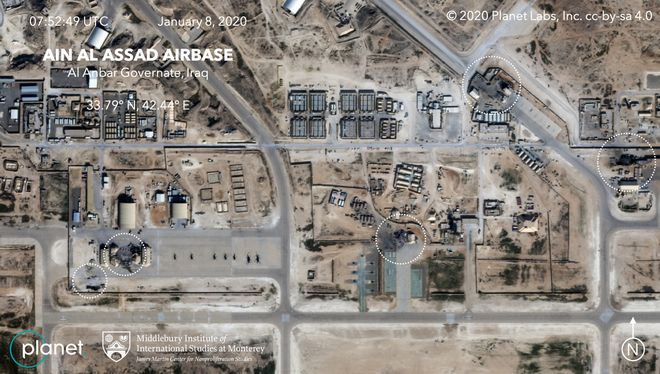 同じ場所のGoogle mapによる画像。ずいぶん古いです。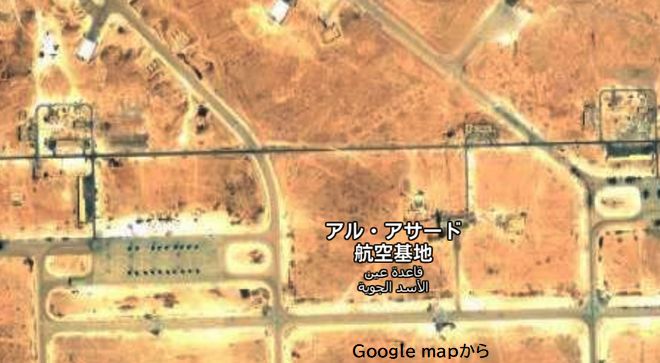 イランは最新の画像を用いています。おそらく基地建設経過も調べているはず。ピンポイントでの破壊箇所。そんなに威力のある弾頭ではない。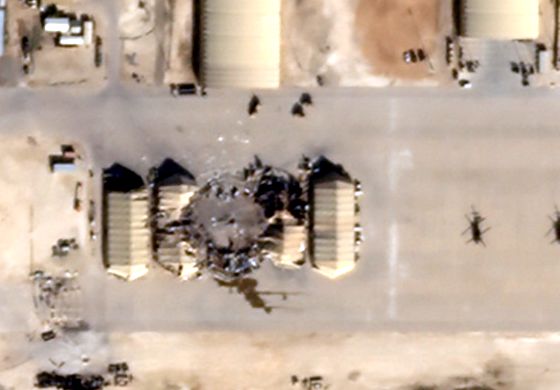 でも、この命中精度ですと、最新の画像を使いドローンも投入すれば、敵兵士を殺そうとしたら、いくらでも殺せます。シリアでロシアがテロリストの拠点を空爆するときと同じ精度です。
米軍は、ミサイル防衛システムを配備していたのに全然効果がなかった。
ロシアの巡航ミサイルと同程度の精度では? イランの今回使われたミサイルは発射風景を見ると結構大きいように見えますが。少なくとも緯度経度による誘導ミサイルです。
それにしても、米軍はいろいろなものを作りましたね。これらの施設の建設を受注した業者は、米軍に去られては困る、倒産する。
ISISが勢力を拡大した時も建設業者などが潤ったはずですが、同じです。
イランは、湾岸諸国の王族の住まいなどもピンポイントでいつでも攻撃できる力があります。イスラエルもショックを受けているでしょう。イスラエルを地上から抹殺できるというのは、誇大でも何でもない。
RT2020/1/9
Satellite images show MINOR but PINPOINT damage to US-Iraqi bases from Iranian missile attack, suggesting limited show of force
Commercial satellite imagery of military bases in Iraq targeted by Iranian missile strikes show only minor damage,
The Ain Al-Asad military base in Iraq's Anbar province, as well as another facility outside Erbil, in the Iraqi Kurdistan, found themselves under fire by two volleys of ballistic missiles, fired from inside Iran during the night between Tuesday and Wednesday.
Iran's Islamic Revolutionary Guards Corps (IRGC) launched the missiles as revenge for the US drone strike that killed General Qassem Soleimani, one of their top commanders, last week outside of Baghdad. Despite belligerent rhetoric that accompanied the missiles, Iran stood down after just two volleys, claiming its legitimate self-defense objectives were met.
US President Donald Trump likewise declared "all is well," declined to respond with force, and commended Tehran's decision as "a good thing for all parties concerned."
. The Pentagon claimed its early warning systems caught the launches, allowing US troops to seek shelter.
The Iraqi government revealed on Wednesday that
All of this has prompted speculation that the Iranian missile strikes were more of a symbolic act than a true escalation of the ongoing conflict between Tehran and Washington. Iran proved it had the capability to kill US troops if it so chose, but deliberately refrained from it, argued former US Marine and UN weapons inspector Scott Ritter.
The top US general, however, claimed on Wednesday that his "personal assessment" was that the IRGC was shooting to kill.
"I believe, based on what I saw and what I know, that [the strikes] were intended to cause structural damage, destroy vehicles and equipment and aircraft, and to kill personnel," Army General Mark Milley told reporters.
RT2020/1/9
Missile strikes on bases housing US troops aimed at damaging America's 'military machine' – Iranian commander
Iran's assault on bases housing US troops in Iraq was intended to smash American military infrastructure rather than kill soldiers, an Iranian commander told state television. He promised further strikes in the region.
Iran launched a volley of ballistic missiles at two bases in Iraq in the early hours of Wednesday morning, bringing the two countries to the brink of war. However, no American or Iraqi casualties were sustained, and US President Donald Trump responded with economic sanctions instead of military action.
Speaking on Iranian state television on Thursday, the Islamic Revolutionary Guard Corps' (IRGC) aerospace commander, Amir Ali Hajizadeh, elaborated on the operation the previos day.
We didn't seek to kill. We sought to hit the enemy's military machine.
Hajizadeh added that expelling American troops from the Middle East would be "appropriate revenge" for the death of IRGC Major General Qassem Soleimani, who the US assassinated in a drone strike at Baghdad airport on Friday.
He said that the attack would be the start of a series of similar strikes across the region.
Trump thanked an "early warning system" for tipping the US military off about the incoming Iranian missiles on Wednesday morning, averting casualties at the bases. However, the Iraqi government confirmed that it received advance warning of the strikes,
Earlier in the day IRGC commander Abdollah Araghi also said that Iran would take "harsher revenge soon," without elaborating further.
Iran's President Hassan Rouhani and Supreme Leader Ayatollah Ali Khamenei both stated that the Islamic Republic's ultimate goal is the removal of US troops from the Middle East.