mko@trappedsoldier氏の2020/2/13のツイート
シリアのカミシリで14歳の少年を殺害しておいて、「青年男性」「自衛のためだった」と言い張る米軍報道官!
投石する子どもを射殺! イスラエル兵と同じだ。
引用ツイート
OIR Spokesman Col. Myles B. Caggins III@OIRSpox
・ 1時間
UPDATE (Feb. 12/Qamishli): Despite US troops de-escalation efforts, local militia members attacked US troops w/ small arms weapons; @CJTFOIR have the right to self-defense and fired back at armed aggressors killing an adult male combatant (20+ y/o). VIDEO: @JamesAALongman
https://twitter.com/abcworldnews/s
シリア北東部のカミシュリで住民が米軍車両に投石。米軍兵士が発砲して一人が死にました。住民が武器を持ち出して米軍に発砲したとの情報もあります。
A footage published by #Syrian regime official press, shows the fire shoot on #US troops near Qamişlo today morning. pic.twitter.com/hHuZ4kSIxM

— Hoshang Hasan (@HesenHoseng) February 12, 2020
RT2020/2/12
WATCH: US military convoy met with HAIL OF BULLETS in north Syria… and Russian convoy intervenes to break up the fight
Footage has emerged of US troops getting involved in a heated exchange and a shootout with angry locals in northern Syria, which reportedly saw one man killed. A Russian military convoy then moved to de-escalate the situation.
Reports say the US armored convoy was stopped at a Syrian Army checkpoint in a village near the town of Qamishli on Wednesday. The altercation attracted a large group of civilians, who tried to block the convoy from advancing any further.
Video footage, allegedly recorded in Khirbet Ammu, show people in civilian clothing – as well as in military uniforms – fire their Kalashnikovs in the direction of the US armored vehicles. It remains unclear who opened fire first, as each side blamed the other for the shooting.
Notably, a Russian Military Police vehicle could be seen in the short video and in some photos apparently taken shortly afterwards. Reports said they arrived at the scene to quell the hostilities.
Syrian state media has reported that at least one civilian was killed during the confrontation, while another one was injured. Reports, though conflicting, suggest the deceased was a Syrian serviceman, or a member of a pro-government militia.
Syrian civilian 'killed' by US troops after armored convoy blocked by protesters − state media
※ Rob Lee@RALee85氏の2020/2/12のツイート
Major General Yuri Borenkov said, "Only thanks to efforts of the Russian soldiers who had arrived at the scene was it possible to avoid any further escalation of the conflict with local residents," 199/
https://tass.com/world/1119533
RT2020/1/28
US stops all weapon deliveries to Iraq, citing security concerns – Air Force spokesman
, amid rising tensions over US presence in Iraq that followed the drone assassination of Iranian General Qasem Soleimani in Baghdad.
The halt includes the US Air Force's program of supplying parts and missiles to Iraq's fleet of F-16 fighter-bombers, the news portal Inside Defense reported on Monday. Deliveries will begin again "when the environment in Iraq is safe enough to resume," USAF spokesman Brian Brackens told Inside Defense in an email.
Brackens is the spokesman for USAF's Life Cycle Management Center, a procurement and logistics organization based at the Wright-Patterson AFB near Dayton, Ohio.
A contract to supply Iraq with $1.8 billion worth of weapons, including the air-to-air Sidewinder and ground-attack Maverick missiles, was signed in May 2016. The last delivery before the halt was made on November 14, according to the subscription-only portal, which says it specializes in news about Pentagon programs, procurement and policy-making.
Iraqi armed forces were rebuilt around US weapons and doctrines after the 2003 invasion and occupation by the US-led coalition. They proved woefully inadequate when facing Islamic State (IS, formerly ISIS) terrorists in 2014, but have since managed to liberate most of Iraq from the group's control, though with thousands of US troops in "advise and assist" capacity.
Just last week, the Iraqi defense ministry posted a video of an air strike by its F-16s against IS targets in the Hamrin Mountains.
Continued US presence in Iraq has come into question over the past month, however, following the January 3 drone strike outside the Baghdad international airport that killed General Qassem Soleimani, head of the Quds Force of Iran's Islamic Revolutionary Guard Corps. While the US considers the IRGC a terrorist organization, Soleimani was a key figure in the program that supported Shia militias in Iraq and Syria against IS.
After Soleimani's killing, the Iraqi parliament adopted a resolution demanding that US troops leave the country. Washington has flat-out refused.
"There are no plans by the US military to withdraw from Iraq," Assistant to the Secretary of Defense Jonathan Rath Hoffman told reporters at a press briefing earlier this month, adding that "the consensus in Iraq seems to be that the United States forces there are a force for good," even though the parliament's resolution suggests the exact opposite.
In the meantime, Iran launched ballistic missiles at two US bases in Iraq in retaliation for Soleimani's killing. Officially, no US or Iraqi troops died in the January 8 strikes. While initial reports denied any injuries either, some three dozen US troops have since been referred to hospitals for concussions and other traumatic brain injuries.
Can't wait to see Trump's tweet about this..! https://t.co/yPnhjiM1Qg

— Fares Shehabi (@ShehabiFares) January 24, 2020
このマーチの画像で埋め込めないものがあります。ということは、米国にとって痛手だということですね。
※  mko@trappedsoldier氏の2020/1/24のツイート
イラク人からトランプへの警告!
「イラクからの撤退を拒否し、主権侵害を続けるなら、戦場でマフディ軍が米軍を迎え撃つ。そこに何十万の兵士が合流し、われわれの独立戦争に発展するだろう」
※ Iraqis Hold 'Million-Man March' Against US Military Presence in Baghdad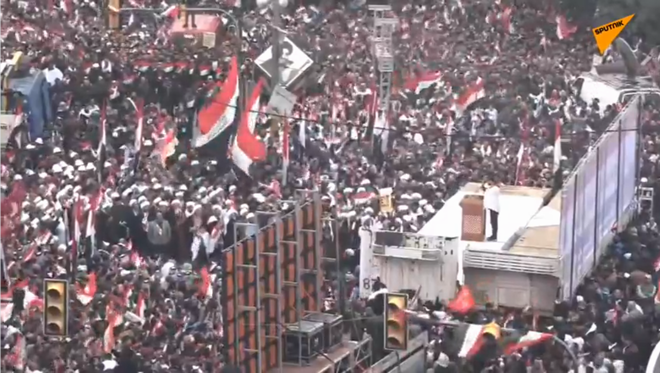 U.S. Marines with 2nd Battalion, 7th Marines, assigned to the Special Purpose Marine Air-Ground Task Force-Crisis Response-Central Command (SPMAGTF-CR-CC) 19.2, reinforce the U.S. Embassy Compound in Baghdad, Iraq, January 2, 2020. Picture taken January 2, 2020.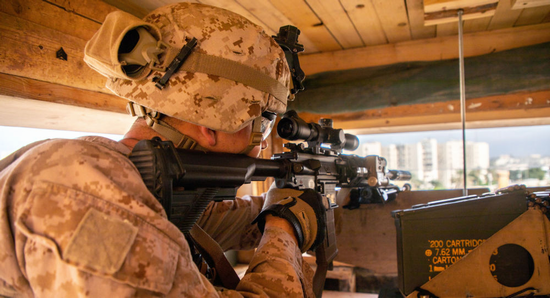 ※ mko@trappedsoldier氏の2020/1/13のツイート
ISISを復活させ、イラクを宗派ごとに分割する! これが、米軍撤退を要求したイラクに対する米国の回答。
結局、ISISを創ったのはCIAだし
※ mko@trappedsoldier氏の2020/1/12のツイート
犯罪的マフィア! 米国は数千人をレイプし、200万人のイラク人を殺害し、金を盗み、博物館を盗み、さらに50万人の子どもを制裁で死なせた。そうした残虐な歴史をもつ米国の大統領トランプが、イラクの石油収入の50%を渡せと要求している!
※ Syrian Girl@Partisangirl氏の2020/1/12のツイート
There's a reason the US didn't retaliate against #iran, and that was the risk of world war.
In spite of all the neocon false bravado, they had their chance for war & backed down. What they really want is to continue to kill & steal while minimising risk to themselves #AinAlAssad
※ mko@trappedsoldier氏の2020/1/12のツイート
今、中東で問題になっているのは、この米軍を地域全体から叩き出すこと、この1点です。米軍がいる限り、戦争は続くし、市民が殺されるし、テロリストはいなくならない。中東のど真ん中のイラクは、イラン・イラク戦争から湾岸戦争、イラク戦争、ISIS戦争とずっと戦争状態。米軍がいるから。
RT2020/1/10
US won't heed Iraq's call for troop withdrawal, calls military presence there 'appropriate'
アメリカは、軍の撤退を求めるイラクの要求に応じず、同国への「適切な」軍備配置を行う
The US is willing to discuss "recommitting to strategic partnership" with Iraq but not a troop withdrawal, the US State Department said, after the country's prime minister told Washington to "prepare a mechanism" for pull back.
アメリカは、イラクからの軍の撤退ではなく、イラクとの「戦略的パートナーシップの再付託」についてイラクと協議したいと考えている。イラク首相がワシントンに対し、軍を撤退させるための「適切な措置」を講じるよう求めたことを受け、米国務省はこのように述べた。
In a statement on Friday, department spokeswoman Morgan Ortagus said that the US military presence in Iraq was 'appropriate' and that any delegation the US might send to Iraq to discuss arrangements between the two countries would not discuss the removal of troops.
金曜日の声明の中で、同省報道官モルガン・オルタガスは、イラクにおけるアメリカ軍の駐留は「適切」であり、アメリカがイラクとの2国間合意のために同国に派遣するいかなる代表団も、軍の撤退について協議することはないと述べた。
Ortagus acknowledged that there does "need to be a conversation" between US and Iraqi officials, "not just regarding security, but about our financial, economic, and diplomatic partnership."
オルガタスは、アメリカとイラクの間には公式に「対話する必要がある」、それは「安全保障についてのみならず、金融・経済・外交分野でのパートナーシップについても」という認識を示した。
Earlier Friday, Iraqi Prime Minister Adil Abdul-Mahdi had asked US Secretary of State Mike Pompeo to send a delegation to begin preparations for a troop pullout.
先立って、イラク首相アディル・アブドゥルマフディは、アメリカ国務省のマイク・ポンペオに対し、軍の撤退を開始する準備を始めるための代表団の派遣を求めた。
The Iraqi parliament last week passed a non-binding resolution asking the government to expel foreign troops and to cancel the ongoing request for military assistance from the US-led coalition.
イラク議会は先週、(イラク)政府に対して、外国の軍隊を追放し、アメリカ主導連合に同国に駐留するよう求めている現行の要請を取り消すよう求める、拘束力のない決議を通過させた。
There are currently 5,200 US troops stationed at bases across Iraq, who were invited by the Iraqi government in 2014 to help combat ISIS militants in the region. The relationship between Washington and Baghdad has soured in recent months, however, as tensions in the region flared. The mood got even more tense after a US drone strike in Baghdad killed a commander of Iran's elite Quds Force.
現在、5,200のアメリカ軍がイラク全域の基地に配備されているが、これは2014年、同地域のISIS武力勢力との戦いへの助力のために、イラク政府が要請したものである。しかしながら、この地域での緊張が高まるにつれ、ワシントン(アメリカ)とバグダッド(イラク)の関係は悪化。アメリカのドローン攻撃により、バグダッドでイランの精鋭コッズ部隊の司令官が殺害されたことにより、関係はさらに悪化した。
Iraq's parliamentary resolution was dismissed by US President Donald Trump, who threatened the country with "very big sanctions" and said the US would not leave until Iraq paid Washington back for an expensive air base it had built there. Pompeo has also disregarded the will of the Iraqi parliament, saying he was "confident" that the Iraqi people want US troops to remain.
イラクの議会決議を、アメリカ大統領ドナルド・トランプは拒絶。(トランプは)「かなり大規模な制裁措置」で(イラクを)脅し、アメリカが同国に基地を建設するために費やした高額な費用への見返りを、イラクがアメリカに支払うまでは撤退しないと述べた。ポンペオはまた、イラク議会の意思を無視し、イラク国民はアメリカ軍の駐留を望んでいると「確信している」と述べた。
Saad Al-Muttalibi, a member of the Baghdad Security Committee, told RT last week that it was "very important" for the US to withdraw its troops from Iraq because Iraqis "don't want to be drawn into a war between Iran and America on Iraqi soil."
イラク安全保障委員会メンバーのサアド・アルムタリビは、先週RTに対し、イラクにとってアメリカ軍の撤退は「非常に重要である」と述べた。なぜならイラクは、「イラクの地で起こるイランとアメリカの間の戦争に巻き込まれたくない」からである、と。
RT2020/1/9
Several rockets hit '100 meters away' from US embassy, cause fire in Baghdad's Green zone
Two blasts have reportedly been heard in Baghdad, followed by the sirens of emergency services. The apparent explosions come hours after US President Donald Trump walked back from military action against Iran.
Air raid sirens can be heard in video footage presumably captured in the Iraqi capital on Wednesday night. Multiple journalists in the city reported that two explosions rang out, apparently coming from the direction of the heavily-fortified 'Green Zone,' home to the US embassy.
Iraq's military said that "two Katyusha rockets fell inside the Green Zone without causing casualties." Police sources told Reuters that the rockets came within 100 meters of the US embassy, and caused a fire.
SPUTNIK2020/1/9
Missile Strike 'Reminded' Trump of Iran's Power, But US Not Likely to Leave Iraq Soon - Experts
As US President Donald Trump declared "all is well" and turned his attention to the US economy and sanctions on Iran following that country's ballistic missile strike on US forces in Iraq, a bevy of experts weighed in Wednesday on Radio Sputnik's Loud and Clear about what could lie ahead in the tense conflict between Washington and Tehran.
Journalist Rania Khalek argued to hosts Brian Becker and John Kiriakou that "Iran really showed its strength" in the region through the Islamic Revolutionary Guard Corps' missile launches and has triggered a major "setback" for the US within the region as a result.
"There's so much anger at the US that I think you're going to see a lot more US retreat," she said, "which is essentially what Iran and [Quds Force commander General] Qasem Soleimani always wanted. So it's kind of like, in death he's accomplishing what he tried to do in life."
Mike Prysner, the producer of "The Empire Files" and a co-host of the Eyes Left podcast, highlighted the irony in US Secretary of Defense Mark Esper, the ex-vice president of government relations at Raytheon, previously boasting that the US is "not looking to start a war with Iran," but is "prepared to finish one."
"Well I haven't seen the US finish a war in the last 20 years," he said, noting that "as long as there are US troops [and associates] on the ground, it's not an end to the Iraq war - it's just postponing it for some period of time," and there will continue to be room for situations, such as the recent killing of a US defense contractor, to put the US on the brink of a major war again.
Mazda Majidi, an author, journalist and anti-war activist, detailed that Iranians were "listening with a great deal of worry" regarding possible escalation by the US following the strikes in Iraq and explained that many whom he spoke with after Trump's speech Wednesday morning were "relieved that there would not be a wide-scale bombing of Iran."
Speaking of Trump's address to the US public, former UK Ambassador to Syria Peter Ford told Sputnik that the main takeaway from the US president's speech is what was not uttered.
"He didn't announce any retaliation, and he filled the void [with] a lot of blather and his usual boasting," he said. "And as always, he dragged in his obsession with besting the first black American president," Barack Obama.
"It seemed like some people had gotten to him and said, 'You know, this might be bad if Iran cuts off all of the oil and … prices shoot sky high,'" said "Redacted Tonight" host Lee Camp. "Iran has a lot of power, and I think some people might have reminded him of that."
Likewise, Anya Parampil, a journalist for The Grayzone who hosts the news show "Red Lines," said that while Trump "tried to use forceful language and appeared to be in control of the situation," he actually "looked to be a bit rattled" and "slurred his speech at certain points."
Ben Norton, a journalist with The Grayzone and co-host of the Moderate Rebels podcast, pointed out that while the US claims that no US troops were harmed in the Wednesday morning incident in Iraq, "Iran claims they killed 80 US soldiers, so we don't know exactly whether or not what the US said is true."
a literal jihadi! a fundamentalist nutjob! https://t.co/CejyaWwSGk

— Koush (@KoushBCH) January 10, 2020
Why do they hate us?

Jon Turner details what he and his fellow US Marines committed in Iraq. #WarCrimes #CrimesAgainstHumanity pic.twitter.com/2DgWRvc7tK

— Lord Lurkin ♞ (@Hakicat) January 11, 2020