トランプがトルコに対する経済制裁解除を発表しています。これはペンスがエルドアンに約束したことをプレイアップして発表しています。エルドアンとプーチンの長時間協議の陰に隠れてしましましたので。
RT2019/10/23
Trump lifts Turkey sanctions as he claims ALL credit for Syria border de-escalation
RT2019/10/24
Trump channels 'America invades for oil' meme as he says some troops will stay in Syria to 'protect' it
トランプが石油を守るためにシリアに兵を残すというのがいまだに理解不能です。どこに米国の守るべき利権があるのかと。本音が出た?
ロシア国防相の首脳がSDFの指揮をとるMazloum Kobani とテレビ会談をしています。シリアのロシア軍基地フメイミムにMazloum Kobani が来たのでしょう。ロシアのデリゲーションが現地で会っていますが、おそらくは、「一体どんな人間なのか、信用できるのか」というのが国防省首脳陣の抱いた疑問で、直接話す必要があると考えたはず。会談でも調子が良いことを言っている感じがします。
米国議会が、Mazloum Kobaniを米国に呼んで話を聞くそうです。ロシアが注意深いのは当然です。
RT2019/10/23
'Thanks Russia!': Kurdish military chief welcomes Russian peacekeeping patrols
Speaking with Russian Defense Minister Sergey Shoigu, SDF chief Mazloum Abdi thanked Moscow for securing a deal with Turkey and said the Kurdish militia will support Syrian troops and Russian military police patrolling the border.
Talks between the top Russian military officials and the commander-in-chief of the so-called Syrian Democratic Forces (SDF) were held on Wednesday, via video link. Abdi discussed the ongoing developments in northeastern Syria with Shoigu and Russia's Chief of General Staff Valery Gerasimov, expressing full support to the deployment of Russian military police and Syrian Army units into the region.
"Currently, units of the Russian military police and regular Syrian troops are being deployed into many locations. We are providing them with all kind of help and assistance," Abdi said.
FARSNEWS2019/10/24
Top Erdogan Aide Raps US Treatment of SDF' Commander
TEHRAN (FNA)- Turkey criticized the United States on Thursday for treating the commander of the Kurdish-led Syrian Democratic Forces (SDF) as a "legitimate political figure", underlining continued tensions with Washington despite the end of its offensive in Syria.
Republican and Democratic US senators urged the State Department on Wednesday to quickly provide a visa to the commander, General Mazloum Kobani, so that he can visit the United States to discuss the situation in Syria.
Ankara views Mazloum as a terrorist closely linked to the outlawed Kurdistan Workers Party (PKK), which has waged a decades-long insurgency in Turkey.
"We are deeply concerned about the treatment (of Mazloum).... This individual is a senior leader of the PKK, which the United States and others consider a terrorist organization, and a fugitive from justice," Fahrettin Altun, director of communications for President Tayyip Recep Tayyip, stated.
"He is the subject of an outstanding Interpol red notice. He is wanted for multiple terror attacks targeting the Turkish security forces, a NATO army, as well as civilians," Altun told Reuters.
 ロシア軍警の国境地帯パトロールの画像がいくつか流されていますが、どこで撮影したものか特定できません。とにかく広い地域をパトロールする予定のようです。コバニの辺りは南へ30km幅です。
RT2019/10/23
WATCH Russian military police arrive in Manbij & Kobani after deal on Syrian-Turkey border (VIDEOS)
トランプが石油を守るためにシリアに兵を残すと述べていることをロシアがかねて強く批判しています。シリアの天然資源はシリア政府の管理に服するものだと。次の記事では、シリアの石油、ガスの産出量は自国内消費を少し上回るだけで、多額の利益を生むみのではないこと指摘されています。米国が石油を抑えるために兵士を残すと主張することは、まさにシリアの復興を妨害するということです。欧米はシリアへの石油輸出を止めています。
要するにシリアの石油生産を妨害していることになります。
RT2019/10/24
Trump's Syria 'oil gambit' is a crime, and what may be worse – a mistake
US President Donald Trump's baffling comments about keeping some troops in Syria to "secure the oil" suggest a confused, contradictory – and ultimately self-defeating – policy.
Earlier this month, Trump appeared to have used the impending Turkish invasion to deftly cut the Gordian knot of US presence in Syria, citing it as a pretext for pulling out troops that weren't supposed to be there to begin with – and had long since completed their mission in any case.
He stood by that decision even as the Washington establishment shrieked about "betrayal" of allied Kurdish militias, and was vindicated when a deal worked out by Moscow and Ankara created a solution that benefited everyone – except those in the US still committed to regime change in Damascus, that is.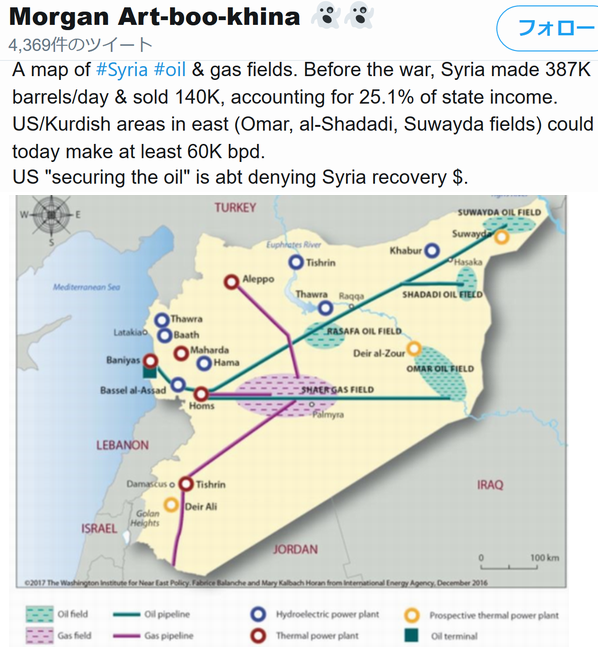 While Trump has not officially renounced the "Assad must go" policy of his predecessor, the pullout was supposed to be the end of it in practice.
"We want to keep the oil," Trump said this week, to the confusion of everybody. Attempting to explain on Thursday, he said the oil fields were "held by [Islamic State] until the United States took them over with the help of the Kurds. We will NEVER let a reconstituted ISIS have those fields!"
Except there is no sign of IS getting reconstituted or rising from the ashes – and
Much has been made of Trump's own comments from 2011 about the US seizing Iraqi oil as "reimbursement" for the 2003 invasion, but that does not appear to be the case here. Ironically, Trump has boasted recently about his administration making the US into a net exporter of oil and gas, so it does not need the Syrian oil.
, journalist and orientalist Andrey Ontikov told RT.
One clue might be in the words of US Defense Secretary Mark Esper, who said the purpose of keeping the troops in Syria is to "deny access to [IS] and any other groups that may want to seek that revenue to enable their own malign activities." (emphasis added)
This phrasing is a dead giveaway that the oil gambit is not about IS, but about blocking the government in Damascus from using its own natural resources to rebuild. Already under a blockade by the US and its EU allies, Syria desperately needs the oil to help its people survive the winter. "Malign activities" is a phrase Washington often uses in reference to Iran, a strategic partner and ally of the Syrian government.
If that sounds to you like a policy designed by someone from the Washington establishment, which has dreamed of regime change in Damascus for the past eight years and greeted Trump's decision with wailing and gnashing of teeth, you are not alone. NBC News has even named a possible culprit – retired General Jack Keane, a Fox News military analyst, who they say gave Trump a briefing about the oil fields.
Yet Keane has been against any US withdrawal from Syria or the Middle East in general, and Trump has ignored his advice in the past in favor of other Fox personalities – such as Tucker Carlson and his frequent guest, retired US Army Colonel Douglas Macgregor, who both approved of the Syria pullout.
Critics of the purported plan point out that its illegal. So was the US presence in Syria, mind you – and their transit through Iraq as well, according to Baghdad, or the 2003 invasion, or… well a number of other things, too long to get into here. Illegality has never stopped Washington, convinced as it is of American exceptionalism.
Yes, the oil gambit would be a crime – but worse than that, it would be a mistake. By leaving troops in Syria to "keep the oil," whether for or from someone, Trump would be snatching defeat from the jaws of victory – and for what? Appeasing the very same Washington Swamp he literally just denounced as "human scum"?
Things have had a way of working out in Trump's favor, and he has described himself as a "stable genius." Yet there is nothing clever or genial about this, frankly stupid, plan. As he himself would say, let's see what happens.
これはトランプの単なるリップサービス? クルドをけしかけているようにも見えます。@MazloumAbdiはやはり軽々には信用できないように感じます。
※ Donald J. Trump@realDonaldTrump氏の2019/10/25のツイート
I really enjoyed my conversation with General @MazloumAbdi. He appreciates what we have done, and I appreciate what the Kurds have done. Perhaps it is time for the Kurds to start heading to the Oil Region!
RT2019/10/25
'Mission unchanged'? US to send troops and machines to guard Syrian oil interests, after having vowed to 'withdraw'
US Defense Secretary Mark Esper has confirmed that US troops are being relocated to Syria's oil regions and more "mechanized forces" are coming, despite previous pledges to pull out.
Just weeks ago, President Donald Trump pompously declared it was "time to bring our soldiers back home" as he announced that American forces would withdraw from Syria in the face of the then-looming Turkish offensive targeting Kurdish-led militias – Washington's long-time allies in the fight against Islamic State (IS, former ISIS/ISIL) terrorists.
Then, he suddenly changed his mind and said that certain troops will stay, supposedly to prevent the Syrian oil fields falling into the hands of potentially resurgent terrorists that escaped Kurdish prisons in the turmoil accompanying the Turkish operation.
Now it turns out that the US will send even more troops to the area, to ensure that the oil is "totally secure." On Friday, Esper told other NATO defense ministers in Brussels that the US is "taking some actions ... to strengthen our position at Deir Ezzor, to ensure that we can deny ISIS access to the oil fields."
He also added that the American contingent in the area would now "include some mechanized forces." While Esper did not provide any more details on the issue, some media reports suggest that some Abrams tanks might be deployed to the area. The exact number of troops to be sent on this new mission is also still unknown.
Despite all these fluctuations in the US's Syria strategy, Esper insists "the mission remains unchanged." "The mission in Syria remains what the mission in Syria began,"
Syria has previously condemned any US troop presence on its territory as an illegal foreign invasion, no different than that of IS.
FARSNEWS2019/10/28
Syrian Army Clashes with Turkish Troops in Ras al-Ein
TEHRAN (FNA)- Clashes erupted between the Syrian Army units deployed in Ras al-Ein and Turkish occupation forces, which attacked the area during army's deployment.
The clashes erupted as the Syrian Army units advanced from the direction of Tal Tamr in the Northern countryside of Hasaka towards the Turkish border, and deployed in the villages of Um Harmlah, Bab al-Kheir, Um Eshbeh, al-Asdiayah in the Southeastern countryside of Ras al-Ein, reducing the distance to the Turkish border to few kilometers.
Ras al-Ein is located in Northwestern Hasaka province and 85 kilometers from the city of Hasaka and near the borders with Turkey.
On Sunday, a large number of Syrian Army troops deployed in the villages of al-Sibatieh, al-Jamilieh, Kharbeh al-Dabs, Al-Qassemieh, al-Rashidiyeh, al-Davoudieh, al-Aziziyeh and al-Zahreh in Northwestern Hasaka.
On Saturday, the Syrian Army had deployed in Western regions of the city of Qameshli in Hasaka province and they were warmly welcomed by the residents of these regions.
Amid a warm welcome by people, Syrian forces entered Um al-Keif village on Tal Tamar-Ras al-Ein road to face the Turkish aggression and protect civilians from any attack by Ankara-backed militants.
Several military vehicles carrying army soldiers moved on Friday afternoon from Qamishli city to be deployed in the Western countryside of Hasaka to face Turkish assault and protect the people.
On Saturday, units of the Syrian Army had entered the administrative borders of Ras al-Ayn city on Tal Tamar-Ras al-Ein axis North of Hasaka, walking into the eight villages of al-Qasimiyah, al-Rashidiyah, al-Dawodiyah, Azizyah, Dhara, Sibatiyyah, Jumayliyah and Khirbet al-Dibs to reach the Syrian-Turkish borders.
Government forces have deployed several units to the Turkish border during the past week, and promised to reinforce their troops in the next few days.
※ Ian56@Ian56789氏の2019/10/29のツイート
Confirmation of my earlier tweet below:
Syrian Kurds Say They'll Leave Border Under Russia Deal
https://news.antiwar.com/2019/10/27/syr
※ Ian56@Ian56789氏の2019/10/29のツイート
Good News!
Kurdish YPG Forces have agreed to the Sochi Agreement after numerous talks with the Russian Federation.
SDF are withdrawing from all border areas and handing them over to border guards of the Syrian Government
#Syria
Trump's Imaginary Withdrawal From Syria: A Look Behind the Wizard's Curtain
FARSNEWS2019/10/30
Russia: Pullout of Kurdish Militias from Safe Zone in Northeastern Syria Completed Ahead of Schedule
TEHRAN (FNA)- Russian Defense Minister Sergei Shoigu announced that the withdrawal of Kurdish militia forces from the safe zone in Northeastern Syria has been completed ahead of schedule.
He added that the region is now under the control of Syrian border guards and Russian military police, Sputnik reported.
Shoigu also revealed that Russian forces, along with their counterparts from Armenia, are conducting mine-sweeping activities in the region, having already cleared 100 square kilometres not only of mines, but also of various undetonated ordnances that could pose a threat to civilians.
Ankara halted its military operation, called "Peace Spring", giving the Kurds a limited timeframe to withdraw from their positions within the so-called safe-zone in Northern Syria, East of the Euphrates. Ankara believes that Kurdish forces are linked to the Kurdistan Workers Party (PKK), considered a terrorist organisation by Turkey. Ankara announced that the withdrawal of the Kurdish militia from Northern Syria near the border with Turkey was a key precondition for halting its military operation.
Moscow and Ankara recently agreed during talks in Sochi that Russian military police and Syrian border guards would facilitate the People's Protection Units (YPG)'s withdrawal. Under the Sochi memorandum, Russian military police and Turkish forces would also jointly patrol a 10-kilometre wide zone to the East and West of Ankara's recent military operation in Syria.