RT2019/10/19
What does THAT mean? Trump says US 'secured the oil' in Syria, causes confusion
President Donald Trump's claim that the US has "secured the oil" in Syria has set Twitter on fire, from speculation he will keep troops there to accusations he was only ever interested in oil rather than fighting terrorism.
Praising the ceasefire negotiated with Turkey on Thursday, Trump tweeted that everything was going well, adding that captured Islamic State (IS, formerly ISIS) terrorists were "double secured" by Turkish and Kurdish forces, but "the US has secured the oil."
Journalists, pundits, think-tank experts and the president's critics in general have zeroed in on that "curious element" in the thread, wondering what it might mean – or mind-reading their own conclusions into it.
Nicholas Heras of the liberal think-tank CNAS suggested this might mean the US is keeping a "residual force" in the Middle Euphrates River Valley, contrary to earlier reports that all forces would be withdrawn except for a small garrison at At-Tanf on the border with Jordan.
Washington has kept a small number of special forces operators in Syria for the past several years – against international law and stretching the US legislation authorizing military action abroad – with the purpose of leading Kurdish militias against IS.
Territories liberated by these "Syrian Democratic Forces" included much of Syria's farmland and oil fields east of the Euphrates, which the US refused to turn back over to the government in Damascus.
As Turkey invaded northern Syria last week to go after the Kurdish militias it has declared terrorists, the Kurds reportedly struck a deal with Damascus for government forces to move back in to the border. It stood to reason that this would apply to the oilfields and the rest of the territory in the interior as well, whether now or a little bit later.
Trump's tweet opens up the possibility that some US troops will be staying behind to prevent this from happening, although that does not fit with the general withdrawal orders confirmed by the Pentagon earlier. Far more likely is that he was referring to oilfields previously used by IS to funds its "caliphate," that are now safely in the hands of local forces opposed to them. No one but Trump himself actually knows, however.
※ Brasco_Aad@Brasco_Aad氏の2019/10/18のツイート
-Significant-
US troops are evacuating their military base in Ash Shaddadi, Al Hasakah Governorate and are heading towards Iraq.
They were occupying the Shaddadi oil fields here.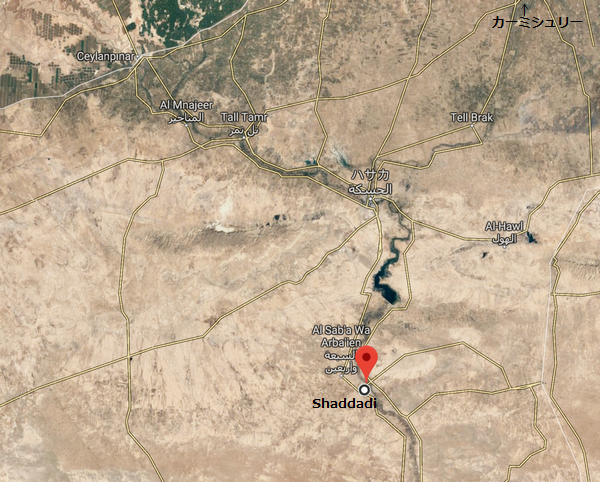 次の方、Oleg Blokhin氏はなかなか良い顔をしていますね。
マンビジの米軍基地を取材してコバニに向かうためユーフラテス川を渡るところです。彼を写した動画は左右にパンしており、周辺の光景がわかります。彼の指示か?

最近のロシアの若い世代の顔は明るく自信に満ちたものになっています。ハビブはその典型です。
※ Syrian Girl@Partisangirl氏の2019/10/15のツイート
This creature first acted as the media arm of the FSA, then she jumped ship and became a "Rojava" pusher, backed the SDF that her FSA is now killing. They call journalists & war correspondents vultures, I've never seen a bigger vulture than this. She'lol never step foot in Syria.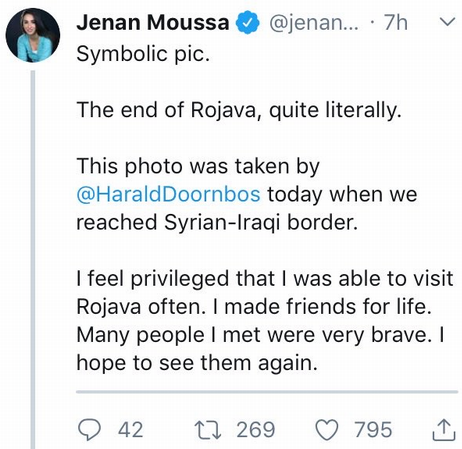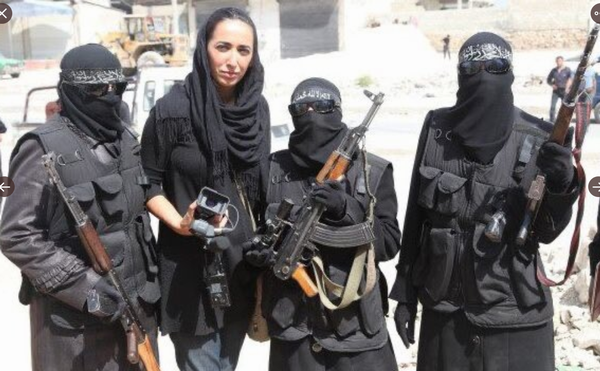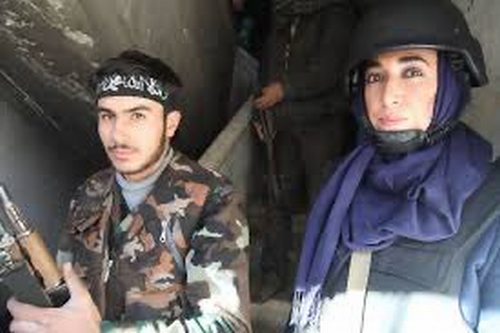 RT2019/10/16
Covering the tracks? US jets BOMB own base in Syria as troops retreat
A major US base in northern Syria was destroyed by an air strike after the troops pulled out, likely to prevent more embarrassing videos of the abandoned facility once it is reclaimed by Syrian government troops.
The Lafarge cement factory near Kobani was the site of a joint US-French base, which was abandoned on Wednesday as part of a general withdrawal ordered by US President Donald Trump. Local sources reported the facility at Kharab'Ashaq was bombed shortly thereafter.
US officials confirmed the strike on Wednesday evening, saying it was previously planned and intended "to prevent the coalition operation center from being utilized by outside forces."
The strike targeted leftover ammunition and vehicles abandoned at the base, the official reportedly said, adding that no coalition troops were harmed.
US-allied Kurdish militias that have controlled the area since liberating it from Islamic State (IS, formerly ISIS) terrorists had previously refused to reintegrate into Syria, backed by Washington's insistence on regime change in Damascus. With Turkish-backed militants invading from the north, however, they struck an agreement with the Syrian government.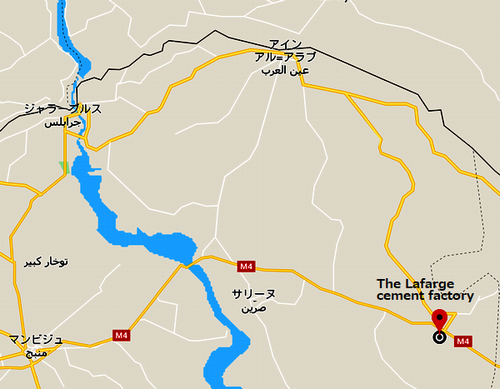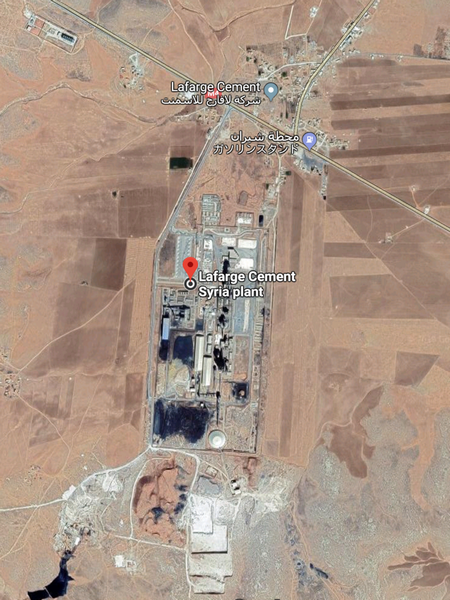 RT25019/10/16
Turkish invasion creates better conditions for Islamic State terrorists as it creates chaos, Assad's key adviser tells RT
There is a risk of an Islamic State (IS, formerly ISIS) resurgence in Syria, and it is Turkey's invasion of the northeast that should be blamed, Bouthaina Shaaban, a political adviser to Syrian President Bashar Assad, told RT.
"Every war creates chaos and chaos is a good climate for terrorism. So this invasion creates better climate for ISIS terrorists," she said, referring to the terrorist group by its old name. "But the major force that is fighting for Turkey now are the Jabhat al-Nusra. So the terrorists are led by Turkey now to occupy part of the Syrian land."
And from beginning it was Turkey, who allowed terrorists from all over the world to cross the border and fight this war against the Syrian people.
"We see them as an occupying force. They did not come by an invitation from the Syrian government. They had nothing to do on our land. And the reason they were here was to protect terrorists," Shaaban said.
A resurgence of Islamic State was named as one possible unintended consequence of Turkey's military incursion in the border area controlled by Kurdish militias. The Kurds warned they won't be able to continue holding jihadist fighters captured over the previous years and fight against Turkey.
※ Rudaw English@RudawEnglishの2019/10/15のツイート
#BREAKING: High-level Russian delegation arrives in #Ankara, Turkey.