イランは、米国主導の有志連合を米、英、イスラエルだけに封じ込めることにほぼ成功した模様です。カナダ、豪州、フランスの動きが確認できませんが、ドイツが不参加を明確に表明していますからフランスの参加は困難でしょう。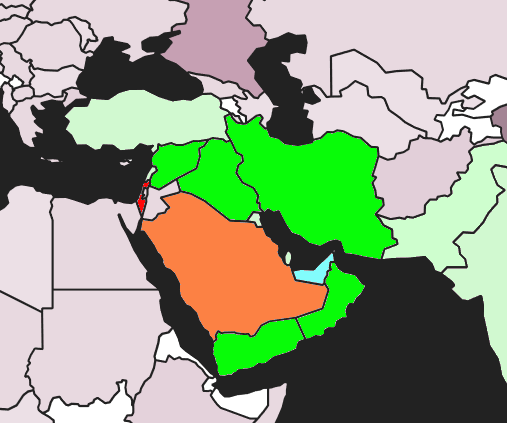 サウジの名前が出てきません。イランはサウジの軍事力は米国が握っているとみている? あるいはイスラエルの属国だと?
ここに来てイランとイスラエルの威嚇のやり取りが激化しています。
イスラエルの動き次第によっては、全面衝突の恐れがあるとの見方が有力です。イスラエルは有志連合には情報収集で参加するとしています。艦船か航空機か手段がわかりませんが、航空機を使うのはカタールか、サウジか、UAEの便宜供与が必要です。となると艦船でしょうか。
イランはイスラエルが国際法違反行為を犯さないか、鷹の目で探すこととなり、何かあれば撃墜を含む軍事的措置を発動するでしょう。そしてイスラエルがどう反応するかにその後の展開はかかってくることとなります。
イスラエルに米国や英国が付いているといっても、湾岸地域はイスラム圏。戦争が拡大したらイスラエルには四方八方から弾が、ミサイルが飛んでくることになりましょう。それを考えれば、イスラエルもイランの言う余命30分のリスクを考えなければならないでしょう。
イスラエルの行動は、ロシア機の陰に隠れてシリアを攻撃したり、汚い手を使います。イスラエルのそういう「知恵」が軍事衝突の引き金を引くことはありうるとみています。
SPUTNIK2019/8/12
'We're Here to Deter Iran, But Ready to Strike if Ordered' - US Military on Aircraft Carrier in Gulf
The United States deployed the USS Abraham Lincoln aircraft carrier strike group and a bomber task force to the Persian Gulf in May, in what National Security Adviser John Bolton described as a "clear and unmistakable" message to Iran that any attack on American interests or those of its allies would be met with "unrelenting force".
US officers on the USS Abraham Lincoln aircraft carrier, deployed at an American naval base in Bahrain along with some smaller vessels, claimed in an interview with Sky News that their mission is to deter Iran from striking US targets, but added that they were also ready to launch offensive strikes if ordered.
"A large part of deterrence is the readiness that backs that deterrence up. We are ready to defend the US and the US interests if called upon... My job is to be here, to be ready, to deter and to defend if required", Rear Admiral Michael Boyle, commander of Carrier Strike Group 12, said.
The USS Abraham Lincoln was sent to the Middle East in May due to what Washington claimed was a "number of troubling and escalatory indications and warnings" from Iran. Despite the highly publicised deployment, the aircraft carrier has not passed through the Strait of Hormuz, a strategic waterway linking Mideast crude producers to crucial world markets.
"For our mission here, which is deterrence, we are in the place we need to be. The people in the know in Iran know that we are more of a deterrent here than we are in the Arabian Gulf because from this position we can reach them and they can't reach us. In a boxer's analogy we have got overreach from the spot where we are right now", Boyle added.
According to Sky News, aircraft on the carrier were supposed to strike several Iranian targets in June when Tehran brought down a US spy drone, which it claimed had violated its airspace and ignored multiple warnings to leave the area. At the time, President Donald Trump called off the retaliatory strikes just 10 minutes before it was set to be launched, explaining that the death of an estimated 150 Iranians was disproportionate to the loss of an unmanned aerial vehicle.
The drone incident was one of the many episodes contributing to the spike in US-Iran tensions: Washington has as well accused Tehran of being behind "sabotage attacks" on oil tankers off the UAE coast in mid-May and in the Gulf of Oman in early June, while Iran denied the allegations and urged the US to cease "warmongering" and "false flag" ops.
As a result, the United States has proposed to form an international maritime coaliton and invited several European countries, including Germany, France, and the UK, along with other nations, such as Japan, South Korea, and Australia, to join. While some of them have expressed unwillingness to take part in the initiative, the UK has signed up for the mission.
SPUTNIK2019/8/12
Iranian Foreign Minister: US, Allies Turning Gulf Region Into 'Matchbox Ready to Ignite'
The comments by Iranian Foreign Minister Mohammad Javad Zarif stem from a United States' plan to build an international maritime coalition to patrol the Persian Gulf against a professed threat from Tehran.
Iranian Foreign Minister Mohammad Javad Zarif has accused the United States and its allies of turning the Persian Gulf region into a "matchbox ready to ignite", according to Reuters, citing the diplomat's interview with Al Jazeera television.
The Gulf waterway "is narrow, it will become less safe as foreign (navy) vessels increase their presence in it", the Qatar-based TV channel cited him as saying.
"The region has become a matchbox ready to ignite because America and its allies are flooding it with weapons", Zarif said.
Iran's top diplomat, who has recently been sanctioned by the US, previoulsy said that Washington had failed to create an allied naval mission because "countries that are its friends are too ashamed of being in a coalition with them".
His interview follows a similar remark by Iran's Islamic Revolutionary Guard Corps (IRGC) Navy Commander Rear Admiral Alireza Tangsiri, who insisted that the security of the Persian Gulf and the Strait of Hormuz was the elite unit's responsibility, and that they did not need the presence of foreigners in the region.
Tangsiri has, likewise, addressed Israel's reported intention to join a US-proposed naval initiative in the Gulf to ensure security of navigation routes there, saying that it would result in war and confrontation in the region.
Meanwhile, IRGC Commander-in-Chief Maj. Gen. Hossein Salami has dismissed the US-led anti-Iran mission as the "coalition of demons", warning that Israel's potential involvement would jeopardise the Jewish state's very existence.
The United States has proposed to set up an international maritime coalition, dubbed Operation Sentinel, to police the Persian Gulf and nearby straits in the aftermath of several "sabotage attacks" on oil tankers there that were immediately blamed on Tehran despite its consistent denials.
Washington has already invited a number of European states, as well as Japan, Australia, and South Korea, among other nations, to join its mission, which it claims is aimed at securing navigation routes for vessels.
Already existing tensions in the Gulf were further exacerbated in May when four oil tankers − two Saudi, one Norwegian, and one Emirati − were allegedly attacked near the UAE port of Fujairah. The following month, two other vessels − Japanese and Norwegian − were targeted in a similar incident in the Gulf of Oman, near the Strait of Hormuz.
In July, the IRGC seized a UK-flagged oil tanker, Stena Impero, in the Strait of Hormuz over alleged violations of martime rules. The vessel's detention came a few weeks after Gibraltar's authorities seized an Iranian supertanker with the assistance of UK Royal Marines, accusing it of delivering oil to Syria in violation of EU sanctions. Tehran, which denied the allegations, later stressed that the Stena Impero seizure was not a retaliatory move.
RT2019/8/12
Israel may 'spark a war' if it joins US-led flotilla in the Persian Gulf, Iran's navy chief warns
Tehran has advised Israel to stay clear of the Persian Gulf, where the US has been struggling to amass an anti-Iran armada, noting that every vessel illegally present in the region increases the risk of an all-out conflict.
"Any illegitimate presence by the Zionists in the waters of the Persian Gulf could spark a war," commander of the Iranian Revolutionary Guard's Navy, Alireza Tangsiri, warned Sunday.
Israel reportedly volunteered to provide intelligence and assistance to the US-led coalition against Iran, as the pressure in the Persian Gulf mounts, after a series of mysterious tanker attacks and reciprocal vessel seizures by Iran and the UK.
The Islamic Republic has vowed to protect its sovereignty in the Strait of Hormuz and beyond, accusing the US of trying to enforce its unilateral oil sanctions though military pressure after failing to do it via political extortion. Washington insists its intentions are peaceful and that it is rallying foreign warships to the region with the noble goal of protecting shipping lanes and vessels from Tehran.
So far, the US has had trouble drumming up support for its "maritime policing" initiative in, as among European countries, only the UK has been eager to send two of its vessels into the midst of the tensions.