RT2019/6/20
Iran claims it shot American drone, US military doesn't comment
Iran has shot down an American RQ-4 reconnaissance drone flying over Hormuzgan province , Tehran claims.The US military declined to comment, according to AP.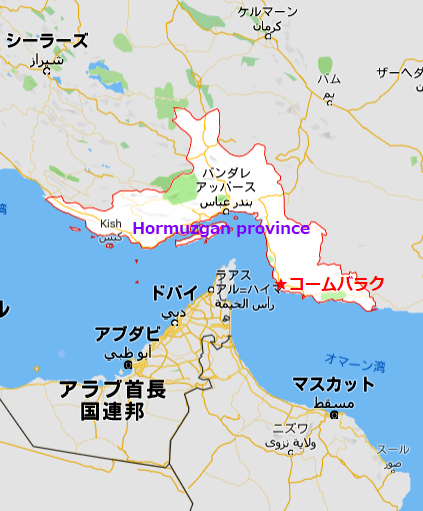 RQ-4s typically fly at high altitude to conduct reconnaissance missions.
The US has not yet responded to the allegations, though the Pentagon accused Iran on Sunday of a failed attempt to shoot down a US Reaper drone that was observing one of the oil tankers attacked in the Gulf of Oman last week.
US CENTCOM spokesman Capt. Bill Urban told the AP, "There was no drone over Iranian territory."
The Islamic Revolutionary Guard Corps air force shot down an "American espionage drone" that was invading Iranian territory, the IRGC's public relations arm said in a statement released on Thursday. The drone, identified as an RQ-4 Global Hawk by state-run IRNA news agency, was flying above Kuh Mubarak in Hormozgan province.
イスラム革命防衛隊(IRGC)のテヘラン-IRNA-広報活動は、IRGC空軍の攻撃による、イラン・イスラム共和国の領土空間への侵入中のアメリカのスパイドローンの撃墜を発表しました。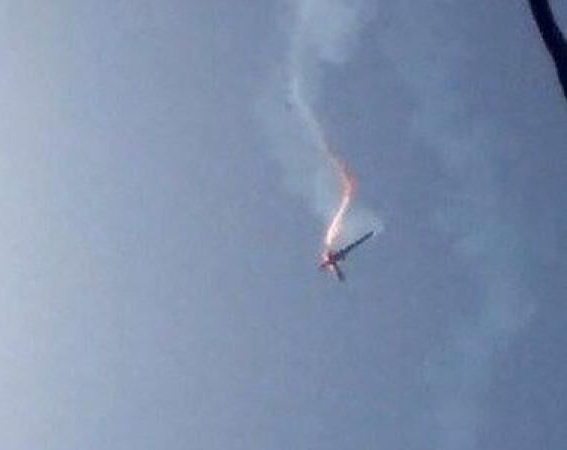 Tensions between the US and Iran are running high, with rumors the US is plotting a "tactical assault" in response to last week's attacks on Japanese and Norwegian oil tankers in the Gulf of Oman. While the US immediately blamed those attacks on Iran, Secretary of State Mike Pompeo's explanation of the attacks diverged significantly from the experiences of the Japanese sailors on board one of the injured ships, and even US allies have demanded further proof before they sign on to the blame-Iran narrative.
やー、これはびっくりです。RQ-4は高空を飛ぶので地対空ミサイルでは撃ち落としにくいはず。イランは弾道ミサイルだけではなく、誘導ミサイル、あるいは追尾式ミサイルでも技術的な開発に成功していたことがわかります。
前回の米軍発表では、イラン軍は攻撃に失敗したと余裕の発表でしたが、今回はイラン領内に偵察機はいなかったとしらっぱくれるしかなくなりました。
FARASNEWS Thu Jun 20, 2019 12:36
http://fna.ir/da9iid
IRGC Commander: Shooting Down of American Drone Sends 'Clear Message' to US
TEHRAN (FNA)- Commander of the Islamic Revolution Guards Corps (IRGC) Major General Hossein Salami confirmed downing of a US spy drone on the Southern coasts of Iran on Thursday, stressing that the move should alert Washington officials to stay away.
"This morning, the IRGC Air Force bravely downed an enemy spy drone which had crossed our borders and was violating our national security," General Salami said, addressing a congress in the Western province of Kurdistan on Thursday.
He added that the incident sent "a clear message" to the US and other enemies that Iran will show a firm and crushing response to any aggression.
"Borders are our red lines and any enemy which violates them will not go back home and will be annihilated. The only way for enemies is to respect Iran's territorial integrity and national interests," General Salami said.
"We declare that we do not want war with any country but we are fully ready for war and the today incident was a clear instance of this precise message," he underscored.
A US-made Global Hawk spy drone was shot down by the IRGC on the Southern coasts of Iran in Hormozgan province today.
The IRGC announced in a statement early Thursday that the US-made Global Hawk surveillance drone was brought down by its Air Force near the Kouh-e Mobarak region in the Central district of Jask after the aircraft violated Iran's airspace.
The RQ-4 Global Hawk unmanned aircraft system (UAS) can fly at high altitudes for more than 30 hours, gathering near-real-time, high-resolution imagery of large areas of land in all types of weather.
Meantime,
Iran has downed many other US drones as well, and they have always started reproducing them after conducting reverse engineering on them.
Iran announced on December 4, 2011 that its defense forces had downed a US RQ-170 aircraft through a sophisticated cyber attack. The drone was the first such loss by the US. US officials have described the loss of the aircraft in Iran as a setback and a fatal blow to the stealth drone program.
The aircraft is among the highly sensitive surveillance platform in the CIA's fleet that was shaped and designed to evade enemy defenses.
Since December, 2011, Iran has hunted down several more US drones of various types.
In January 2013, a deputy commander of the Iranian Navy announced that the country's Army had hunted two more advanced RQ type UAVs.
"The air-defense units of the Army have hunted two enemy drones," Deputy Commander of the Iranian Navy for Coordination Rear Admiral Amir Rastegari told FNA.
"These drones were from 11th series of the RQ class, and one of them was hunted in Shahrivar 1390 (August 21-September 19, 2011) and the other one in Aban (October 22-November 20, 2012)," Rastegari said, adding that the Army research center is now studying the two UAVs.
"Much of the data of these drones has been decoded by the Army's Jihad and Research Center," he said, but did not provide any further detail.
The remarks by the Iranian commander came after Iran announced on December 4, 2012, that the IRGC Navy had hunted a US UAV over the Persian Gulf after the drone violated the country's airspace.
The IRGC navy commander announced at the time that the hunted UAV was a ScanEagle drone, adding that "such drones are usually launched from large warships".
ScanEagle is a small, low-cost, long-endurance unmanned aerial vehicle built by Insitu, a subsidiary of Boeing.
Iran later reproduced its own model of ScanEagle through reverse engineering techniques.
RT2019/6/20
Iran releases VIDEO of US drone shoot-down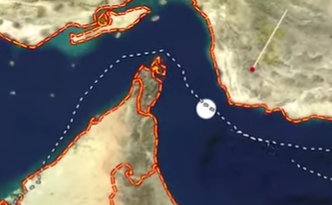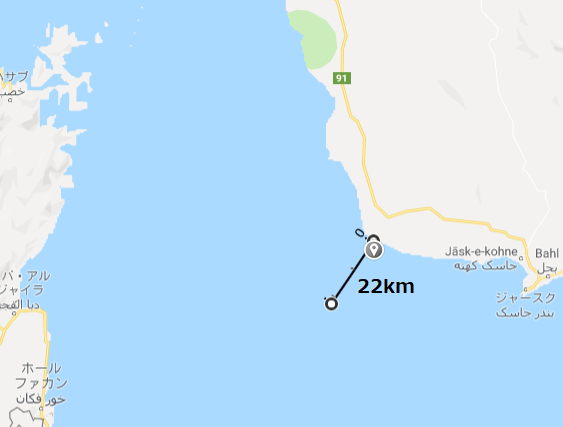 上の画像では撃墜はすでに明るくなってからなされたように見えますが、イランの発表した動画ではまだ暗いうちになされたようです。上の画像の真偽は?
イランは米国のドローンが自国領域に入ったから撃墜したとしていますが、発表された動画の地図では陸地からの距離があり、22kmを超えているように見えます。撃墜地点ではなくそこに至るどこかで領空を侵犯した?
※ Javad Zarif認証済みアカウント @JZarif氏の2019/6/21のツイート
At 00:14 US drone took off from UAE in stealth mode & violated Iranian airspace. It was targeted at 04:05 at the coordinates (25°59'43"N 57°02'25"E) near Kouh-e Mobarak.
We've retrieved sections of the US military drone in OUR territorial waters where it was shot down.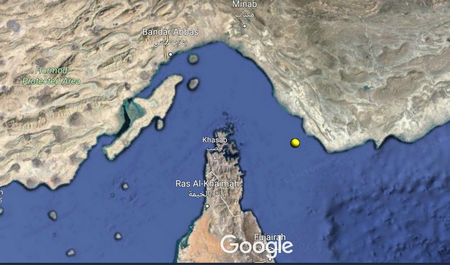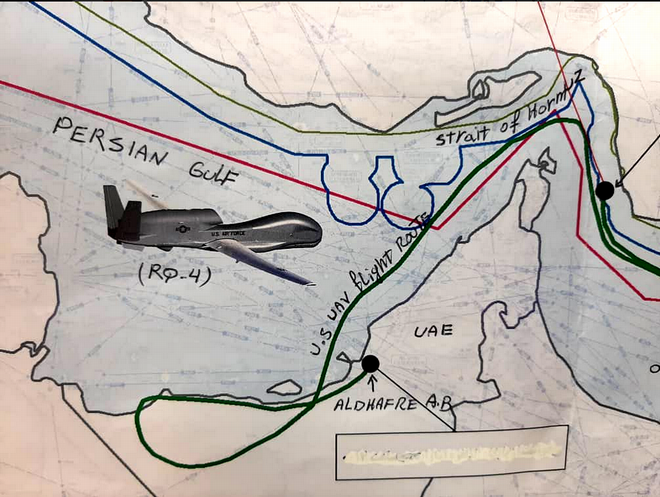 青い線が領海ライン。ギリギリです。
米軍発表の撃墜地点。ドローンはステルスモードで飛んでおり、レスポンダーなどはオフになっていたとされています。米軍の主張は信憑性を欠きます。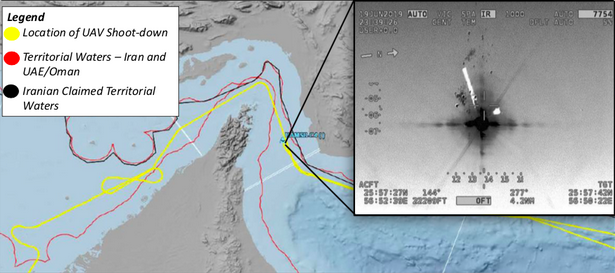 PRESSTVから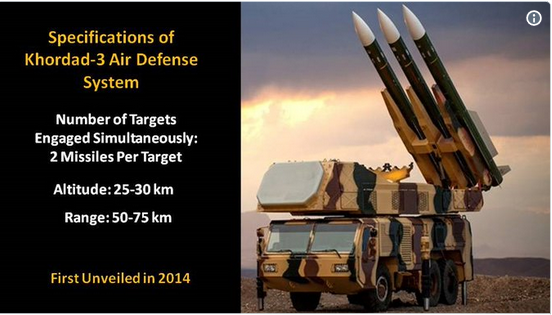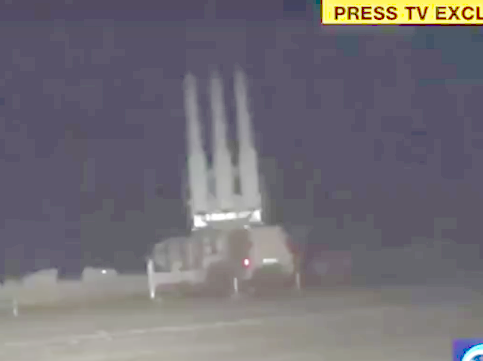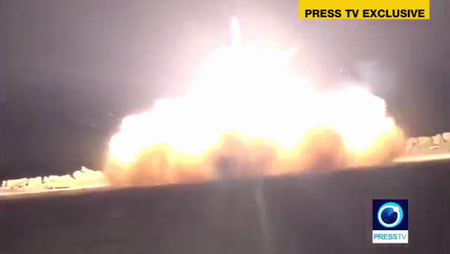 このミサイルは何らかの誘導装置と自爆装置がついているはずです。ドローンが領空に入らなければ、自爆させなければならないでしょう。タンカー攻撃のあった日、イランがミサイルを打ったが当たらなかったと米軍は述べています。イランは、領空外だったため自爆させたはずです。今回はしっかりと確認して撃墜したことになります。
米国海軍の小船舶がイランの領海に入り、拿捕されたことがあります。ホルムズ海峡は小さな島がいくつもあり、航路としては難所中の難所のようです。
RT2019/6/21
Iran refrained from targeting US plane with 35 on board flying with downed drone - Iranian commander
The commander of Iran's Aerospace Force of the Islamic Revolutionary Guard Corps claims that the downing of a US drone was a warning to an American military aircraft flying alongside.
Brigadier General Hajizadeh told state TV that the main reason for shooting down the drone, which marked a serious escalation in tensions with the US, was to force the American P-8 military aircraft to divert course, according to Iranian media.
Hajizadeh also claims that there were some 35 personnel on board, though he did not cite a source for this figure. In addition, he alleges that the US military was warned twice of an impending strike against the aircraft if they did not change course.
"Twice we... sent warnings," Hajizadeh said as cited by the AFP.
Hajizadeh added that even the US military's autonomous drone had the capabilities to relay messages to their operators thousands of miles away.
"This aircraft possesses a system which allows it to relay the signals and information it receives to its own central system," he said, adding that the order was given only after the aircraft finally entered Iranian airspace at 4:05am local time.
On Friday afternoon, the Iranian military showcased the wreckage of the US drone.