FARSNEWS2018/10/9
US Officials Voice Concern over Missing Saudi Journalist
TEHRAN (FNA)- US President Donald Trump expressed concern about the fate of prominent Saudi journalist and regime critic Jamal Khashoggi, who vanished after entering the Saudi consulate in Istanbul last week.
"I am concerned. I don't like hearing about it. Hopefully that will sort itself out," Trump told reporters at the White House, Al-Jazeera reported.
"Right now, nobody knows anything about it. There are some pretty bad stories going around. I do not like it."
Khashoggi, a US resident, has written articles over the past year critical of Saudi Crown Prince Mohammad bin Salman. On the eve of his planned marriage to a Turkish woman, he entered the consulate on October 2 and has not been seen since.
Turkish officials have said he was murdered inside the building. Riyadh denies that and claims he left the compound on his own.
US Vice President Mike Pence also waded into the controversy over the disappeared Saudi, saying "the free world deserves answers".
US Secretary of State Mike Pompeo called for a thorough and open probe by Saudi Arabia.
"We call on the government of Saudi Arabia to support a thorough investigation of Mr Khashoggi's disappearance and to be transparent about the results of that investigation," Pompeo said in a statement.
Turkish President Recep Tayyip Erdogan said on Monday that Saudi officials must prove that Khashoggi left the Saudi consulate in Istanbul.
"We have to get an outcome from this investigation as soon as possible. The consulate officials cannot save themselves by simply saying 'he has left'," Erdogan added.
The 59-year-old contributor to the Washington Post spent last year in the United States in self-imposed exile after he fled Saudi Arabia amid a crackdown on intellectuals and activists who criticised the policies of the crown prince. He was last seen by his fiancee, Hatice Cengiz, entering the consulate to obtain a document needed for their marriage. She and Turkish officials say he never emerged, even though Saudi Arabia insists he left the building.
Turkish authorities have said they believe Khashoggi was most likely killed inside the consulate building and his body later removed from the premises, though they haven't provided any evidence.
The Washington Post also pressured the administration to investigate.
"If Mr Khashoggi was murdered inside the consulate, it will cast the Saudi regime and its de facto ruler - Crown Prince Mohammad bin Salman - in a new and disturbing light and require a thorough re-evaluation of US-Saudi relations," the newspaper said in an op-ed.
Khashoggi, 59, has had a long career as a senior journalist in Saudi Arabia and also as an advisor to top officials.
But since the emergence of bin Salman, 33, as the centre of power in the kingdom last year, Khashoggi has been openly critical of the monarchy.
He has assailed the prince's reforms as hollow, accusing him of introducing a new Saudi era of "fear, intimidation, arrests and public shaming".
Killing someone such as Khashoggi - who long had ties to the royal family and the Saudi intelligence apparatus - in a consulate would be a major escalation in the prince's rise.
Ties between Turkey and Saudi Arabia are at a low point over Ankara's support for Qatar last year in its dispute with Saudi Arabia and other Gulf nations. Turkey sent food to Qatar and deployed troops at its military base there. Saudi Arabia is also annoyed by Ankara's rapprochement with its arch-rival, Iran.
Journalists and activists gathered outside the Saudi consulate in Istanbul also demanded information on Khashoggi's fate.
"We demand from the international community to pressure Saudi Arabia and Mohammad bin Salman to tell us exactly what happened," Mohamed Okad, a friend of Khashoggi and founder of Insight into Crisis, a conflict advisory group, stated.
FARSNEWS2018/10/9
US Senators Warn Saudi Arabia to Pay Price If Journalist Killed
TEHRAN (FNA)- Two senior senators of President Donald Trump's Republican party warned on Monday that the relationship with Riyadh could be imperiled if the stories about Jamal Khashoggi are correct.
Saudi Arabia will pay a "heavy price" if allegations that the kingdom killed a prominent journalist prove true, a senior Republican senator said on Monday, World News reported.
On his Twitter account, Lindsey Graham noted that Riyadh must provide "honest answers", adding that his position is shared by fellow Senators Bob Corker, a Republican, and Ben Cardin, a Democrat.
"We agree if there was any truth to the allegations of wrongdoing by the Saudi government it would be devastating to the US-Saudi relationship and there will be a heavy price to be paid − economically and otherwise," Graham tweeted.
"Our country's values should be and must be a cornerstone of our foreign policy with foes and allies alike," Graham stressed.
Bob Corker, chairman of the Senate Foreign Relations Committee, warned in a tweet against governments attacking journalists outside their countries, saying said the US will "respond accordingly" to countries that target journalists as officials investigate the disappearance of Khashoggi.
"I have raised Jamal's disappearance personally with the Saudi ambassador, and while we await more information, know we will respond accordingly to any state that targets journalists abroad," he wrote.
Sens. Rand Paul, Chris Murphy and Christopher Coons, as well as Rep. Gerry Connolly, have all highlighted Khashoggi's case since he was first reported missing last week, with Murphy suggesting the US should reconsider its relationship with Saudi Arabia in light of the missing journalist.
Turkish officials believe Khashoggi, who was a Washington Post contributor and a regular critic of Saudi leadership, was killed while visiting the Saudi consulate in Istanbul. He went missing after visiting the consulate to complete paperwork to marry his fiancee.
FARSNEWS2018/10/9
Whistle-Blower: Results of Turkey's Investigations into Khashoggi's Death Enough to Overthrow Bin Salman
TEHRAN (FNA)- Saudi whistle-blower Mujtahid, who is believed to be a member of or have a well-connected source in the royal family, underlined that
"It seems that the details that Turkey will announce (in the near future about the fate of Khashoggi) are enough to ," Mujtahid wrote on his twitter page on Tuesday.
He also predicted that final results of Turkey's investigations may dissuade the US administration and Trump from continued support for bin Salman.
Mujtahid said that the Turkish judicial authorities are already in possession of sufficient proof and evidence to prove the Saudi government's role in Khashoggi's death, but they are waiting for completion of the legal and judicial process so that the final report would condemn bin Salman.
Turkish officials said they had concrete evidence missing Saudi journalist Jamal Khashoggi was murdered, with a friend of the prominent writer saying they think he might have been dismembered.
A contributor to The Washington Post, Khashoggi has not been seen since Tuesday last week, when he entered the Saudi consulate in Istanbul, Turkey, to collect papers for his upcoming wedding.
Saudi officials said he left shortly afterwards but his fiancee, who was waiting outside, said he never came out.
Khashoggi, 59, who was once close to the Saudi royal family and has served as an adviser for senior Saudi officials, left the country last year to live in the US in self-imposed exile, saying he feared retribution for his criticism of Saudi policy in the Yemen war and its crackdown on dissent.
Turan Kislakci, a friend of Khashoggi and the head of the Turkish-Arab Media Association, said that Turkish officials said the journalist has been brutally murdered.
"What was explained to us is this: 'He was killed, make your funeral preparations'," Kislakci said.
"We called a few other places, these are lower officials, but they said: 'We have evidence he was killed in a barbaric way, we will announce it tomorrow or the day after'."
Kislakci also alleged, based on conversations with officials he did not name, that Khashoggi was made to "faint", then was dismembered.
RT2018/10/9
トルコがサウジ領事館を捜索
※ Ragıp Soylu認証済みアカウント @ragipsoylu氏の2018/10/9のツイート
New details from another @sabah report on Jamal Khashoggi investigation.
The tale of two Saudi jets which visited Istanbul in the day of disappearance, involving Dubai and Egypt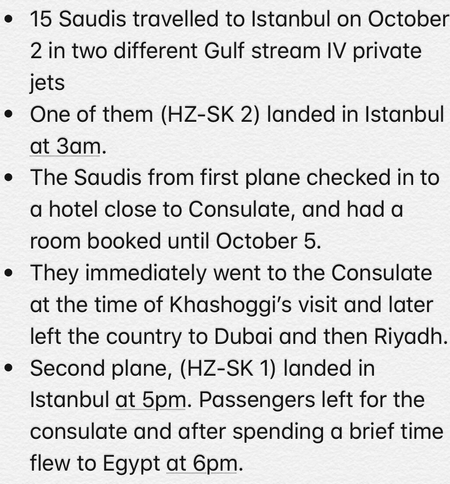 ※ Ragıp Soylu認証済みアカウント @ragipsoylu氏の2018/10/9のツイート
Same @sabah report also says Turkish police is investigating another possibility, that Khashoggi was abducted alive in a black Vito.
The scenario is that Saudi intelligence was aided by another intel organisation
This is also very convenient: Saudi officials put Turkish employees on leave in the day of Khashoggi's disappearance
To underline another detail in the story, Saudis with diplomatic passports arrived in Istanbul and booked hotel rooms for 4 days. But they didn't stay, they checked in on October 2 and left the country in the same day