大統領Barham SalihがAdil Abdul-Mahdiを首相に指名
FARSNEWS2018/10/3
On Tuesday, Iraqi parliament elected the Kurdish politician Barham Salih as the new president of the country. As a veteran Kurdish politician from the Patriotic Union of Kurdistan (PUK) political party, Barham Salih was running against his sole challenger from the Kurdistan Democratic Party's (KDP), Fuad Hussein, who withdrew from the second round of the vote after witnessing his 90 votes compared to Salih's 165 in the first round.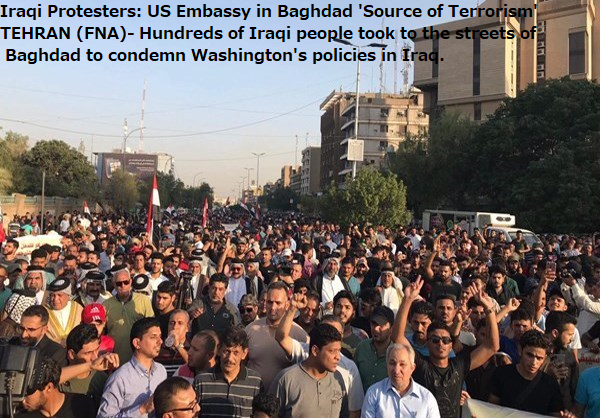 AMN2018/9/1
Hundreds of Iraqis protest US interferece in domestic affairs
BEIRUT, LEBANON (7:20 A.M.) – Hundreds of Iraqis, outraged by the ongoing American presence in their country, gathered in Baghdad's Firdos Square on Friday to demand an end to the interference.
Since a new Iraqi parliament is set to meet next week to elect a speaker and start forming a government, the protesters called on Washington to not interfere in the process.
Protesters also added that their fellows Iraqis were remaining silent on this 'criminal act' which 'sends them to hell.'
FARSNEWS2018/9/1
TEHRAN (FNA)- Iranian Foreign Ministry Spokesman Bahram Qassemi underlined that Iraqi Prime Minister Haider al-Abadi's decision to remove his national security advisor and head of the country's Hashd al-Shaabi (popular forces) Falih al-Fayyadh is an internal affair, and has nothing to do with Tehran.
"This is an internal Iraqi issue and we do not interfere in it," Qassemi said on Saturday.
The Iranian foreign ministry spokesman reiterated that for Iran as a neighbor, a safe, unified, and advanced Iraq has priority over everything else.
Al-Fayyadh was removed from office on Friday, with al-Abadi's office stating that the decision had been take due to al-Fayyad's involvement in political and partisan work.
The decision has largely been attributed to the country's ongoing efforts to form a new government following parliamentary elections in May.
Senior cleric Muqtada Sadr's Sairoon bloc came first in the polls, while the Fatah (Conquest) Alliance led by Hadi al-Amiri, and Prime Minister Abadi's Nasr finished second and third.
Before Abadi's decision, reports surfaced alleging that
Abadi's office said al-Fayyadh's alleged involvement in government formation talks would undermine the performance of the country's security apparatus.
As an apparent answer to the prime minister's move,
この方ですね。Hashd al-Shaabi (popular forces)を率いていました。米軍やサウジが対テロ作戦に参加させるなとアバディに申し入れる程の大きな成果を上げています。次期首相の可能性が浮上です。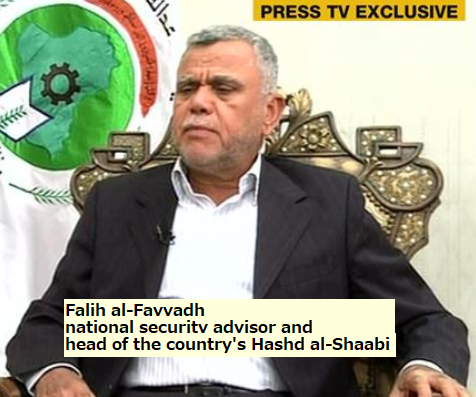 FARSNEWS2018/9/1
Iraqis Rally to Vent Anger at US over Interference
TEHRAN (FNA)- Hundreds of Iraqi protesters took to the streets of the capital, Baghdad, to vent their anger at the US meddling in the Arab country's domestic affairs.
Demonstrators gathered in central Baghdad on Friday carrying banners and chanting slogans in condemnation of Washington's interference in Iraq's internal issues amid political uncertainty over the makeup of a new government, presstv reported.
Protester Sheikh Kazem Faihan called on the Iraqi nation to be united against "the enemy and its stark intervention in our matter", adding that "it's a Zionist US enemy trying to intervene in our local matter so, oh, Iraqi people how can you be silent about this criminal act?"
Sadek Mahdawi, another participant in Friday's rally, stressed that the Iraqi people have to choose their own government.
"Our demand is [for them] not to interfere in Iraqi matters, this is first. Second, we are electing a counsel to be in charge of forming a new council with no foreign intervention from the US or anyone else," he said.
The US, backed by the UK, invaded Iraq in 2003 under the pretext that the former regime of Saddam Hussein possessed weapons of mass destruction. No such weapons, however, were ever found in the country.
More than one million Iraqis were killed as a result of the US-led invasion and the subsequent occupation of the country, according to the California-based investigative organization Project Censored.
The invasion plunged Iraq into chaos and led to the rise of terrorist groups.
Last December, Prime Minister Haider al-Abadi declared the end of the anti-Daesh campaign in Iraq. The group's remnants, though, still keep staging sporadic attacks across the country.
Iraq's parliamentary elections were held on May 12 and predominately Shia blocs won most seats at the legislature. However, political parties are still embroiled in negotiations over forming the largest bloc at the parliament.
Last month, US-led coalition Spokesman Colonel Sean Ryan announced that the alliance would remain in Iraq despite the defeat of Daesh, stressing that "we'll keep troops there as long as we think they're needed".
The announcement raised objections among Iraqi politicians.
AMN2018/8/31
Iraq blocks Russian warplane from using its airspace
BEIRUT, LEBANON (6:20 P.M.) – The Russian Aerospace Forces were redirected from Iraq's airspace on Friday and forced to reroute over Iran, air traffic observers reported this afternoon.
According to the reports, a Russian Tu-154M was traveling from Moscow to the Syrian coastal province of Latakia, when the Iraqi government made the decision to block the warplane's flight over their airspace.
No reason was cited by the Iraqi Ministry of Defense for blocking this Russian warplane.
The Russian warplane is reportedly making another attempt to fly across Iraq in order to reach the Latakia Governorate in western Syria.
Syria and Iraq have an agreement to allow their air forces to use one another's airspace while attacking the Islamic State (ISIS); however, the Russian jet is likely transporting troops to the Hmeymim Airbase in Jableh, which begs the question as to why were they prohibited from using the Iraqi airspace.