ロシア、シリア両国の情報活動と独立戦士の活躍で、米国がイドリブでの偽旗作戦を封じられてしまいました。ラブロフはペンペオとは力が違います。ラブロフがカウンターパート個人を批判したり非難したことはないと記憶します。外交の世界ではやってはいけないことです。
AMN2018/9/1
Pompeo blasts Lavrov for defending upcoming Syrian Army offensive in Idlib
BEIRUT, LEBANON (12:00 P.M.) – The U.S. views the upcoming Syrian Arab Army (SAA) offensive in the Idlib Governorate as an 'escalation,' Secretary of State Mike Pompeo tweeted on Friday.
"The U.S sees this as an escalation of an already dangerous conflict," Pompeo tweeted.
"The 3 million Syrians, who have already been forced out of their homes and are now in Idlib, will suffer from this aggression. Not good. The world is watching," he added.
Pompeo also criticized his Russian counterpart, Sergei Lavrov, for defending the upcoming Syrian Arab Army offensive in the Idlib Governorate.
FARSNEWS2018/8/31
White Helmets Change Plan for False-Flag Chemical Attack in Idlib
TEHRAN (FNA)- The pro-militant White Helmets have changed their planned scene for an imminent false-flag chemical attack in Idlib province, media reports informed on Friday.
The Arabic-language al-Mayadeen news channel quoted informed sources as saying on Friday that 64 members of White Helmets, including 11 women, have been moves from Jisr al-Shughour to Idlib city.
According to the report, the White Helmets changed their plan for staging false-flag chemical attack in Jisr al-Shughour after al-Mayadeen disclosed their plot.
The new place for the false-flag operations will be Idlib city or Ma'arat al-No'eman, al-Mayadeen reported.
A Russian media outlet said on Wednesday that a large cargo of poisonous materials, smuggled by the pro-militant White Helmets into Syria, had been transferred to a warehouse of Ahrar al-Sham terrorists in Idlib province for a false-flag chemical attack.
The Arabic-language website of Sputnik quoted Head of Russian Reconciliation Center for Syria Alexi Siganokov as reporting that a number of the White Helmets Organization members had transferred a large cargo of poisonous materials to a warehouse in the town of Saraqib that is under Ahrar al-Sham's control.
It further said that the consignment was transferred on two large trucks from the village of Afas to Saraqib.
Siganokov told the Arabic Sputnik that a part of the consignment was transferred to Southern Idlib in plastic barrels, adding the barrels of poisons will be used by terrorists to stage a fake chemical attack against civilians to further accuse the gov't forces of the gas assault.
Earlier this week, al-Mayadeen had quoted well-informed sources as disclosing that more than 250 members of the pro-militants White Helmets were preparing to take part in a fake rescue operation after a false-flag chemical attack by terrorists in Idlib province.
It went on to say that the White Helmets transferred poisonous materials from Turkey to Syria via al-Hassani'yeh passageway, storing a portion of the materials in the village of Halouz near Jisr al-Shughour in Western Idlib.
Al-Mayadeen further said that vast presence of the White Helmets aid workers were detected in Jisr al-Shughour prison, where poisonous materials have been stored.
The TV further quoted the sources as disclosing that the terrorists were to stage a false-flag chemical attack in Idlib a week after the army's upcoming operation in the region.
AMN2018/8/31
Russia says its submitted 'proof' of planned chemical attack in Idlib
Moscow is calling on the international community to realize its responsibility to prevent regular provocations with chemical weapons in Syria, Russian Foreign Minister Sergei Lavrov said.
"I would still not talk about the risk of using chemical weapons, but about the risk of provocations using chemical weapons in order to blame the Syrian government afterward, because such a provocation is being prepared, there is no doubt. Both in the UN and in The Hague, where the headquarters of the OPCW is located, we submitted concrete facts that were obtained from different sources," Lavrov said.
The minister also called on the international community to realize its responsibility for preventing regular provocation with chemical weapons in Syria.
"It is necessary to make efforts so that the international organizations feel their responsibility for the provocations being planned [in Syria] and speak up against such attempts," Lavrov stressed.
The Russian Foreign Minister stated that Syria had every right to chase "terrorists" out of the rebel-held Syrian enclave of Idlib, emphasizing that talks were ongoing to set up humanitarian corridors there.
"In this area, in this de-escalation zone, there must be a separation of the armed opposition, ready for dialogue with the government, from terrorists of Jabhat al-Nusra [banned in Russia] and other organizations recognized as terrorist by the UN Security Council. Terrorists oppose such separation," Lavrov said.
He said terrorists "are trying financially and by other means, including through intimidation, not to let the armed groups that do not make part of Jabhat al-Nusra… leave the area and even force them to cooperate with them."
Syrian Foreign Minister Walid Muallem has warned of possible US-UK-French aggression and of the disastrous consequences of Western attempts to destabilize the country.
On August 25, the Russian Defense Ministry's spokesman, Maj. Gen. Igor Konashenkov, said that terrorists of the Tahrir al-Sham group (affiliated with the Jabhat Nusra* terror organization) were preparing a provocation in Syria's western Idlib province to accuse Syrian government forces of using chemical weapons against civilians.
ボルトンが予告した化学兵器偽旗作戦のためにイドリブで子供が40人以上も誘拐されています。
2018年08月25日
ボルトンの失言に米国によるシリア侵略の真実が表れている
これまでの例では、誘拐された子供は実際に化学ガスに曝露されるか、あらかじめ薬を与えられて気を失なわせられたり、殺されています。
2017年04月12日
イドリブの毒ガス事件の舞台裏には大変な問題があるようだ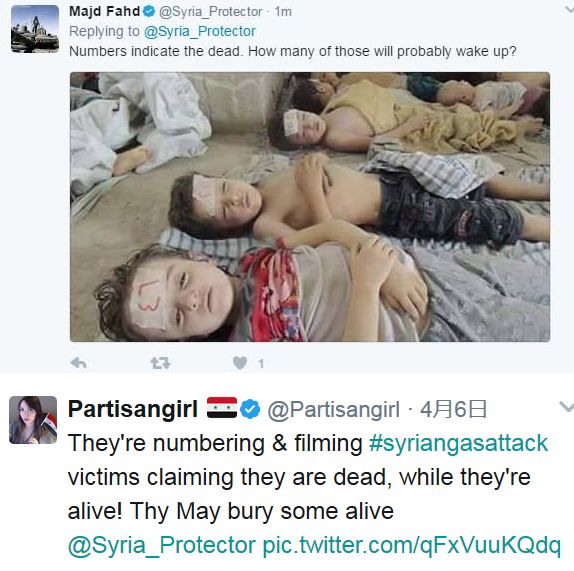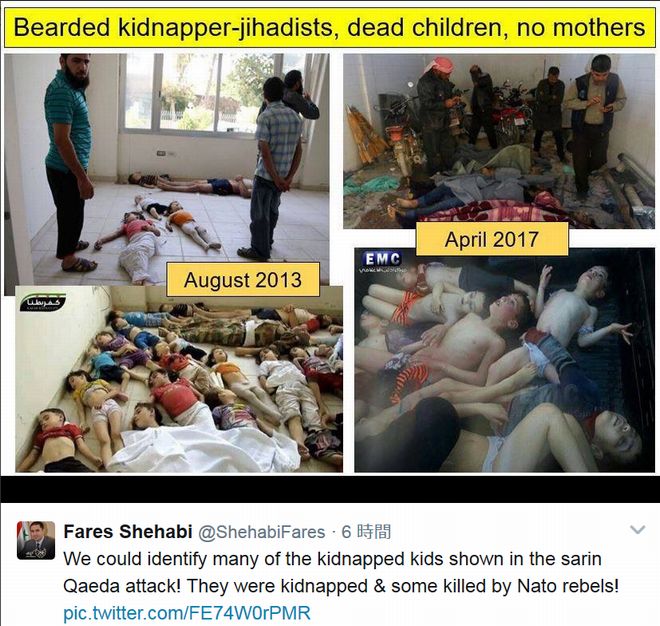 ※ Nardeep Pujji @AWAKEALERT氏の2018/8/26のツイート
ALERT ダイヤReports of 16 Children abducted by AlQaeda terrorists Saturday from the villages of #Zerbah and #Mughair to be used as subjects in the #FalseFlag #ChemicalAttack being engineered by UK Intel operatives, British specialists from #Olive company and White Helmets in #Idlib
市民がテロリストと米英仏によるこの企てを阻止しようと必死の情報戦に立ち上がっています。
※ Fares Shehabi MP @ShehabiFares氏の2018/8/27のツイート
Just In: Locals in western Aleppo countryside town of Zerbeh confirmed the al-Qaeda kidnapping of several of their kids to be later used in the upcoming #WhiteHelmets chemical hoax in #Idlib. Bolton orders are being executed.
※ ✦ سوريا ┊ @ymhoran氏の2018/8/26のツイート
Dozens of children kidnapped in #Idlib province in Syria, these might be the victims of the #UK plot of chemical attack to justify attacking the #SAA and saving the terrorists there
※ Nardeep Pujji @AWAKEALERT氏の2018/8/27のツイート
USA is run by mentally sick people who as a policy depend on staged #ChemicalAttack in order to falsely accuse an adversary and use that pretext as moral obligation to further attack already war ravaged country with military might & destroy the parts that ISIS could not destroy.
※ ✦ سوريا ┊ @ymhoran氏の2018/8/26のツイート
Children kidnapped - per al-Mayadeen - were from Western Aleppo countryside and displaced camps near the borders work Turkey
Latest were 3 children kidnapped from one family
誘拐された子供の写真をアップしろと呼び掛けています。ホワイトヘルメットが犠牲者の画像として使えなくするためです。
※ mike preece @mikepreece3氏の2018/8/26のツイート
Have them post their kids' photos. At least the terrorists would not dare use them in the false-flag then.

※ jirinaS @jirinas22氏の2018/8/26のツイート
POST THE PHOTOS!
Syria News Real News and Updates about Syria
 August 27, 2018
Idlib terrorists have been busy kidnapping civilians, kidnapping children, kidnapping as many non-terrorists as they can to commit another mass slaughter. The intention − beyond their Captagon-fueled bloodlust and criminal insanity − is what it has always been: To create snuff porn as the cover story for the war whoring leadership of US, UK, and France to criminally bomb Syria, again.
A bit of advice to the self-proclaimed independent authors who use the filthy language of Newspeak in your writing: Stop it. Stop it right now. No amount of propitiation of the paid pimps of war will get you a Pulitzer. Your groveling use of incorrect language makes you look pathetic, and certainly does nothing to bring the truth to your reading audiences.
Those who take up arms and murder civilians, law enforcement, and military in any country are terrorists. They are not "moderate opposition," "opposition," "militants" or "extremists." They are mass murderers. Terrorists have no more authority to arrest than any other criminal gang; would you dare to write that the Mafia, the Russian mob, the Colombian drug cartel has "arrested" more than one thousand young men?
Idlib terrorists may be divided into multiple factions. This is irrelevant, as they are all violent criminals, committed to the destruction of the Syrian Arab Republic.
We offer two simple photographs as evidence of what should be correct language usage; one is a terrorist in London and the other a terrorist in Idlib:
FARSNEWS2018/8/27
TEHRAN (FNA)- Over 40 children have been abducted by terrorists in Northwestern Syria to be later used in a false-flag chemical attack amid reports on terrorists' plot to launch a fake chemical assault in the region, an Arab media outlet reported on Monday.
Syria's al-Watan daily quoted local sources as reporting that more than 40 children have recently been kidnapped in different regions across Idlib and Aleppo provinces.
It further said that clues show Tahrir al-Sham Hay'at (the Levant Liberation Board or the Al-Nusra Front) has been in the abductions, adding that most of the children have been taken away from the small towns of al-Zarabah and Khan Touman in Southern Aleppo, Khan al-Asal, Tarmanin and al-Artan in Western Aleppo and the refugee camps in Qah and Atmah in Northwestern Idlib at the border with Turkey as well as the small towns of Basamas, Jozeph, Mar'ayan and al-Ramin in Jabal al-Zawiyeh in Southern Idlib that are among Tahrir al-Sham's most crucial strongholds.
The daily further pointed to the movements and preparations made Tahrir al-Sham and the White Helmets to stage a chemical attack in Idlib and relevant warnings by Russia, and warned that the kidnapped children are most likely to play role in the fake chemical operation.
The daily went on to say that Tahrir al-Sham has recently captured over 1,000 civilians in villages and towns in Western and Southern Idlib, accusing them of promoting peace plan with Damascus, adding that Tahrir al-Sham also seems to plan to use the captured civilians in the same fake chemical attack.
Earlier today, the Arabic-language website of Sputnik quoted well-informed sources as disclosing that the White Helmets transferred a consignment of chemicals from chlorine-producing company in Atmah at border with Turkey to Northern Hama on Sunday night.
It further said that the chemical consignment that was hidden in five trucks for carrying sands was transferred from Northern Idlib to Northern Hama under tight security measures.
The sources told Sputnik that a false-flag chemical attack will be possibly carried out following movements by Tahrir al-Sham and the White Helmets to pave the ground for the US' aggression on Syria.