ホワイトヘルメットの正体を暴き、これを援助している英、米、加、独などの政府を糾弾しようとする独立ジャーナリストの活動が活発化しています。日本も資金拠出していますが、日本の中東専門家の多くはこの問題を取り上げません。日本の中東専門家などは立ち位置がおかしい。彼らの情報発信には注意が必要です。
FARSNEWS2018/8/11
Syrian Analysts: Hosting White Helmets Damages Kurds-Damascus Reconciliation Talks
TEHRAN (FNA)- Talks between Damascus and Kurds will be damaged if the Syrian Democratic Forces (SDF) shelters the 'White Helmets' terrorist organization in Hasaka province, Syrian analysts said.
The Arabic-language website of Sputnik quoted political analyst Nazal al-Saba'a as saying that such a move is a violation of the talks between the Kurds and Damascus.
He further reminded the White Helmets' security ties with Israel and Britain, specially after they (the two) paved the ground for 800 White Helmets forces to leave Syria through the occupied territories in Israel.
Meantime, prominent Syrian politician Ahmed al-Saeed described the move as an American attempt to push the promising talks between Damascus and SDF into failure.
"Now Washington thinks that it is losing one of its allies in Syria that has been useful for a long time to prevent the Syrian army's control over certain areas," he added.
German tabloid Bild reported, citing its own correspondents in the Israeli-occupied Golan Heights, last month that tens of the self-described aid workers, who operate exclusively in militant-held areas, crossed into Israel from Southwestern Syria.
The White Helmets' passage was facilitated by Israel, according to Bild, which reported they were transferred through an Israeli military base.
In the meantime, Spokesman for the Jordanian Foreign Ministry Mohammad al-Qayed was quoted by the Arabic-language website of the RT as saying that Amman has agreed the UN demand for temporary passage of 800 members of the White Helmets from Syria to settle them later in the Western nations.
Peter Hitchensという方は、英国のJournalist, author, broadcasterです。この人にScott Lucasという大学教授がねちっこく絡んでいます。
Peter Hitchens氏には、Eva Bartlettやvanessa beeley からのツイートが寄せられていますから、そちらのサイドに立つ方でしょう。議論が堂々巡りしていて順序がよくわかりません。英国にもシリア問題で真実の露見を嫌う人も多いということです。
※ Peter Hitchens認証済みアカウント @ClarkeMicah
So what? You hung up without engaging in conversation, like a teenager. A great example to all at @unibirmingham. You alleged that I told a falsehood. What was the alleged falsehood? Give referenced direct quotation, then show it to be false, if you can. If not, apologise.
※ Eva Bartlett認証済みアカウント @EvaKBartlett氏の2018/8/8のツイート
Professor Lucas hangs up like a child.
※ Peter Hitchens認証済みアカウント @ClarkeMicah
I have just telephoned @ScottLucas_EA, asking him politely if we could reach an amicable settlement. He hung up . What sort of people are becoming academics, these days?
※ Scott Lucas @ScottLucas_EA氏の2018/8/8のツイート
Actually, I said, "Thank you. Have a great day."
In our exchange, you have not provided any fact, let alone case, to support your claim re
#WhiteHelmets & "Al Qaeda faction".
Unless you have a fact for consideration, we can conclude this for the record.
#Syria #WhiteHelmets
※ Peter Hitchens認証済みアカウント @ClarkeMicah氏の2018/8/8のツイート
Silence from the Great Professor, who was so noisy to begin with. Once again: You accused me of making false claims. This is a serious allegation. Please give referenced direct quotation of these alleged false claims, and show how they are false.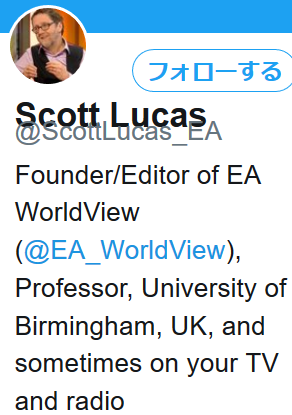 ※ Scott Lucas @ScottLucas_EA
Oh, Pete. Let's recap:
1. Stipulated: you can't name 1 #WhiteHelmets member who is member of "Al Qa'eda faction"
2. Stipulated: You can't give 2 case of operational coordination.
3. Now: Can you give case of operational cooperation?
Or else you made false claim.
#Syria
※ Peter Hitchens認証済みアカウント @ClarkeMicah氏の2018/8/8のツイート
Peter HitchensさんがScott Lucasをリツイートしました
Darling boy, how *did* you become a Professor? Are you pretending to be thick, or is this the real thing? You are asking me to prove a statement I did not make, which you have invented. This is known in the trade as a straw man technique.
※ Scott Lucas @ScottLucas_EA氏の2018/8/8のツイート
Ok. Let's stipulate that you cannot name a single #WhiteHelmets who is also member of "Al Qa'eda faction".
Now: cite a case of White Helmets operational coordination w "Al Qa'eda faction".
Or you are making a false claim.
#Syria
※ Scott Lucas @ScottLucas_EA氏の2018/8/8のツイート
Pete, that's not evidence. That's a meaningless tautology.
You have provided no evidence to prove "close accoaition" between #WhiteHelmets & "Al Qa'eda faction".
Thus, 1st claim you made in article is false.
P.S. - Socratic method is not defamation.
#Syria
※ Peter Hitchens認証済みアカウント @ClarkeMicah氏の2018/8/8のツイート
Scottie Baby, it's not a tautology but a statement of fact . Even you, obtuse as you seem to wish to appear, don't dispute that Al Nusra was an open Al Qaeda affiliate or that the White Helmets operated in areas under its control. You *have* defamed me. Talk tomorrow.
※ Kevork Almassian @KevorkAlmassian氏の2018/8/6のツイート
Report by Al-Mayadeen TV on the role of the #WhiteHelmets in slaughtering the child Abdullah Issa two years ago in #Aleppo.

️
https://youtu.be/9MIzlIvIbeM

️
Subtitles by @SyrianaAnalysis
※ the Lemniscat @theLemniscat氏の2018/8/20のツイート
This week in Germany
A Yazidi woman bumps into her ISIS slave master on a German street & Germany gives 17 M € to White Helmets who are tied to al-Qaeda & ISIS
※ the Lemniscat @theLemniscat
There are allegations of White Helmets abducting children, drugging them and then burying them so they can be dug up in filmed "rescues"
In this Feb 2017 "rescue" the child is either dead or drugged, it's not her crying and how did WHs know where to dig?
https://www.youtube.com/watch?v=gVmHETENwvo
…
※ Ian Wilkie @Wilkmaster氏の2018/8/20のツイート
I do not call them ghouls for no reason. They mess around with bodies and have in many cases. And they make movies of kids in actual pain when they could help ease pain. #WhiteHelmets give humanitarians and rescue workers the entire WORLD over a bad name.