FARSNEWS2018/5/15
Turkey Accuses Israel of 'Genocide' over Nearly 60 Palestinians Death, Recalls Ambassadors from Tel Aviv, Washington
TEHRAN (FNA)- Ankara on Monday strongly condemned the Israeli violence against Palestinians in the Gaza Strip in the day the US embassy relocated from Tel Aviv to Jerusalem al-Quds, stressing that Washington decision to move its embassy has encouraged Tel Aviv to massacre Palestinians in the Gaza Strip.
Turkish President Recep Tayyip Erdogan slammed the violent crackdown in Gaza as a "genocide", as Ankara has recalled its ambassadors from both Washington and Tel Aviv after the United States officially announced the opening of its new embassy in Jerusalem al-Quds on Monday amid deadly Israeli crackdown on peaceful rallies by Palestinians in the occupied territories which resulted in death of nearly 60 people in the Gaza Strip.
"Israel is wreaking state terror. Israel is a terror state," Erdogan said, adding that "what Israel has done is a genocide. I condemn this humanitarian drama, the genocide, from whichever side it comes, Israel or America".
"Turkey will react to this harshly," Erdogan stated.
The Foreign Ministry has also said in a statement that "we strongly condemn the decision of the US Administration to move its embassy from Tel Aviv to Jerusalem violating international law and all relevant UN Resolutions. We reiterate that this action is legally null and void".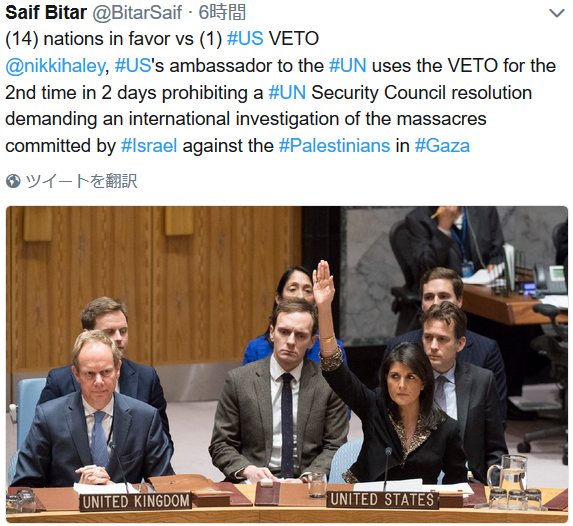 ※ きむらとも @kimuratomo氏の2018/5/15のツイート
えーっと、官邸HP見ても安倍首相のツイッター見ても何も無いんだが、各国のリーダーが、今回のイスラエル軍によるパレスチナ人虐殺に対して声明や呼びかけを発している中、我が日本の首相は、何らか声明を発表したのかね?あ、そうか。米国に100%追従だから、日本の意見ってのは、無いのだね。@kantei
RT2018/5/15
'Expel the Israeli ambassador': Irish FM blasted for double standards over Gaza and Skripal case
Ireland's foreign minister is being accused of hypocrisy for failing to expel Israel's ambassador over the IDF killing 60 Palestinians on Monday, despite sending a Russian diplomat home over the Skripal case without evidence.
Foreign Minister and Deputy Prime Minister Simon Coveney expelled a Russian diplomat in March following Britain's claim that Russia was behind the poisoning of double agent Sergei Skripal and his daughter Yulia in Salisbury, England. The decision faced pushback from many in Ireland who claimed it was a hasty move, made before any evidence was presented.
Opposition politicians and activists are now questioning why the same robust response applied in the aftermath of the Skripal case has not been implemented in a situation where 60 people were killed and thousands more injured by Israeli forces.
Coveney issued a statement on Gaza, Monday, saying we all have "a political responsibility to try to reduce tensions and protect unarmed protesters." He said he was "gravely concerned that the use of force seems disproportionate to the threat" and called for an independent investigation.
The minister also summoned Israeli Ambassador Ze'ev Boker to a meeting on Tuesday to express his "shock and dismay" at Monday's events, TheJournal reports.
Sinn Fein leader Mary Lou McDonald says Coveney's actions don't go far enough, however, and called for the Israeli ambassador to Ireland to be expelled.
"I know that the Tánaiste [Deputy Prime Minister] has called in the Israeli ambassador - actually the Tánaiste should be sending the Israeli ambassador home. The Irish State now needs to recall our diplomatic mission from Israel," she said.
FARSNEWS2018/5/16
UN Calls for Independent Probe into Israeli Carnage in Gaza
TEHRAN (FNA)- The UN human rights body called for an independent investigation into the recent Israeli massacre of Palestinian protesters in Gaza Strip after the United States blocked the same bid at the Security Council.
"We call for independent, transparent investigations in all cases of death and injury since 30 March. Since 30 March, 112 Palestinians, including 14 children, have lost their lives at the fence and thousands have been injured," Rupert Colville, the Spokesman for the Office of the High Commissioner for Human Rights, told reporters in Geneva on Tuesday, Middle East News reported.
"We stress, again, that lethal force may only be used as a measure of last – not first – resort, and only when there is an immediate threat to life or serious injury," he noted.
FARSNEWS2018/5/17
IFJ Condemns Israeli Use of Lethal Force in Gaza Resulting in Killing, Injury of Journalists
TEHRAN (FNA)- The International Federation of Journalists (IFJ) condemned on Wednesday Israel's use of lethal force against Palestinian civilians in the Gaza Strip that has caused death and injury including among journalists.
The IFJ said it joins the Federation of Arab Journalists (FAJ) and the Palestinian Journalists Syndicate (PJS) "in strongly condemning the brutal and ongoing indiscriminate use of lethal force which has resulted in loss of life and serious injury to peaceful protesters and journalist covering protests", WAFA reported.
It called in a statement on the United Nations, its agencies and the international humanitarian organizations to provide protections for Palestinian journalists. The PJS also called for "meaningful implementation of the Security Council's resolution no. 2222" on the protection of journalists.
"We strongly condemn this inadmissible targeting of journalists in Gaza by Israeli forces which is a major hindrance to freedom of the press, a pillar of democracy. Any democracy worthy of the name should commit to protecting journalists, no matter where they come from," IFJ General Secretary Anthony Bellanger said, adding that "we hold the Israeli army and its reckless shooting responsible for the killing and injury of Palestinian journalists for which it must be held accountable".
Reporters Without Borders (RSF) Tuesday formally asked the International Criminal Court (ICC) to investigate what it regards as war crimes by Israeli armed forces against Palestinian journalists covering protests in Gaza since late March 2018.
Submitted to ICC chief prosecutor Fatou Bensouda a few hours before the UN Security Council meeting and based on article 15 of the Rome Statute, which established the ICC, the request concerns the direct shots that Israeli army snipers have fired at some 20 Palestinian journalists during the "March of Return" protests in Gaza.
"The Israeli authorities could not have been unaware of the presence of journalists among the civilian demonstrators and therefore failed in the elementary duty of precaution and differentiation when targeting these protected persons with live rounds," RSF Secretary-General Christophe Deloire said.
"These deliberate and repeated violations of international humanitarian law constitute war crimes. While referring them to the International Criminal Court, RSF calls on the Israeli authorities to strictly respect international law," he added.
Various sources have corroborated that the journalists were hit by shots while covering demonstrations East of Gaza City. In all, at least 20 other journalists have sustained gunshots injuries, of whom at least three were clearly identified as media personnel.
Two journalists have been killed by live rounds fired by Israeli soldiers since 30 March, the date of the start of the "March of Return" rallies by Palestinians along the Gaza border.
Yaser Murtaja, 30, a photographer for the independent Ain Media agency, and Ahmed Abu Hussein, 27, a reporter for Shaab and Bisann News were clearly identified as journalists, either by a vest or by a helmet bearing the word "Press".
FARSNEWS2018/5/17
Russian FM Slams Statements about Kids Killed in Gaza Being Terrorists as Outrageous
TEHRAN (FNA)- Russia's Foreign Minister Sergey Lavrov said at a press conference on Wednesday that statements claiming that people recently killed in Gaza, including children, were terrorists, are outrageous.
The Russian top diplomat stated that Moscow was ready to fully facilitate dialogue between Palestine and Israel on the Jerusalem issue. According to him, it cannot be resolved unilaterally so there is the need for discussion.
"Direct dialogue between Palestinian and Israeli leaders needs to be established in order to find a solution," Lavrov stressed.
"Moscow is extremely concerned over the dangerous escalation in the Gaza Strip and in some areas on the West Bank," she said, adding that "we confirm the Palestinians' rights to peaceful protests and denounce the use of military force against the civil population".
"We call again on the involved parties to show restraint and abandon moves that may provoke further escalation," the diplomat stressed.
The Russian Foreign Ministry Spokeswoman offered condolences to the families and friends of the deceased and wished a speedy recovery to those injured in the protests.
The opening ceremony of the new US embassy in Jerusalem sparked mass protests among Palestinians and caused clashes in the Gaza Strip, which killed at least 63 Palestinian demonstrators and left around 3,000 injured.