中ほどにロンポールの論評があります。ズバズバと核心を突いています。
RT2018/4/9
'Israel made a mistake by striking Syria & jeopardizing relations with Russia' – expert
Israel's airstrike on a Syrian airbase was a strategic error that'd be hard to explain to Russia, as the aggressive act can't be classified in any other way than aiding terrorists, political scientist Vyacheslav Matuzov told RT.
"The Israelis, I think, have made a strategic mistake because, by picking up the role of a warmongering client of the US, ," Matuzov said."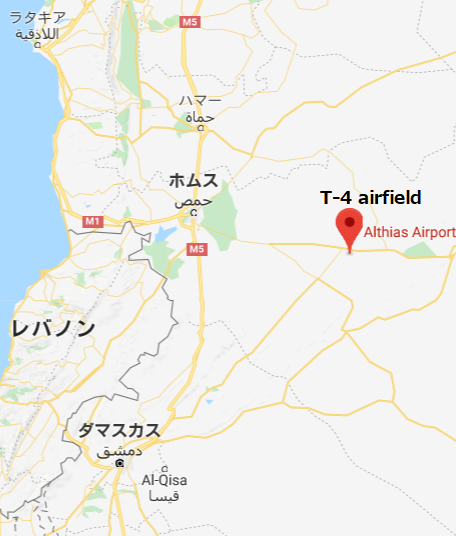 The Israeli military isn't denying the attack, but refusing to comment on the issue, "which is the same as acknowledging it," Matuzov, who's also the head of the Russian-Arab Friendship and Business Cooperation Society, believes. "But the Russian military, having all the special means in their possession, clearly identified who fired the missiles."
Early on Monday, Russia's Defense Ministry said that two Israeli F-15 fighters had targeted Syria's T-4 airbase in Homs province.
The fact that no Russian personnel and hardware was lost in the attack "doesn't make the situation easier for Israel because, when an airfield is struck like this, anything can happen," Matuzov said.
"Now the mechanism of diplomatic and military consultations – traditionally maintained between Russia and Israel – has been launched. I think it'll be hard for Israel to explain this aggressive act. The Syrian army is fighting terrorism and what Israel did can't be classified any other way [than] as aiding the terrorists, who are close to defeat in Eastern Ghouta," the expert said.
", but not the Arab countries. I think this point of view doesn't stand up to criticism," he added.
注:下線部のpolitical expertsはだれを指す?
Israel is interested in a continued conflict in Syria as it is striving to prevent its main geopolitical rival and President Bashar Assad's ally, Iran, "from strengthening its position in the region, which will certainly happen after the end of the Syrian war. In order to do this, Israel must drain the Syrian army of blood and… help the Americans in achieving their task of bringing down the Syrian regime," Matuzov explained.
注:クルドに対するイスラエルのサポートを明言しています。
Matuzov said it's hard to speculate if Israel carried out the airstrike because "the US delegated their dirty work to it" or if it decided to take action on its own, after realizing that the Americans were reluctant to fulfill Donald Trump's threats of vengeance after reports of chemical attacks in Syria.
Anti-government activists, including the controversial White Helmets civil defense group, on Saturday accused the Syrian authorities of using chemical weapons in the militant-held town of Douma in the Damascus suburb of Eastern Ghouta, saying that dozens of civilians were killed and hundreds more affected.
The reports led to renewed calls for a Western intervention of Syria, despite Damascus saying they were a "fabrication" and Russia's Foreign Ministry describing them as "fake news." Moscow also warned that any military action taken against Syria would be "absolutely unacceptable" and could lead to "dire consequences."
RT2018/4/9
Israeli missile strike 'indirect response' to Syrian Army's success in E. Ghouta – Damascus
Sunday's missile strike in Homs was Israel's "indirect response" to the Syrian Army's liberation of Eastern Ghouta, Damascus has said. Syria also called on the UN Security Council to condemn the act of "Israeli aggression."
"The Israeli attack constitutes an indirect response to the success of the Syrian Arab Army in eliminating armed terrorist groups from the Damascus suburbs and other Syrian areas," the Syrian Foreign Ministry wrote in a letter to UN Secretary-General Antonio Guterres obtained by Syria's SANA news agency.
※ Danny Makki @Dannymakkisyria氏の2018/4/10のツイート
13. Final death toll from the attack was 14, a mix of #SAA and Iranian backed forces
RT2018/4/9
No doubt Douma 'chemical attack' staged, OPCW must investigate on ground in Syria – Russia UN envoy
The UN Security Council held an emergency meeting on security in the Middle East, in the wake of reports of an alleged chemical attack in the Syrian city of Douma.
The UN special envoy for Syria, Staffan de Mistura, opened the meeting by describing the reports about the alleged chemical attack in Douma and the subsequent airstrike against the Syrian T-4 air base. He called for an "independent investigation" of the alleged chemical incident and urged restraint for all sides, in view of the airbase attack.
Russia is deeply concerned by the fact that some capitals, Washington as well as London and Paris, which are "blindly following" their US allies, have engaged "in a confrontational policy against Russia and Syria without any justification," The Russian Ambassador to the UN, Vassily Nebenzia, said during the meeting. He went on to say that Moscow recently faced "slander, hawkish rhetoric, sanctions, blackmail" and even "threats of force."
Western states are now threatening and slandering Russia with a ferocity that their governments "did not take the liberty" to unleash during the Cold War, Nebenzia added. "Russia has been inexcusably threatened," he said.
Nebenzia stressed that every time the Western powers interfere into other states' affairs, they "leave only chaos behind." "Do you understand the dangerous threshold to which you are bringing the world?" the Russian envoy asked.
There is "no doubt" that the alleged chemical attack in Syria's Douma was staged, Nebenzia said, commenting on the developments in Eastern Ghouta. He then called for an impartial probe into the reported incident, which should begin with the presumption of innocence.
The UN chemical watchdog must visit Syria and investigate the allegations, Nebenzia said, calling on the Organization for the Prohibition of the Chemical Weapons (OPCW) to visit Douma as early as Tuesday. Syrian and Russian troops would provide the inspectors with a safe passage to the area of the alleged chemical attack in Douma after they arrive to Damascus, he said.
Nebenzia questioned the 'evidence' provided by the controversial White Helmets group. In particular, he said the scene of an alleged chemical strike was a fake, saying that it seemed "unnatural" that the bomb "struck the roof of a building and then fell on a wooden bed without even damaging it."
RT2018/4/9
Assad had no reason to launch chem attack, unlike those who want US involvement – Ron Paul
Washington and the US media seem to have no doubts about the Syrian government's complicity in the Douma incident despite the fact that those who want America to stay in Syria have far more solid motives, Ron Paul told RT.
The assertion by White House Press Secretary Sarah Huckabee Sanders that Washington is "confident" that Syrian President Bashar Assad is culpable for the alleged chemical attack on the Damascus suburb of Douma does not stand up to scrutiny, Ron Paul, former congressman and founder of the Ron Paul Institute for Peace and Prosperity, told RT.
"I don't know what they are confident about. They are confident in telling lies and hope people will believe it," he said.
Mainstream American media don't seem to need facts to back the White House's claims, either. "Most of the time when a crime is committed in this country, the stations, when they are not sure, they carefully say: 'this is allegedly' – but they never do this under these circumstances and they have zero bits of information," Paul pointed out.
While there are few questions in the US media over who is to blame for the alleged incident, the former congressman argues that Assad is the last person to suspect. "I think that least likely it would be Assad," he said, noting that the same goes for Moscow.
"I cannot see any reason why Assad would do this, there's no reason for Russians to have done that." Unlike Russia and Syria, the forces who want to see the US staying in Syria have a clear motive, Paul said.
Speaking about what drives the US to keep entrenching in Syria, Paul argued that the "ulterior goal" here is to contain Iran. "It's been Iran for a long time, and it has a lot to do with Saudi Arabia and Iran. I think that's the number one," he said, adding that tensions between Sunnis and Shia are part of the conflict.
"And then, there are neocons in this country who have their agenda – perpetual war for perpetual profits – and the military industry complex. And they all come together and then you throw in oil, and guess what, it's bipartisan," Paul said of internal US motives that feed into the protracted conflict in war-ravaged Syria.
Speaking about Trump's foreign-policy strategy in a broad terms, Paul noted that what should be taken into account is not the US president's often self-contradictory statements, but his appointments that "got worse" with John Bolton as part of his "war cabinet."
"All of a sudden, neocons run the show. Therefore, that is what really counts. Now, John Bolton, he is really going to help us out on a sensible foreign policy!" Paul said sarcastically, recalling Bolton's hawkish record of preaching war in Iraq.
FARSNEWS2018/4/10
Russian Air Force Goes on Alert over Syrian Airspace amid US Threat of Military Action
TEHRAN (FNA)- The Russian military, deployed in an airbase in Western Syria, placed its pilots on alert on Tuesday after reports said a US warship has arrived in Syrian waters in preparation for a likely missile attack on the war-hit country.
The Russian A-50 fighter jets started to fly over the Syrian coastal provinces of Lattakia and Tartus following reports on deployment of the US navy's Donald Cock Striker near the Syrian Tartus port in Eastern Mediterranean Sea and a possible missile attack by the striker on the Syrian territory.
Based on reports, the Donald Cock Striker carries a sum of 60 Tomahawk missiles and is capable of using them to target Syria's soil any time.
Unofficial reports said several Russian jets conducted warning drills near the US Striker to shoo it away from the regional waters and the American vessel retreated from Syrian waters to Israeli coastal region.
US President Donald Trump announced on Monday that the its will be soon clear that the false-flag chemical attack on the town of Douma in Eastern Ghouta was carried out by Iran, Russian or Syria, adding that the US will decided how to react about the chemical attack on Tuesday or Wednesday.
The US President has also met with military commanders over a possible "forceful response" to alleged chemical attacks in Syria.
His statements echoed earlier remarks by Defense Secretary James Mattis. When asked by a reporter if the US was considering military strikes against Syria, Mattis replied that he "would not rule out anything right now."
On Sunday, Trump wrote on Twitter that there would be a "big price to pay" for the alleged attack.
The US and its allied have not thus far been able of proving that the Douma chemical incident was down by the Syrian Army or Damascus' allies.
In the meantime, the Russian Defense ministry announced that it did not find any evidence of chemical attack on Douma in its investigations.
On Saturday, some rebel-linked groups, including the White Helmets, accused the Syrian government of carrying out a chemical attack that, allegedly, affected dozens of civilians in the Eastern Ghouta town of Douma. The reports already provoked a wave of outrage in the West, as the US and the EU rushed to put the blame for the incident on Damascus and Moscow.
Syria and Russia have dismissed the accusations and called the reports fake news, aimed at helping the militants and at justifying potential strikes against Syrian forces.
In a statement on Monday, the Russian Defense Ministry said two Israeli F-15s had fired eight guided missiles at the T-4 airfield, but five rockets were shot down by Syrian air-defense systems.
It added that the Israeli aircraft did not enter Syrian airspace and launched the strikes while flying over Lebanon.
The Arabic service of RT news channel quoted a Syrian military source as saying on Monday that Israel was running full cooperation and coordination with the US in airstrikes on T4 airbase in Homs province.
The Arabic RT reported that the recent Israeli attack would not be launched without full coordination with the US.
He also dismissed as sheer lies the Israeli claims that its attacks on T4 are due to the presence of the Iranian forces, noting that the real reason is that Tel Aviv is aware of the possibilities and quality of equipment used at the airbase and is attempting to wear off Damascus' capabilities by destructive moves, given the fact that the crisis in Syria is ending.
The source said that interception of 5 out of 8 missiles fired at T4 shows the defense capabilities of the airbase, adding that the Israeli fighter jets are no more willing to enter the Syrian airspace after an F-16 warplane was shot down by Syria over a month ago.
Syrian state TV quoted an unnamed military official as saying that Israeli F-15 warplanes fired several missiles at T4. It gave no further details.
Several Israeli ministers accused Damascus of launching chemical attack in Douma in Eastern Ghouta, and called for the US army attack on Syrian army's strongholds.
In April 2017, the US Navy fired a sum of 59 Tomahawk missiles at Syria's al-Sha'eirat base in Homs province under the pretext of a false-flag chemical attack by terrorist groups on the town of Khan Sheikhoun in Southern Idlib.
RT2018/4/10
Duma defense chief says Russia may respond with military force to US strike on Syria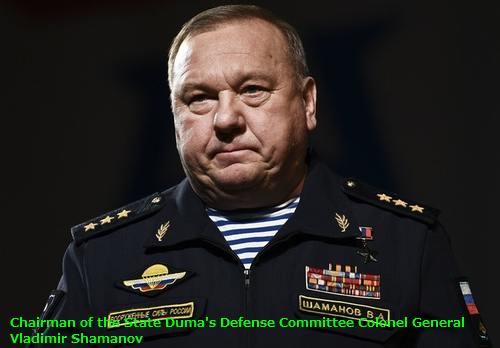 The head of the Duma defense committee and former commander of Russian airborne troops has said Moscow would take all measures, including military ones, in response to a possible US strike on government forces in Syria.
"The double standard policy has overstepped all possible boundaries. At this point, the [pro-Putin parliamentary majority] United Russia party must responsibly state that we are going to take all political and diplomatic measures, and also military measures if such need arises," Vladimir Shamanov said on Tuesday before the State Duma plenary session. "Not a single unlawful action will be left without response," he added.