イランで物価高騰や就職難に抗議するデモが多くの都市で同時発生的に行われています。武装したデモ隊との記述も見えます。よくわかりません。
イランは、軍人の存在感が強いです。セキュリティフォースの力も強いように見られるのですが、海外からの扇動で集団的、同時多発的に抗議活動が行われているという政府の説明は説得的ではありません。
それに4日、5日と連続して激しいデモ。少々意外な展開です。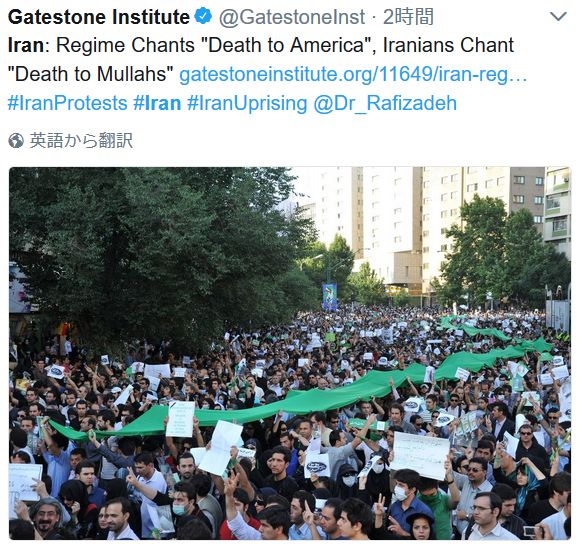 親イスエルの立場に見えます。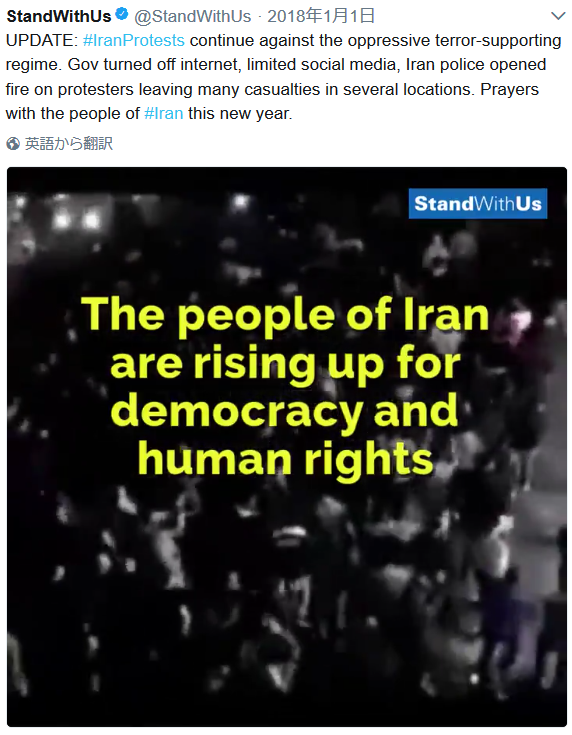 RT20178/1/1
10 people have been killed amid nationwide protests in Iran – state TV
At least 10 people were killed amid nationwide protests across Iran, which have entered the fifth day, Iranian state TV reports.
"In the events of last night, unfortunately a total of about 10 people were killed in several cities," state TV said in a package aired on Monday, without elaborating, as cited Reuters.
According to the report, security forces repelled protesters who attempted to take over police stations and military bases.
Some armed protesters tried to take over some police stations and military bases but faced serious resistance from security forces," it said, as cited by AP. The report, however, did not specify the location of the attacks.
Earlier on Monday, a local MP from the southwestern Iranian town of Izeh told ILNA news agency that two people were killed during mass rallies. That brought to at least four the number of fatalities in the ongoing protests. The first two deaths were reported on Sunday by the authorities in the city of Doroud (Dorud), 325 kilometers southwest of Tehran.
Over 400 people have reportedly been arrested following the protests, AFP said.
On Sunday evening, police reportedly deployed tear gas and water cannon to disperse a small rally in Tehran's Enghelab Square. The protests were held in the cities of Kermanshah, Khorramabad, Shahinshahr, and Toyserkan in the west, and Zanjan in northern Iran.
Pro- and anti-government rallies have been taking place in Iran since Thursday. The anti-government protests were prompted mostly by discontent over economic hardship and alleged corruption. The rallies are the most serious since the protests of 2009, which followed the Iranian presidential election results. The protesters disputed the victory of then-Iranian President Mahmoud Ahmadinejad.
On Sunday, Iran's interior minister warned that "violence, fear and terror" will be fought, following the third consecutive night of unrest.
"Those who damage public property, disrupt the order and break the law must be responsible for their behaviour and pay the price," Abdolrahman Rahmani Fazli said.
Late Sunday, Iranian President Hassan Rouhani said that the citizens are "absolutely free" to protest and criticize the government, but the protests should not descend into violence. "Criticism is different from violence and damaging public properties," Rouhani warned, calling for the rioters to refrain from disruptive behavior.
Rouhani chided Trump over his comments concerning the situation in Iran. "This man in America who is sympathizing today with our people has forgotten that he called the Iranian nation terrorists a few months ago."
PRESSTV2017/12/31
Iranians free to express criticism, stage protest: President Rouhani
Iran's President Hassan Rouhani says the Iranian people are completely free to express their criticism of the government or stage protests according to the Constitution and citizenship rights, and in a way that would lead to the improvement of the country's conditions.
Rouhani made the remarks while addressing a Cabinet session on Sunday as he pointed to recent gatherings in protest against economic conditions in a number of Iranian cities.
"We are a free nation and based on the Constitution and citizenship rights, people are completely free to express their criticism and even their protest," he said.
However, he added that the manner of expressing criticism and protest must lead to the improvement of the country's conditions and people's lives.
He emphasized that the settlement of some problems in the country was "not easy and takes time," calling for cooperation between the Iranian government and nation to solve those problems.
The Iranian people have the right to voice their criticism with regard to all affairs, Rouhani said, adding, "We believe that the government and the country belong to the people and the people must properly express what they want."
Rouhani emphasized that criticism completely differed from violence or inflicting damage on public property, saying, "We must not allow an atmosphere to be created in the country under which supporters of the revolution and people will be concerned about their lives and security."
Since Thursday, groups of Iranian protesters have held rallies in several cities to voice their anger over rising prices and economic conditions.
Habibollah Khojastehpour, Lorestan Province's deputy governor for political and security affairs, said on Sunday that two people were killed during a protest rally in the western city of Dorood on Saturday, adding that Takfiri groups and foreign intelligence services appeared to be behind the killings.
"Our goal was to end the gathering peacefully, but due to the presence of Takfiri and hostile individuals and groups directed by foreign intelligence services, two people were unfortunately killed," Khojastehpour said.
Trump in no position to sympathize with Iranians
Elsewhere in his remarks, Rouhani condemned US President Donald Trump's comments about the protests in Iran.
"This man who today in America wants to sympathize with our people has forgotten that a few months ago he called the Iranian nation terrorist," the Iranian president said, adding, "This person who is against the Iranian nation from head to toe has no right to feel sorry for the people of Iran."
He said that national security, peace and coherence as well as the unity that existed in Iran were the "biggest assets" of the country in the restive Middle East region, emphasizing that people from all faiths and ethnicities enjoyed peaceful coexistence in the Islamic Republic.
Rouhani's remarks came after Trump took to Twitter to express support for the demonstrations in several Iranian cities, claiming that "the good people of Iran want change."
"The Iranian government should respect their people's rights, including right to express themselves. The world is watching!" he further tweeted.
Trump's remarks came shortly after he made outrageous and insulting comments about Iranians.
In his speech on strategic review of US policy on Iran in October, Trump used "Arabian Gulf" to refer to the waters separating Iran and the regional Arab states, which are historically known as the Persian Gulf.
Before his speech, Trump had called Iran a "terrorist nation." He has also issued a travel ban against nationals of several Muslim-majority states, including Iran.
Iran's Foreign Ministry spokesman, Bahram Qassemi, on Saturday denounced Washington's "duplicitous and opportunist" support for the protests.
He condemned the "cheap, worthless and invalid" remarks by US officials and said, "The Iranian people attach no value to the opportunistic remarks by American officials and Trump himself."
alarabiya2018/1/1
Protesters march toward residence of Iran's Supreme Leader Ali Khamenei
Several media outlets have reported that a crowd of protestors began marching toward Iranian Supreme Leader Ali Khamenei's residence on Pasteur St. on Sunday night in the capital Tehran.
Sources have confirmed security forces and members of the Revolutionary Guards were heavily deployed in nearby streets Khamenei's residence.
According to Shahrvand-Yar, a non-profit institution that advocates for democracy and change in Iran, said on its channel on Telgram app that the crowds of protesters began marching toward's the house at exactly 19:50 Tehran time.
They added that there were orders for military commanders to "take all measures to prevent the demonstrators from reaching the house of the Supreme Leader".
Anti-government protesters demonstrated in Iran on Sunday in defiance of a warning by the authorities of a tough crackdown, extending for a fourth day one of the most audacious challenges to the clerical leadership since pro-reform unrest in 2009.
FARSNEWS2017/12/31
Arab Daily: People in Iran Experiencing Democracy, While Arabs Have No Right Even to Protest
TEHRAN (FNA)-
The Arabic-language Al-Ray al-Youm newspaper reported that the recent economic protests in Iran pleased certain Arab countries, specially in the Persian Gulf littoral states, with the hope of a change in their countries because they are not entitled to come to the streets and protest.
Many of the political activists in the Persian Gulf Arab states are in jails, it added.
Al-Ray al-Youm referred to the self-restraint shown by the Iranian security forces towards the protestors in the past few days, stressing that similar protests would be responded by killing people in the Persian Gulf Arab states.
The mainstream media in the West has given a wide coverage to the economic protests in a few Iranian towns in the past few days that each comprised of a few hundred protesters, but none has covered the massive pro-government rallies held in more than 1,200 cities and towns on Saturday.
This is while a large number of political activists in the Persian Gulf Arab states, including Saudi Arabia and Bahrain, have been imprisoned by their governments for speaking about their right of voting and choosing their own fate.
FARSNEWS2017/12/31
Iran Dismisses Reports on Terrorist Attack on Southern Oil Pipeline
TEHRAN (FNA)- Iran rejected media reports claiming that a terrorist group has attacked the country's oil pipeline in Omidiyeh region in the Southern province of Khuzestan.
Aqajari Oil and Gas company which is responsible for the protection and maintenance of oil and gas lines in Omidiyeh region announced in a statement on Sunday that "no incident which damages the working oil and gas pipelines has happened" and media reports claiming that Ansar al-Forqan terrorist group has launched an attack on Omidiyeh oil pipeline are "sheer lies".
The statement came after Ansar al-Furqan, an Iran-based terrorist group with ties to al-Qaeda affiliate groups, including al-Nusra Front (Tahrir al-Sham Hay'at or the Levant Liberation Board), had claimed that it has carried out a bomb attack against Omidiyeh oil pipeline in the country's Khuzestan province.
The Islamic Revolution Guards Corps (IRGC) Ground Force earlier this year killed the ringleader of Ansar al-Forqan terrorist group, Jalil Qanbar Zehi, in clashes in the heights of Qasr-e Qand region, Southeastern Iran.
IRGC's public relations office announced in June that the IRGC Ground Force destroyed a Takfiri terrorist team in Qasr-e Qand in the Southeastern province of Sistan and Balouchestan.
Several terrorists were killed and wounded in clashes with the IRGC forces in Qasr-e Qand region, including the ringleader of Ansar al-Forqan.
The statement added that after being tipped off about the presence of a Takfiri terrorist group in Qasr-e Qand region, several units of IRGC ground troops were dispatched to the scene and attacked the terrorists.
The IRGC's forces destroyed a vehicle laden with 600 kilograms of explosives, seized five bombs ready to be used in suicide attacks, 700 kilograms of explosives, tens of thousands of bullets and a number of weapons and ammunition during the operations, it added.
As per the statement, the IRGC underscored that the operations will be continued until all the fugitive terrorists are arrested, adding that future developments will be announced to the public soon.