Al Jazeera News‏認証済みアカウント @AJENewsの2017/12/3のツイート
UPDATE: UAE denies its nuclear plant targeted by Houthi missile
http://aje.io/hqy7z
FARSNEWS2017/12/3
Report: Yemeni Missile Hits UAE's Nuclear Plant in Abu Dhabi
TEHRAN (FNA)- The Yemeni army and popular forces' missile hit
The Barakah nuclear plant in the UAE capital city came under attack by Yemen's cruise missile, the Arabic-language Al-Masireh television reported.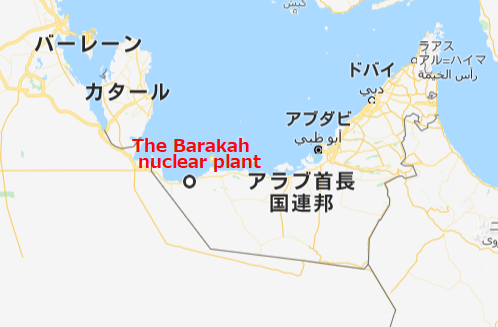 The Yemeni popular forces had earlier said that they had fired a cruise missile towards the UAE.
Saudi Arabia has been striking Yemen since March 2015 to restore power to fugitive president Mansour Hadi, a close ally of Riyadh. The Saudi-led aggression has so far killed at least 15,000 Yemenis, including hundreds of women and children.
Despite Riyadh's claims that it is bombing the positions of the Ansarullah fighters, Saudi bombers are flattening residential areas and civilian infrastructures.
According to several reports, the Saudi-led air campaign against Yemen has driven the impoverished country towards humanitarian disaster; however the Riyadh regime has failed to reach its goals despite suffering great expense.
Nearly 3.3 million Yemeni people, including 2.1 million children, are currently suffering from acute malnutrition. The Al-Saud aggression has also taken a heavy toll on the country's facilities and infrastructure, destroying many hospitals, schools, and factories.
The director of Yemen's national blood bank has announced that the blood bank may be forced to close due to a lack of money after an international medical charity decided to end two years of support.
The head of the UN Development Programme (UNDP) in the war-torn country has also announced early August that Yemen's ongoing conflict and a "man-made" humanitarian catastrophe has "no end in sight", warning that nearly 7 million people are at risk of starvation.
Also, according to reports, a total of 2,000 people have also been killed by a cholera outbreak in war-torn Yemen since late April, as Saudi Arabia's deadly campaign prevented the patients from travelling abroad for treatment and blocked the entry of medicine into the war-torn country.