フィリピンのマラウィでのテロで約300人が死んでいます。フィリピンでのISISにつながるテロリストの活動は以前から報じられていましたが、ここに来ての拡大はドテルテの外交政策とリンクがあることは明らかです。
テロが起きたとき、何よりも念頭に置かなければならないのは、テロリスト集団を組織し、動機付け維持し、武器弾薬を供給するには国家レベルでの支援がなければならないということです。
背後には米国がいます。バクダーディが殺害されたなら組織としては大きな危機に瀕するわけですが、所詮バクダーディは飾り物でカリスマ性も何もありません。いつでも取り替え可能ですし、ISISのテロ活動はバクダーディとは別に、バクダーディを首領に据えた国が実際には企画し指揮しています。
このフィリピンのマラウィでのテロは、その点からは大変分かりやすい構図になっています。
FARSNEWS2017/6/17
Philippines Claims Control of 90 Percent of Marawi
TEHRAN (FNA)- The Philippine government announced that its troops have taken control of 90 percent of Marawi city, after fighters who swore allegiance to ISIL seized it three weeks ago.
The latest news comes just a day after a politician said that residents fleeing the city had seen scores of bodies, as intense fighting between security forces and ISIL continued, Al Jazeera reported.
"Dead bodies, at least 100, scattered around the encounter area," Zia Alonto Adiong, a politician in the area who is helping in rescue and relief efforts, said, referring to accounts he had received from fleeing residents.
The military said it could not confirm the report.
Thousands have been forced to leave their homes, as about 150 fighters are still putting up a fight in Marawi.
Rescuers fear that hundreds of people may still be trapped as fighting continues, and that many of them face starvation or have been killed in the crossfire.
Many of the displaced are currently living in evacuation centres across Lanao province.
The army has said 290 people have been killed in the fighting, including 206 fighters, 58 soldiers and 26 civilians.
Lieutenant-Colonel Jo-Ar Herrera, a military spokesman, said troops were advancing towards the commercial centre of Marawi, which is held by the fighters.
"We intend to finish the fight as soon as possible. Our tactical commanders are doing their best," Herrera added.
But many of the remaining ISIL-linked fighters had taken up sniper positions, he stressed, complicating the advance.
"The battlefield is very fluid," he underlined.
RT2017/6/17
'Dirty' Duterte on the ropes as ISIS, US Special Forces crash the Philippines
RT2017/6/16
Jihadist fighters may have escaped besieged city – Philippines official
The Philippines military has said that the Islamic State-linked militants occupying the city of Marawi are "too degraded" to launch further attacks, however there are fears that some jihadists may have escaped the besieged city.
Speaking at a press briefing Friday, a spokesman for the armed forces conceded that some of the jihadists who occupied the city in the southern province of Mindanao may have escaped the city by posing as evacuees.
Brigadier General Restituto Padilla said security has been tightened in nearby cities Iligan and Cagayan de Oro, and authorities are on the lookout for anyone who might "attempt to sow some confusion or sow terror," Reuters report.
Padilla stressed that the jihadists are "significantly degraded," adding they do not have the ability to stage Marawi-like occupations in other cities.
He also said that the militants in the city are weakening: "Enemy resistance continues to dwindle and enemy-held areas continues to get smaller as troops advance."
However, the military has failed to hit previous deadlines to defeat the occupation, which has now gone on for nearly four weeks.
Padilla's comments come amid reports that some militants have slipped out of the besieged city and are now in the surrounding areas. He said talk of the escaped fighters launching attacks in neighboring towns was based on "misinformation that's being spread by the enemies."
Earlier this week, Mohammad Noaim Maute, whose brothers Omarkhayam and Abdullah lead the Maute group of militants, was arrested at a checkpoint near Cagayan de Oro. It's believed he is a bomb maker for the group.
The Maute and Abu Sayyaf terrorist groups, both of which have pledged allegiance to Islamic State (IS, formerly ISIS/ISIL), have occupied Marawi since May 23. Much of the city has been destroyed by the intense fighting which has displaced more than 320,000 residents, Philippine news outlet ABS-CBN reports.
Philippine President Rodrigo Duterte placed the entire island of Mindanao under martial law after the militants laid siege to the city.
Official estimates say that more than 300 people have been killed during nearly four weeks of fighting. The figure includes 225 militants, 59 soldiers and 26 civilians.
Residents fleeing the city reported seeing at least 100 dead bodies in an area which had seen heavy fighting.
RT2017/6/11
Duterte claims 'never approached' US for help in battle against Islamist militants (PHOTOS, VIDEO)
Philippines President Rodrigo Duterte has denied media reports claiming he requested US Special Forces assistance in the battle for Marawi City, saying on Sunday that he "never approached America" for help.
"I am not aware of that until they arrived," Duterte said when discussing the latest developments in Marawi City.
Duterte's comments follow a 14-hour battle Friday that killed 13 Philippines military personnel and left 40 wounded, the heaviest losses sustained so far in operations to retake the city occupied by ISIS-affiliated militants.
Since May 23 when fighting began, 58 Philippines soldiers have died.
The mother of the mastermind brothers that founded the Islamic State-affiliated Maute group was arrested on Friday by the Philippines National Police. Ominta Romato Maute was arrested in the town of Masiu, Lanao del Sur.
Her sons, Omar Romato Maute and Abdullah Romato Maute, are suspected of conspiring with Isnilon Hapilon, leader of the Islamist group Abu Sayyaf, in masterminding the attack on Marawi City.
During the arrest, police seized high-powered firearms and multiple improvised explosive devices and rocket-propelled grenades.
Local Philippines journalist Chiara Zambrano, who has been closely monitoring the situation on the ground near Marawi City, tweeted police claims that the convoy escorting the Maute mother was fired upon, with several casualties.
The brothers' father, Cayamora Maute, was apprehended Tuesday morning at a military checkpoint in Sirawan, Davao City, ABS-CBN reports.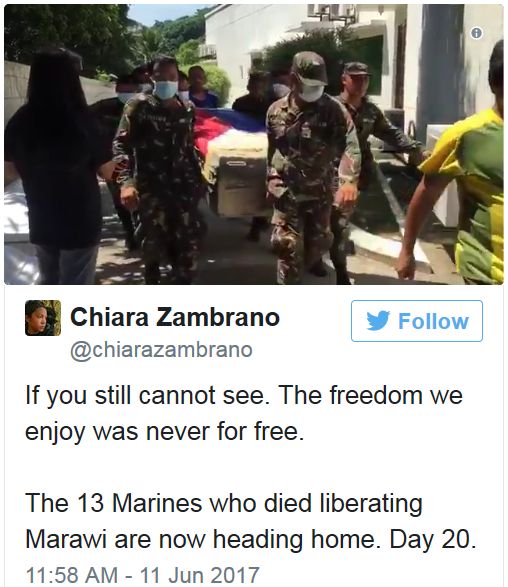 FARSNEWS2017/6/12
Philippine President Not Aware of US Support in Marawi
TEHRAN (FNA)- Philippine President Rodrigo Duterte announced that he did not seek support from Washington to end the siege of a Southern Philippines city by the so-called Maute group.
Duterte told a news conference in Cagayan de Oro City, about 100 km from the besieged Marawi, that he had "never approached America" for help, TRT reported.
When asked about US support to fight the Maute group in Marawi City on the island of Mindanao, Duterte said he was "not aware of that until they arrived."
As the Philippine Army is struggling to defeat the terrorists who are attempting to hold the city of Marawi, reports revealed that US special forces joined an ongoing battle against ISIL militants in the Southern Philippines town of Marawi, following months of tension between Washington and Manila.
According to a statement by the US embassy, US special forces are helping the Philippines Army as they attempt to get rid of militants in South of the country. According to US embassy, Washington offered support at the request of the Philippines government; it has however refused to provide further details.
"At the request of the government of the Philippines, US special operations forces are assisting the [Philippine Army] with ongoing operations in Marawi," a US embassy spokesperson stated.
A spokesperson for the US Army detailed that US forces were not involved in combat, but were "providing technical support."
According to the statement from the US embassy, Washington will "continue to work with the Philippines to address shared threats to the peace and security of our countries, including on counterterrorism issues."
The Philippines military also announced in a statement that US forces are not fighting, but providing technical assistance to end the siege of Marawi City.
Philippine troops are struggling to dislodge at least 200 militants, who are holed up in the city of Marawi since last month. An estimated of 500 to 1,000 civilians are trapped in the town, some of them are being used as human shields.The US so-called technical support to the Philippines military is now happening despite strained ties between Washington and Manila and former calls by President Rodrigo Duterte that he wanted US troops out of his country. Some 200,000 have been displaced and 250 killed in the ongoing armed conflict in Marawi.
Duterte repeatedly clashed with Washington over his anti-drug campaign, which was criticized by the US and rights groups.
US President Donald Trump, however, invited Duterte to the White House in April saying, "The Philippines is very important to me strategically and militarily."