カタールの造反、カタールはクエートを介して関係回復の姿勢を示していますが、空路閉鎖、サウジやUAEの上空を飛ばさせないことによって24時間で白旗を上げる見込みが、カタールはイランの領空を使っています。そして、UAEの在米大使のEメールのリークにも関与しているらしく、サウジは当てが外れた模様です。
カタールのエミール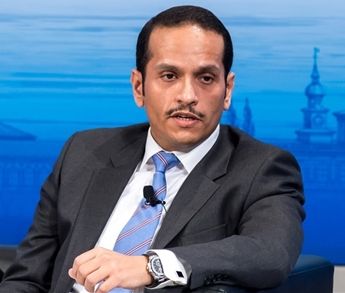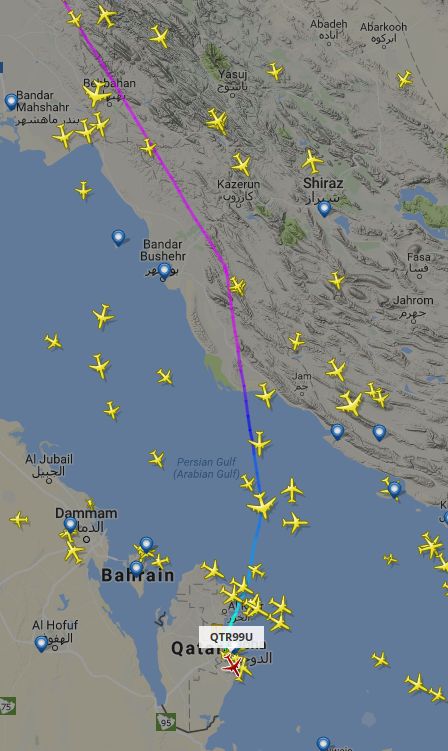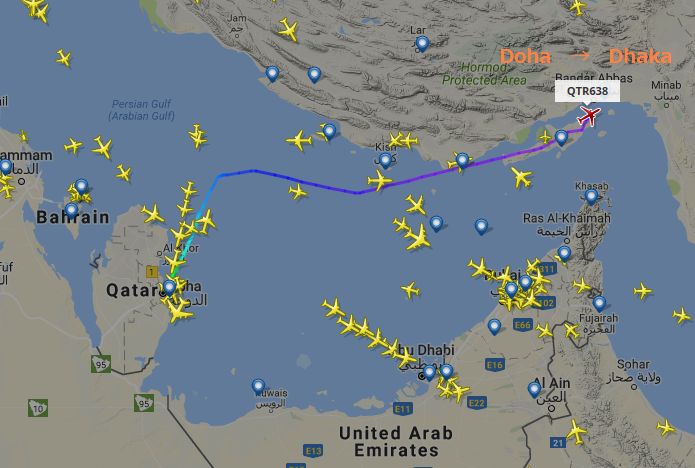 EUの外交責任者がイランのザリフと電話会談、金や独国債の価格が上がっているそうです。
かなり大きな動きになりそうです。
ハッキングとフェイクニュースで中東が混乱? フェイクではないらしい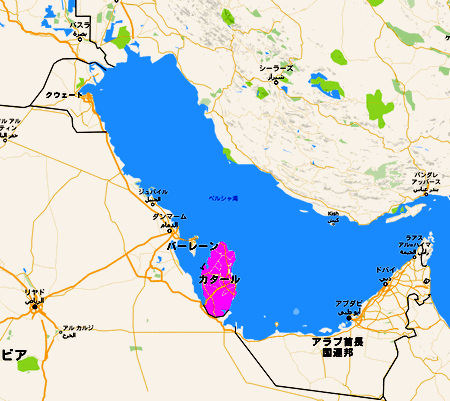 RT2017/6/5
'Terrorism, meddling in affairs': Bahrain, Saudi Arabia & Egypt cut diplomatic ties with Qatar
Key Arab League nations, including Saudi Arabia, Egypt and the UAE, have severed diplomatic ties with Qatar after Bahrain said it was cutting all ties and contacts with Doha. Qatar is accused of backing terrorist groups and meddling in other countries' affairs.
Bahrain announced early Monday that it is severing diplomatic relations with neighboring Qatar and cutting air and sea connections with Doha, accusing it of meddling in its internal affairs. Bahrain's state news agency said in a brief statement that Qatari citizens have 14 days to leave the country.
It accused Doha of supporting terrorism and meddling in Manama's internal affairs.
Citing "protection of national security," Riyadh then announced it was also severing ties with Doha and closing off all land, sea and air contacts, the Saudi state agency said in a statement, cited by Reuters.
The Saudi-led coalition has announced that Qatar's participation in its joint military operation in Yemen has been canceled. The coalition's statement accused Doha of supporting the Al-Qaeda and Islamic State terrorist groups.
Egypt was next to join the diplomatic war, with Cairo announcing it is cutting relations with Doha, according to Sputnik news agency.
Egypt has closed all its seaports and airspace to Qatari vessels and planes, the country's Foreign Ministry said in a statement.
"The Government of the Arab Republic of Egypt has decided to sever diplomatic relations with Qatar because of the continued hostility of the Qatari authorities towards Egypt," the Cairo statement read, also accusing Doha of supporting terrorist organizations, including the Muslim Brotherhood.
The United Arab Emirates (UAE) has followed suit, citing "support, funding and embrace of terrorist, extremist and sectarian organizations" as the reason for cutting ties with Qatar.
The UAE's state news agency said in a statement that Qatar is "undermining regional stability," Reuters reports.
The Emirates has similarly given Qatar's diplomats just 48 hours to leave its territory.
Alarmed viewers of the Qatari TV network Al Jazeera wondered why it was not covering the diplomatic crisis, instead tweeting pieces such as a video about hijab cosplay in Malaysia.
Al Jazeera finally broke the news at around 03:35 GMT, citing a "dispute over a Qatar news agency hack" as grounds for the crisis.
The hacking and "fake news" scandal broke out on May 23, when Qatar News Agency's website and social media accounts were apparently hacked, spreading what Doha calls false statements citing Qatari emir Sheikh Tamim bin Hamad Al Thani. Those included him allegedly slamming the recent tensions with Iran, calling Hamas and Hezbollah "resistance movements," as well as doubting whether US President Donald Trump will stay in power for long.
The agency's compromised Twitter account also cited the Qatari foreign minister as saying the island kingdom was severing relations with some of its neighbors.
While Doha vehemently denied the validity of those claims, UAE-based broadcasters Al Arabiya and Sky News Arabia picked up the stories, giving them extensive coverage and infuriating Qatari officials.
But the hacking scandal rapidly escalated, with Egypt, Saudi Arabia and Bahrain banning all Qatari-funded news agencies, including Al Jazeera, for what MENA agency called "having content that supports terrorism and extremism, as well [as] publishing lies."
In the latest cyberwar development before the all-out diplomatic crisis, the Bahraini foreign minister's Twitter account was allegedly seized on Saturday by hackers, who tweeting hostile and insulting clips about Iran. It took more than six hours for Bahrain to regain control of the account, judging by the reports on the Foreign Ministry's Twitter page.
Saudi Arabia, Egypt and the UAE top the 22-state Arab League in terms of gross domestic product (GDP), with Qatar currently ranking 4th.
ロイター2017/6/5
[ドバイ 5日 ロイター] - カタールは5日、サウジアラビアを含む4カ国がカタールとの外交関係を断ち切ったことについて、遺憾の意を表明した。カタールを拠点とする衛星テレビ局アルジャジーラが伝えた。
アルジャジーラによると、カタール外務省は断交は「不当で、事実無根の主張や疑いに基づいている」と指摘した。また、断交の決定は「国民や居住者の通常の生活に影響を及ぼさない」とした。
サウジ、エジプト、アラブ首長国連邦(UAE)、バーレーンは5日、カタールがテロリズムを支援しているとして国交を断絶した。
FARSNEWS2017/6/5
Senior Analyst: Saudi Arabia, Allies May Take Military Action Against Qatar as Next Move
TEHRAN (FNA)- Abdel Bari Atwan, the editor-in-chief of Rai al-Youm newspaper, underlined that cutting diplomatic relations with Doha by four Arab states is a prelude launching military strikes against the Qatari government.
"The next step may be military intervention for regime change in Qatar as this is a war that has been planned several months ago," the senior Arab analyst wrote on his Twitter page on Monday.
In a relevant development on Tuesday, Secretary of Iran's Expediency Council (EC) Mohsen Rezayee called on Saudi Arabia to avoid meddling in Qatar's internal affairs, warning Riyadh that the regional nations' tolerance has a limit and they might burst with anger.
"The Al-Saud's interference in the internal affairs of Qatar as an independent country Rezayee wrote on his Instagram page.
Noting that Saudi Arabia has military intervened in Yemen and Bahrain on the pretext of their relations with Iran and interferes in Qatar's internal affairs due to its independent policies,
Rezayee warned that al-Saud's illegal measures will put the region on the brink of insecurity, and said that
Last Thursday, an article appeared on Qatar's state-run news agency, quoting the emir as criticizing the United States, Saudi Arabia, and its client states for their attempt to stir up tensions with "Islamic power" Iran.
A post also appeared on the agency's Twitter page, quoting the Qatari foreign minister as saying that his country was withdrawing its ambassadors from Kuwait, Bahrain, Egypt, Saudi Arabia, and the UAE amid tensions.
The Qatari government soon said that the state agency had been hacked and that the remarks attributed to the emir and the foreign minister had never been made.
The official denial, which was offered several more times, too, nevertheless failed to stop a widening rift from emerging between the Arab countries of the Persian Gulf. Saudi media viciously attacked Qatar, accusing it of having "betrayed" the other Arab countries particularly at a time when they had attempted to stage a show of "unity" against Iran in a much-publicized and extravagant series of events in Riyadh.
Kuwait, however, did not joined the blackout. Kuwaiti Deputy Foreign Minister Khaled Jarallah called the ban "regrettable" and expressed Kuwait's readiness to converge its views with those of Qatar.
Some analysts say Riyadh fears that the Arab Persian Gulf countries it has long sought to co opt may be gravitating toward Iran, which Saudi Arabia perceives as a regional adversary.