サウジによるイエメン侵略戦争で中性子爆弾が使用されたとの説は1年以上前からネットで流れていました。このFARSNEWSの2016/10/7の記事では、米国のコメンテーター Mike Harris氏がイスラエルとサウジの関係、イエメンにおけるサウジの中性子爆弾使用について、明快に語っています。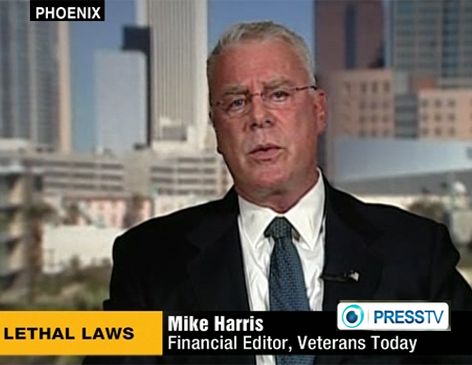 中性子爆弾の炸裂をとらえた画像とされるものです。画像クリックで動画に飛びます。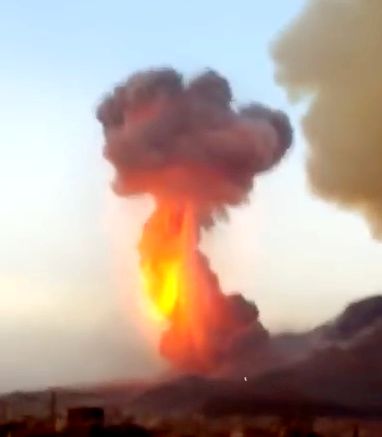 FARSNEWS2016/10/7
TEHRAN (FNA)- American commentator Mike Harris said Israel is using Saudi Arabia as its surrogate to subjugate the Yemeni people as part of a larger plan to dominate the whole Middle East, warning that .
イスラエルは、中東全体を支配するための拡大計画の一部としてイエメンの人々を隷属させるための代人としてサウジを使っている。サウジがイエメン市民に核爆弾を使っているいることは証拠が示している。
注:ここで a larger plan とありますが、イスラエルは領土を拡大する計画を有しているとされています。次は一例です。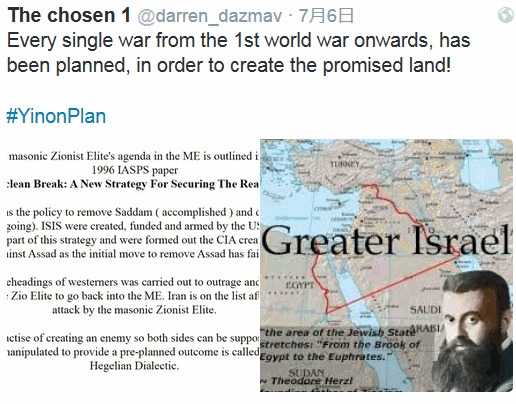 大イスラエル構想は、エジプトからサウジ、シリア、イラク、トルコの一部までも含みます。中東の不安定の大きな要因です。
" Yemen on the other hand, is one of the poorest countries in the Persian Gulf region and they haven't harmed anyone ever. So, I look at this as an act of Saudi aggression against Yemen," American corporate consultant Mike Harris said in an interview with Fars News Agency.
"I don't understand why It is a surprise to me; and it really gets me scratching my head," he added.
Noting that Saudi's invasion of Yemen runs counter to the spirit of international law, Mike Harris said .
"You [can] look at the other use of nuclear weapons by the Saudis against civilian populations. " he asserted. in the appropriate legal venues."
The tactical neutron bomb (戦術的中性子爆弾)is a nuclear weapon that maximizes damage to people but minimizes damage to buildings and equipment. It is also called an enhanced radiation warhead.
Mike Harris maintained that Saudis are waging this war of aggression against Yemen at Washington and Tel Aviv's behest, adding that the Saudi royal family has enormous influence within the US government, Congress and media, entertainment industry.
サウジは、ワシントンとテルアビブの命によりイエメン侵略戦争を遂行している。
"They have tremendous influence within the US government, within the US Congress and within Hollywood. " he told FNA.
"Israel has an aggressive expansionist policy towards the rest of the Middle East; they wish to take it over to subjugate the people," Harris said. "And they're using the Saudis as their surrogates and in this case to invade, to subjugate and terrorize the people of Yemen."
On the humanitarian situation in Yemen, Harris said
"Yemeni people have the right of sovereignty and the right of self-determination and it seems as if the Israelis with their Saudi surrogates are trying to stop that," he concluded.
Saudi Arabia has been striking Yemen since March, 2015 to restore power to fugitive president Mansour Hadi, a close ally of Riyadh. , including hundreds of women and children.
According to several reports, the Saudi-led air campaign against Yemen has driven the impoverished country towards humanitarian disaster.
Despite Riyadh's claims that it is bombing the positions of the Ansarullah fighters, .