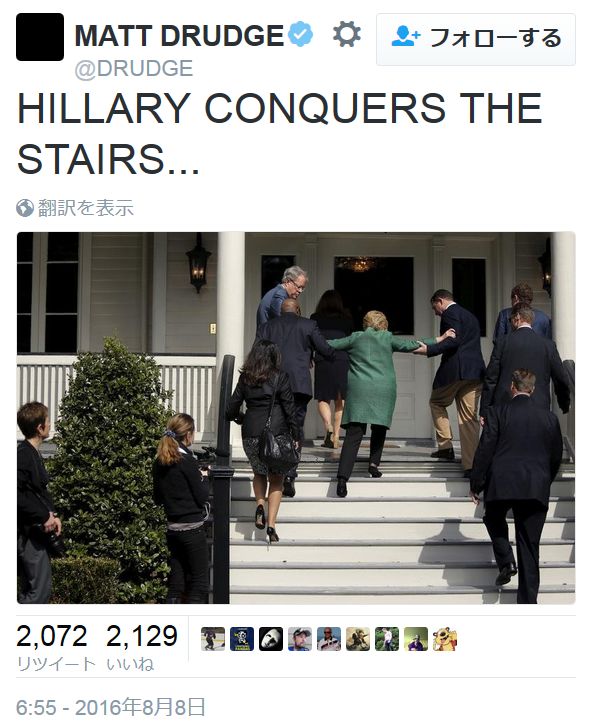 RT2016/8/8
Photo of Clinton having trouble with stairs fuels rumors of bad health
The worrying photographs, circulated by major agencies, show Clinton, 68, being led up the stairs of what looks like a private home.
The photos re-emerged on social media on Sunday, but were taken during the South Carolina leg of the campaign in February. , citing law enforcement sources with inside connections to the campaign.
CNN's Brian Stelter, however, is denying the re-appearing photo has anything to do with Clinton's health, saying she just "slipped."
Although she is enjoying a lead over Republican candidate Donald Trump, panic over his attitudes and opinions is being offset by some Clinton episodes – particularly when she is caught lying while her staff scrambles to contain the damage.
Recently, during a very extensive Q&A session, she was quoted as saying that FBI Director James Comey branded her account of the email scandal involving her use of a private server as "truthful" – something that Comey never did. Instead, he called her conduct "extremely careless."
The former first lady is known for going more than 200 days without holding a formal press conference.
The latest Reuters/Getty photos of Hillary's near-tumble are now fueling the trend #HillarysHealth on Twitter, which has provoked comments ranging from light-hearted to utterly inappropriate.
足元が危うい感じがします。パーキンソン病だと診断した人も。衰弱性疾患だとなると、これは大変です。
RT/2016/8/8
'Pharma bro' Shkreli 'diagnoses' Hillary Clinton with Parkinson's disease
The man America loves to hate has trolled one of the presidential candidates with their own likeability problems. Martin Shkreli tweeted Monday that Democratic nominee Hillary Clinton has Parkinson's disease, despite his lack of medical training.
The 'Pharma bro', who endorsed billionaire Republican nominee Donald Trump, said he had viewed a number of Clinton videos and claimed he was diagnosing her with the debilitating disease.
After listing symptoms caused by the disease including "gait phenotype" and "dyskinesia"...歩行表現型 ジスキネシア
Later in an attempt to justify his views, he told Winged Politics: "I'm familiar with her history of having a concussion or an embolism, but I think that it doesn't work - or even a stroke would not explain this symptomatology."
While he admitted he's not a neurologist or a physician, he insisted "they don't call me 'Pharma bro' for nothing."
Despite being two years younger than her main rival Donald Trump, Clinton has been the subject of "ageist" attacks on her health and abilities since the start of the campaign, most recently for her frequent throat clearing during her big convention speech last month - and the re-posting of a months-old photo showing her getting help to climb a few stairs.