Ukraine claims Russia hit city center
A deadly explosion in Vinnitsa was reported near a military building
An alleged Russian missile attack hit the center of the Ukrainian city of Vinnitsa on Thursday, according to local authorities. The latest casualty report by the emergency services claimed that 20 people were killed, including three children, while 52 others were injured.
The incident happened on Thursday morning as city police said a total of three projectiles hit the downtown. Ukrainian air defenses shot down four other missiles over the city, according to Sergey Borzov, the head of the Vinnitsa Region administration.
Multiple images purporting to show the aftermath of the incident show charred, heavily damaged vehicles, buildings with shattered windows, and other evidence of a powerful blast. There were also small fires in the area, photos and videos show.
Ukrainian media claimed that the weapons hit an office building. Reports said they also damaged nearby residential buildings and the building of the House of Military Officers, an institution operated by the Ukrainian Defense Ministry, which normally serves as a concert hall.
『民間インフラへの攻撃』としてごまかそうとするウクロパガンダの試みは最初から失敗しており、それは現場の写真やビデオ資料によって確認されている。軍人のみ、画像ではっきりと確認することができます。 pic.twitter.com/GFarTAw7ih

— WE_ARE_THE_RONIN (@Allisvanity2012) July 14, 2022
ミサイル攻撃23人死亡 ウクライナ西部
ウクライナ西部ビンニツァ州の州都ビンニツァ中心部で14日、ロシア軍によるミサイル攻撃があり、ゼレンスキー大統領はビデオ声明で、死者が10歳未満の子ども3人を含む23人になったと明らかにした。https://t.co/3s1YiYTQmZ

— 共同通信公式 (@kyodo_official) July 15, 2022
Russia comments on deadly strike on Ukrainian city
Moscow said it targeted a meeting of Kiev's military commanders with foreign arms suppliers in central Vinnitsa
The Russian military has confirmed launching a missile attack at a target in the city of Vinnitsa in Ukraine. It denied claims that it was a deliberate strike on civilians, stating that it hit Ukrainian military commanders as they negotiated with foreign arms suppliers.
Russia attacked the House of Military Officers in Vinnitsa with sea-launched Kalibr cruise missiles, the Defense Ministry said on Friday during a daily briefing. The statement claimed that the attack happened when a group of Ukrainian senior military officers were holding a meeting with foreign arms suppliers. The discussion was about the "transfer of more warplanes and weapons systems as well as the repair of the Ukrainian military air fleet," the ministry said. The Russian strike killed all participants at the gathering.
According to Ukrainian officials, the Russian strike killed 23 civilians and injured scores of others, 80 of whom had to be hospitalized for treatment. President Volodymyr Zelensky claimed that Moscow attacked the city center deliberately and accused it of terrorism.
The head of Vinnitsa Region, Sergey Borzov, reported that Ukrainian air defenses engaged Russian missiles over the city and claimed they intercepted four of them.
Ukraine claims Russia hit city center
Read more
Ukraine claims Russia hit city center
Kiev has accused Russia of waging a genocidal war, claiming that Russian forces have a policy of killing Ukrainians. Moscow has rejected such allegations, saying its forces only attack legitimate military targets.
モスクワによると、キエフの軍司令官と外国の武器供給業者との会合(ヴィニツァ中心部)を標的にしたという。
ロシア軍は、ウクライナのヴィニツァ市の標的にミサイル攻撃を行ったことを確認した。民間人への意図的な攻撃との見方を否定し、外国の武器供給業者と交渉していたウクライナ軍司令官を攻撃したと述べた。
ロシアは、海上発射のカリブ巡航ミサイルでヴィニツァの軍幹部の家を攻撃したと、国防省が金曜日に行った日々のブリーフィングで発表した。攻撃は、ウクライナの軍幹部のグループが外国の武器供給業者と会議を行っているときに起こったと声明は主張した。話し合いは「軍用機や兵器システムの譲渡、ウクライナ軍航空隊の修理」についてであったという。ロシアの攻撃は、会合の参加者全員を死亡させた。
ウクライナ当局によると、ロシアの攻撃で民間人23人が死亡、数十人が負傷し、そのうち80人が治療のために入院した。ヴォロディミル・ゼレンスキー大統領は、モスクワが意図的に市街地を攻撃したと主張し、テロリズムと非難した。
ヴィニツァ州のセルゲイ・ボルゾフ州知事は、ウクライナ防空当局が同市上空でロシアのミサイルと交戦したと報告し、4発を迎撃したと主張した。
キエフは、ロシア軍がウクライナ人を殺害する政策を持っていると主張し、大量虐殺戦争を行っているとしてロシアを非難しています。モスクワは、自国軍は合法的な軍事目標のみを攻撃しているとし、そのような疑惑を拒否しています。
www.DeepL.com/Translator(無料版)で翻訳しました。
次の画像2枚は、Google Mapから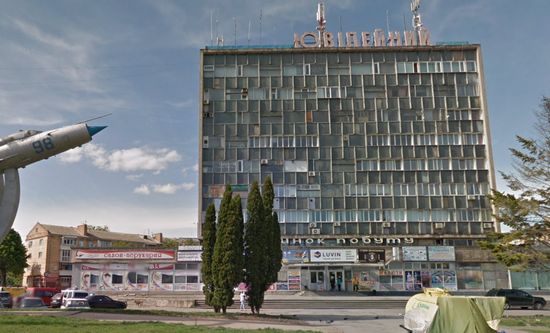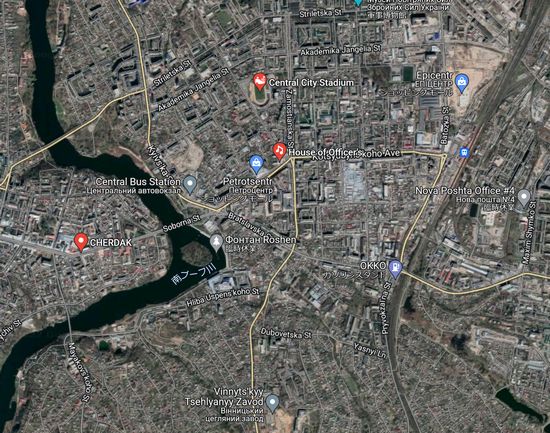 ツイッターから
この攻撃については、ウクライナ側が民間人の犠牲が多かったと述べており、高層ビルのある側の爆撃はウクライナ軍によってなされたとの疑いが強まっています。
Google Mapから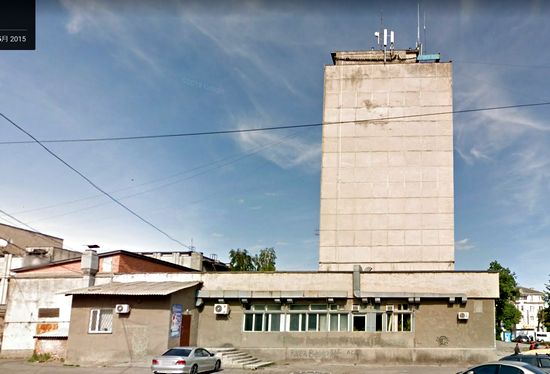 ロシア軍の爆撃は、会議が行われていた民族主義者のための仮設宿泊所「将校の家」に対してのみ行われ、隣のビルと商店などの入った建物の破壊はウクライナ軍によるという見方です。左が将校の家。

ウクライナ側がロシアの巡航ミサイル攻撃に反撃し、何発かを撃墜したと言っていますが、将校の家の爆撃と商店街の爆撃には時間差があるようです。
会合の参加者、場所、時刻をロシア軍がどうやって把握したのか。ウクライナ側に情報提供者がいると疑うのは無理からぬことです。
Ukrainian media has said that Ukrainian forces arrested dozens of people who were potentially giving coordinates to the Russian military in Vinnytsia. pic.twitter.com/TaoAtCaw5M

— AZ (@AZmilitary1) July 14, 2022
US tells citizens to leave Ukraine
The diplomatic mission has advised US citizens, who are still in the country, to avoid "large gatherings and organized events"
米国の武器メーカーの関係者がかなり入っていたということのようです。まさか空爆されるとは思っていなかった。米国が米国人に退去勧告を出していますが、この攻撃が動機になっているとされています。
次の方のツイートが現地映像をもとに詳しく検証しています。
Tragedy in Vinnitsa,
the history of a res. building near Artem plant in Kiev (it was hit by air defence rocket, twice, in April & in June) repeats itself. The only theory that makes sense - hit the Officers House while air defence rocket hit the Yubileiny building pic.twitter.com/iFEOWMXib4

— Elena Evdokimova (@elenaevdokimov7) July 14, 2022
https://twitter.com/elenaevdokimov7/status/1547696861364260865
それにしてもロシアを非難する材料とするために市民を多数殺すような爆撃をする。クラマトルスク駅へのトーチカミサイル攻撃もそうです。
クラマトルスク駅爆破事件はウクライナ軍による自国民殺害
こういう政権は一日も早く倒す必要があります。
なんでこれが起こるかというと、アメリカはソ連を崩壊させたアフガニスタンの再来をウクライナでやりたい。だから、停戦しないのだ。

一方ロシアは、今までできるけどやってなかった攻撃を始めた。

「紛争」は別の局面に入り、ロシアの定義で「戦争」に移行する。 https://t.co/s75uBLciL4

— 自分 (@eA07i0okyfQRshU) July 15, 2022
軍事専門家「250%確か。ハイマースをコントロールしているのは、米英の軍人。ウクライナ兵は彼らを防衛するだけ。撃っているのはアメリカ人。恐らく、イラクでもハイマースを使っていた米海兵隊だ」
米国人が、自国の民間衛星データやAWACSを使いヘルソンの民間人を攻撃!https://t.co/Czo06vFzTg pic.twitter.com/EWESFRDlV1

— mko  (@trappedsoldier) July 16, 2022
Senior Ukrainian officers killed in Vinnitsa strike – reports
Kiev claimed that last week's Russian attack targetted civilians
Three Ukrainian officers, including two colonels, were reportedly taken out in last week's Russian attack on the city of Vinnitsa in western Ukraine on July 14, according to local reports. Moscow says it targeted a building used for military purposes, a claim rejected by Kiev.
The Minsk Suvorov Military Academy in Belarus said on its website that a former cadet, Ukraine's Colonel Oleg Makarchuk, was killed in the Russian strike. According to the academy, Makarchuk previously served as the head of repairs and logistics in the Ukrainian Air Force.
In April, Makarchuk was presented with an award by President Vladimir Zelensky for "defending the national sovereignty and territorial integrity of Ukraine."
The death of another military officer, Konstantin Puzyrenko, was reported by local authorities in the city of Berdichev in Ukraine's western Zhitomir Region, and by news website Zhitomir Online.
A post on Facebook about the funeral of Ukrainian Air Force Colonel Dmitry Burdiko said he was also killed in Vinnitsa on July 14. According to reports, Burdiko's death was first announced by his son Konstantin in a now-deleted post on Instagram.
The Ukrainian government has not reported any military casualties resulting from the strike, but Vinnitsa Governor Sergey Borzov said on Tuesday that the death toll had risen to 25. Ukrainian media reported earlier that the victims included doctors from a nearby clinic and small children.
On July 14, Russian warships launched cruise missiles at a high-rise building called 'The House of Military Officers'. The Russian Defense Ministry claimed that senior commanders of the Ukrainian Air Forces were inside, conducting a meeting with foreign arms suppliers.
The Ukrainian Air Force insisted that the building was "de jure" owned by the military, but "de facto" served as a civilian concert venue and housed cafes and other businesses. Zelensky argued that the Russian strike was tantamount to "terrorism."
Both Ukraine and Russia have repeatedly accused each other of attacking civilian targets, while claiming only to have hit military sites.
Russia sent troops into Ukraine on February 24, citing Kiev's failure to implement the Minsk agreements, designed to give the regions of Donetsk and Lugansk special status within the Ukrainian state. The protocols, brokered by Germany and France, were first signed in 2014. Former Ukrainian President Pyotyr Poroshenko has since admitted that Kiev's main goal was to use the ceasefire to buy time and "create powerful armed forces."
In February 2022, the Kremlin recognized the Donbass republics as independent states and demanded that Ukraine officially declare itself a neutral country that will never join any Western military bloc. Kiev insists the Russian offensive was completely unprovoked.
現地報道によると、先週のロシアによるウクライナ西部ヴィニツァ市への攻撃で、7月14日に2人の大佐を含む3人のウクライナ人将校が死亡したと報じられています。モスクワは軍事目的の建物を狙ったとしているが、キエフ側はこれを否定している。
ベラルーシのミンスク・スボロフ陸軍士官学校はウェブサイトで、元生徒のウクライナ人オレグ・マカルチュク大佐がロシアの攻撃で死亡したと発表した。同学院によると、マカルチュク氏は以前、ウクライナ空軍で修理・兵站の責任者を務めていた。
マカルチョクは4月にウラジーミル・ゼレンスキー大統領から "ウクライナの国家主権と領土保全を守った "という理由で賞を授与されている。
別の軍人、コンスタンチン・プジレンコの死は、ウクライナ西部ジトーミル州のベルディチェフ市の地元当局と、ニュースサイト「ジトーミル・オンライン」が報じた。
ウクライナ空軍のドミトリー・ブルディコ大佐の葬儀に関するFacebookへの投稿によると、彼も7月14日にヴィニツァで殺害されたとのことです。報道によると、ブルディコの死は、息子のコンスタンチンがInstagramの今は削除されている投稿で最初に発表した。
ウクライナ政府はこの攻撃による軍事的犠牲者を報告していないが、ヴィニツァのセルゲイ・ボルゾフ知事は24日、死者数が25人に上ったと述べた。ウクライナのメディアは先に、犠牲者の中には近くの診療所の医師や小さな子供も含まれていると報じている。
7月14日、ロシア軍艦は「軍幹部の家」と呼ばれる高層ビルに巡航ミサイルを発射した。ロシア国防省は、ウクライナ空軍の高官が中にいて、外国の武器供給業者と会議を行っていたと主張した。
ウクライナ空軍は、この建物は「実質的には」軍の所有物だが、「事実上は」民間のコンサート会場やカフェなどが入っていると主張している。ゼレンスキー氏は、ロシアの攻撃は "テロ "に等しいと主張した。
ウクライナとロシアは、軍事施設を攻撃したと主張する一方で、民間人を攻撃したと繰り返し非難している。
ロシアは、ドネツクとルガンスクの両地域にウクライナ国家としての特別な地位を与えることを目的としたミンスク協定をキエフが履行しないとして、2月24日にウクライナに軍を派遣した。ドイツとフランスが仲介したこの議定書は、2014年に初めて署名された。ウクライナのピョートル・ポロシェンコ前大統領はその後、キエフの主な目的は、停戦を利用して時間を稼ぎ、"強力な武装勢力を生み出すこと "だったと認めている。
2022年2月、クレムリンはドンバス共和国を独立国家として認め、ウクライナが西側軍事ブロックに決して参加しない中立国であることを公式に宣言するよう要求した。キエフは、ロシアの攻撃は完全に無抵抗であると主張している。