暗殺未遂事件
RT2019/11/6
Pro-Beijing Hong Kong lawmaker STABBED in apparent assassination attempt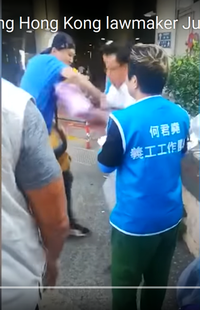 A Hong Kong lawmaker aligned with the territory's pro-Beijing camp was attacked by a knife-wielding man in what appeared to be an attempt on his life, captured in shocking footage shared online.
Currently running for a District Council position in an upcoming election, legislator Junius Ho was suddenly attacked on Wednesday morning while campaigning in the town of Tuen Mun. The lawmaker was brought to hospital with minor injuries, while the assailant was quickly restrained and taken into custody.
In a video of the attack, a man is seen casually chatting with Ho, reportedly commending his hard work and asking for a selfie as he reached into a bag. In the next instant, the man lunges forward with a knife, striking Ho in the chest and prompting a scramble for the weapon as both fall to the ground.
単に駅の施設を破壊しまくる暴徒
https://twitter.com/i/status/1170674007240167424
Reality of Hong Kong
TEHRAN (FNA)- The violence in Hong Kong attracted widespread media attention. However, some of the reports are extremely biased, and some are even malicious. [VIDEO]
https://media.farsnews.com/media/Uploaded/Files/Video/1398/07/21/13980721000842.mp4
WATCH Hong Kong protesters beat & set fire to 'off-duty cop'
A camera has captured the dramatic moment when a man – reportedly an off-duty police officer – was dragged away from his car and firebombed by rioters amid violent clashes in Hong Kong.
Footage shared by Xinhua news agency shows masked mobsters surrounding the man's car in a Hong Kong street. They then hurl a petrol bomb at the victim, who was wearing a white T-shirt, before he runs away to escape the blaze. He dropped a sidearm on the ground.
Further into the clip, he is seen making a phone call, at which point a second petrol bomb explodes under his legs.
https://twitter.com/i/status/1180345946238078976
The assault occurred amid anti-Beijing protests that continue to rage in Hong Kong, with violent demonstrators targeting Chinese banks, setting streets ablaze, and vandalizing underground stations.
Hong Kong Chief Executive Carrie Lam accused the violent protesters of creating "a very dark night" for the city.
"Everyone is very worried and concerned, or even scared," she said in a recorded video statement released on Saturday.
Earlier, the city suspended all underground and train services as the authorities braced for another wave of violence on Saturday on the back of a failed new ban on face masks.
・・・・・・・
エリック C@x__ok氏のツイートから転載。管理人はエリック C@x__ok氏のフォローをやめました。ファロー推奨を取り消します。こんなあからさまな陰謀に簡単に乗せられてしまうとは思っていませんでした。
エリック Cさんがリツイート
周庭 Agnes Chow Ting@chowtingagnes氏の2019/10/5のツイート
覆面禁止法が強行に施行された1日目の今日、香港のセントラルでマスクをつけた男女が警察に取り押さえられました。彼らは警察に警棒で足を殴られ、マスクを外せと言われました。所持品も検査されました。
※ エリック C@x__ok氏の2019/10/5のツイート
日本の、安倍政権によって強行採決でつくられてしまった緊急事態条項 も、この様に危険。
引用ツイート
周庭 Agnes Chow Ting@chowtingagnes ・ 10月4日
緊急法を利用し、覆面禁止法を成立させたことは、香港の終わりの始まりだと思います。
香港政府は今日マスクを禁止できれば、明日は夜間外出を禁止でき、明後日はインターネットも禁止できます。とにかく、政府の権力は無限大となり、市民の権利と自由が全部奪われます。
※ エリック C@x__ok氏の2019/10/4のツイート
【重要】マスク禁止まであと20分切りました。皆で香港市民を見守るべき。
大袈裟太郎 香港中継。
引用ツイート
エリック C@x__ok ・ 23h
https://twitcasting.tv/oogesatarou
エリック Cさんがリツイート
※ 大袈裟太郎@oogesatarou
police has commig!!!
プロテスターを囲い込む警察隊。香港を光州にしないために、天安門にしないために、おれたちは今、ここにいる。
あと1時間でマスク禁止令。
#hongkong #HongKongProtests #antielab #standwithhongkong #香港光復時代革命 #香港デモ #反幪面法
・・・・・・
周庭とかいう女しれっとウソを書いていますね。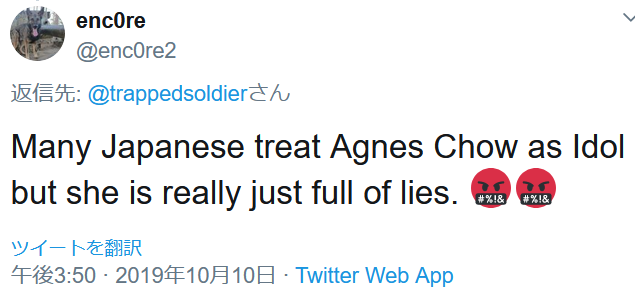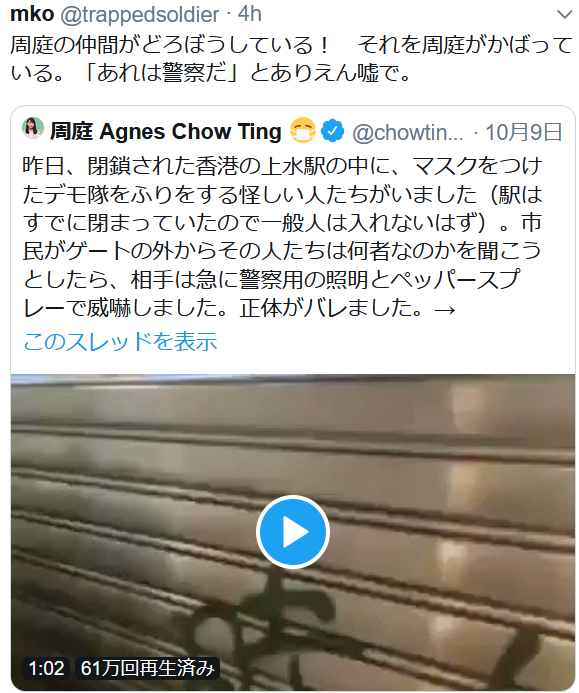 ※ PM@P10514505氏の2019/10/のツイート
返信先: @enc0re2 さん、 @trappedsoldierさん
这谷歌翻译真是够了,
我周星驰招你惹你了(My Zhou Xingchi invites you to mess with you.)
エリック C@x__ok氏は、この女にそそのかされて? 一緒になって騒いでいるが大丈夫か。頭おかしくなっていないか?
誰か指摘してやったらよいかも。
※ mko@trappedsoldier氏の2019/10/11のツイート
香港暴徒が「ハイル・ヒットラー!」を始めた? ウクライナのネオナチにならえば、こうなるのは当然か。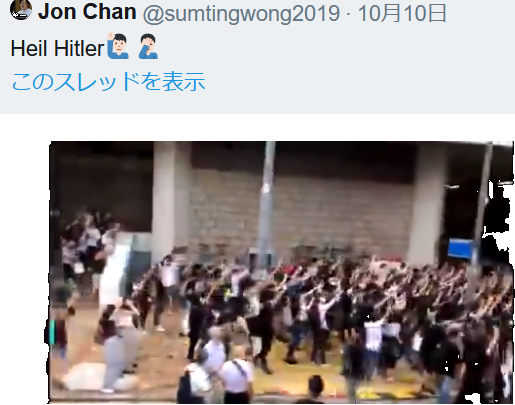 リベラルどころか本質はファッショ。どうすんだ。
共産党のほうが非暴力的だぞ。
※ mko@trappedsoldier氏の2019/10/12のツイート
香港で何が起こっているかを取材報道したオーストラリア7ニュースのロバート・オベイディアは死の脅迫を受けた。暴徒に殴られた女優セリーヌ・マにインタビューし、暴徒から庇ったことが理由?
龍作も大袈裟も報道特集・日下部も、脅迫は受けない。
※ mko@trappedsoldier氏の2019/10/12のツイート
「タクシーを止められ車のミラーが破壊され、暴徒が乗り込んできてハンドルを握った。そして群衆の中に突っ込んだ」―先週、暴徒に襲われたタクシードライバー、ヘンリー・チェンが病院で家族に語った。暴徒はチェンが車のリース代金として用意していた現金30万円も窃盗した
※ mko@trappedsoldier氏の2019/10/18のツイート
ジミー・シャムは「襲撃事件」を選挙運動に利用するために下手な芝居を打った? しかし襲撃された当日に、もう選挙のちらしに事件のことが書いてある! ジミーの選挙事務所は、予知能力があるらしい…
https://twitter.com/HK2019Riot/status/1184856171863146497
※ LuLu@LuLu0122氏の2019/10/18のツイート
一般市民を何人も集団リンチしてる暴徒、誰か捕まりました?
「笑わせないでよ」はこっちの台詞。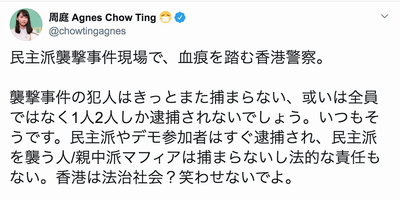 ※ mko@trappedsoldier氏の2019/10/18のツイート
「ヒットラーを知っている?」と暴徒に質問し、香港暴動の真実を伝えていた米独立ジャーナリスト、ジェイロン・ラインズのユーチューブアカウントが凍結された。香港の運動の真相を探ると検閲される! これが「民主と自由」?
※ 魔界連邦@kissurmother氏の2019/9/24のツイート
香港のデモ参加者とここ数日話しててデマ拡散が本当だという事を知ってしまった。
「もうやめるべきだと意見がまとまってる」
じゃなくて、最初からすべきではなかったよ。
信頼は一度失ってしまうと二度と取り戻せないんだよ。
#香港 #香港デモ #hongkong
#HongKongProtester
https://twitter.com/BambooThink/status/1175745949966028800
※ mko@trappedsoldier氏の2019/10/21のツイート
なぜ暴徒に襲撃されている市民や警察について伝えず、隠そうとする? 多くの市民が血まみれにされているのに。暴徒の武器は遠隔操作IEDまで出てきた。暴徒どころか、完全にテロリスト! 大量殺戮の犠牲者が出ても、まだ庇うつもり?
※ 大袈裟太郎@oogesatarou氏の午後2:26 ・ 2019年10月21日のツイート
例えば「香港のデモ隊は暴徒だ」という一部の言説を鵜呑みにするならば、僕らメディアへの警察からの攻撃はどう言い訳するのか?(ちなみに彼女は失明した)
壁に紙を貼っただけで腸が飛び出すほど刺された市民については?
衝突の無いデモの主催者が襲撃された件はどう説明するのか? #Shout4HK
ジャーナリストは事実を伝えるのが仕事、暴徒の言い立てを伝えるだけなのか、自分でどこまで確認したかが示されていない。大袈裟太郎氏が何者か知らなかった。
台風を機にツイッターの話題を切り替えた方もおられるようです。そのほうが良い。
6月ころから警告していたのに、年配男性でも頭に血が上るともうブレーキも何も効かないんですね。ネットウヨが弁護士の懲戒請求を集団で出すようなこともありうるわけだし、放射能の危険性を説いても聞く耳持たない人はもうどうしようもないんですね。世の中そう簡単に善だ、悪だと割り切れないんですよ。年配者までころっと。日本人は海外のニュースに疎いから簡単に騙される。
2019年10月08日
イラクで仕掛けた騒乱は成功するか 香港で バクダッドで米国の戦略は同じ
2019年09月29日
香港の人は植民地支配に戻りたいのかな ISISのテロリストとそっくり
2019年09月28日
日本人は若い女に騙されやすい
2019年09月27日
台北で香港連帯のデモ? 当局も参加か? 台湾渡航注意
2019年09月12日
これが丸腰の抗議者だって!! 冗談もほどほどにしてくれ
2019年09月09日
香港警察が殆ど丸腰の市民をも襲撃し、無差別に暴行というのは本当か
2019年08月30日
香港の暴動は米国が世界でやっている悪行を認識する良いチャンスです 何が真実かこの際、見つめて理解しましょう
2019年08月10日
Hong Kong activist goes on defensive after being photographed with US consulate official
2019年06月21日
China warns 'black hand' of Western meddlers to stay out of Hong Kong