AMN2018/9/20
Breaking: Russian FM says US proposed refugees leave Rukban camp for SAA territory
BEIRUT, LEBANON (2:15 P.M.) -The U.S. proposed refugees at the Rukban Camp in southern Homs leave the area for Syrian government-held territories, the Russian Foreign Ministry said on Thursday afternoon.
The Russian Foreign Ministry did not provide anymore details regarding this alleged proposition by the U.S. military.
The U.S. and Russian governments have been at odds over the fate of the Rukban Refugee Camp, with both sides trading accusations over the suffering of the people there.
Due to the U.S.' control over the Tanf Zone in southern Homs, the Damascus and Moscow have blamed Washington for the plight of the refugees, adding that their occupation of this vast desert area has done more harm than good.
In turn, the U.S. has accused the Syrian and Russian governments of purposely prohibiting aid from reaching the Rukban Camp.
With the recent departure of one of the largest U.S.-backed rebel groups in the Tanf Zone, it appears that the U.S. is working to find a solution to issue with the Rukban Camp and their eventual departure from the area.
AMN2018/8/31
Syria plans first transition of refugees from Rukban Camp
The Syrian government is planning the first organized transition of Syrian refugees from the Rukban refugee camp to their places of previous residence, representative for the Syrian Interior Ministry Hasan Maruf stated on Thursday. The camp is located in the US-controlled Al-Tanf area.
US hampering humanitarian aid deliveries to Syria's Rukban, al-Tanf and Raqqa
"An important issue for us is the presence of Syrian citizens at the Rukban camp. Currently, we are planning the first organized transition of our citizens to the places of pre-war residence," Maruf said during a joint session of interdepartmental coordination headquarters supervising the return of refugees to Syria.
※ Maurice Schleepen @MauriceSchleepe氏の2018/8/23のツイート
Maria,#Zakharova,called on the #US to fulfill its international legal obligations & withdraw its forces from #Syria,added #US forces in Al-Tanf & Al-Rukban camp are fully aware of the presence of #IS & Al-Nusra terrorists in the Camp & are using the displaced as Human Shields.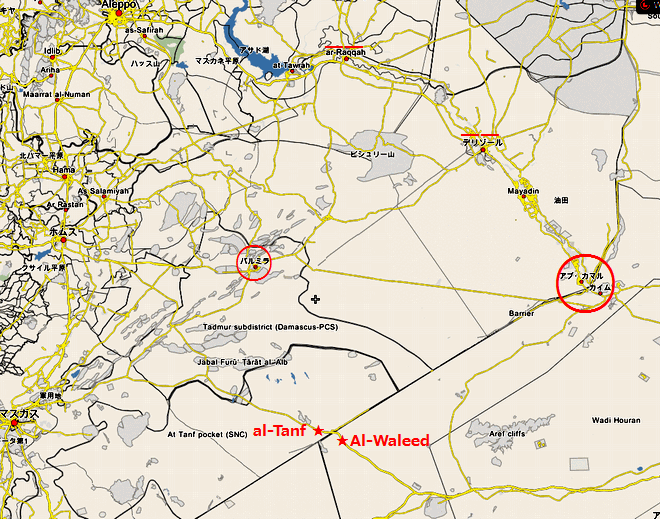 上の地図でAl-Tanfと書いてあるところの国境線沿い少し西です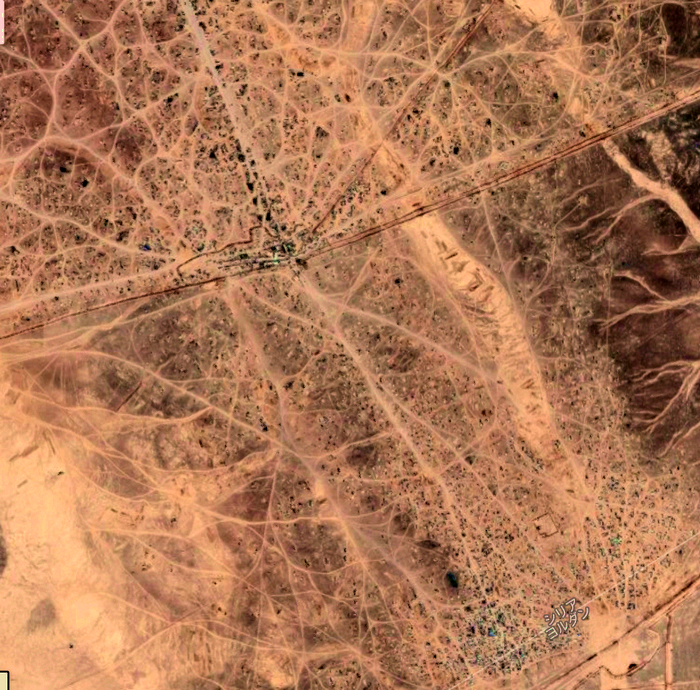 右下の部分を拡大しています。
遠望写真。まったくの砂漠です。水や食料の確保はどうしたのでしょう。このキャンプにはテロリストの家族も住んでいました。