RT2018/1/20
Turkish planes bomb Syrian Kurdish targets as Ankara-backed rebels enter Afrin
Turkish aircraft have bombed Kurdish targets in Syria's Afrin, according to the Turkish prime minister. Turkish-backed Syrian opposition fighters have also entered the Kurdish enclave, state media reported.
"TSK (Turkish Armed Forces) has started airborne operations," Prime Minister Binali Yildirim said at a party congress on Saturday, as quoted by Hurriyet. Yildirim said
"As of this moment our brave Armed Forces have started the aerial offensive to eliminate the PYD and PKK and [Islamic State] elements in Afrin," Yildirim said.
Turkey's General Staff has officially declared the start of the operation, dubbing it 'Operation Olive Branch,' according to a statement cited by Turkish newspaper Sol.
AP journalists at the Turkish border reported seeing at least five jets heading toward Afrin. Also sighted was a convoy of buses, believed to be carrying Syrian opposition fighters, and trucks mounted with machine guns.
The US-backed Syrian Democratic Forces (SDF) have meanwhile accused Turkey of using cross-border shelling as a false pretext to launch an offensive into Syria, according to Reuters. The SDF, an alliance of Kurdish and Arab militias fighting Islamic State (IS, formerly ISIS), said it will have no choice but to defend itself if attacked. The alliance controls areas in Syria's east and north.
Russia's Foreign Ministry said Moscow is closely following the situation, citing concerns over recent developments in the area. The ministry's statement called on all sides in the conflict to exercise restraint.
It comes after Turkish President Recep Tayyip Erdogan said earlier on Saturday that Ankara had "de facto" begun its operation against Kurdish forces in Afrin. He said the operation would be "followed by Manbij," referring to the Kurdish-controlled town in northern Syria.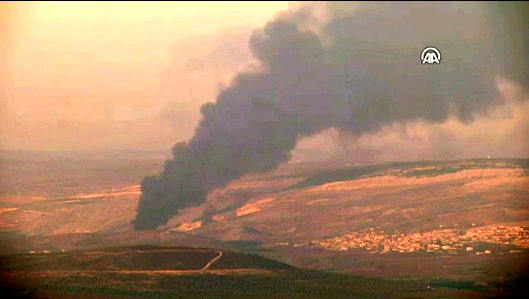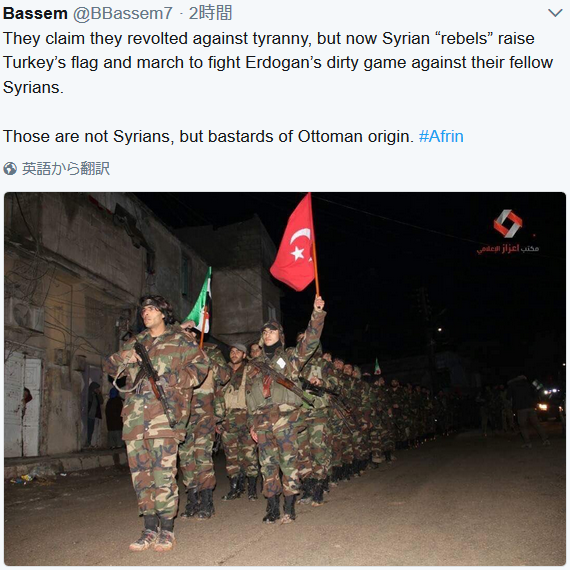 RT2018/1/20
US trying to create alternative govt on Syrian land – Lavrov on Afrin crisis
The US is working to create alternative government systems on Syrian territory which goes against its promises to respect the country's territorial integrity, Russia's Foreign Minister Sergey Lavrov has said.
Responding to a question posed by RT's Caleb Maupin at Friday's briefing at UN Headquarters in New York, Lavrov commented on America's role in the crisis in northern Syria, which escalated into a new Turkish-Kurdish conflict after news of Washington's plans to create a "border force" comprising of Kurds. Despite the Americans backtracking on its statement, and saying they were misunderstood, Ankara, which considers the Kurdish-dominated YPG force terrorists, said it was launching a military operation against the Syrian Kurdish enclave. Lavrov said the developments were only a part of the pattern of US policy in Syria.
"It's a fact that US forces are seriously involved in creating alternative government bodies on vast part of the Syrian territory. And this, of course, absolutely contradicts their own obligations, which they committed to on numerous occasions, including at the UN Security Council, on maintaining the sovereignty and the territorial integrity of Syria," Lavrov said.
Washington's inconsistency on Syria is also "quite characteristic of modern US diplomacy, including the reasons for the American presence there, and the reasons for the actions of the coalition, which they command," Lavrov added. Russia is "concerned" by the US' actions in the country, he said, adding, that he had discussed the situation with the US Secretary of State on numerous occasions.
"Rex Tillerson told me many times that the only reason for their presence there [in Syria] is defeating Islamic State (IS, formerly ISIS/ISL). Now they have some much more long-standing plans," Lavrov said. "We will have to take this into account and look for solutions that won't allow the destruction of Syrian sovereignty."
A Turkish journalist asked Lavrov about media reports that Russian forces have been withdrawn from the Afrin area. "Those reports have been refuted," the diplomat replied.
Earlier Friday, The Syrian government made clear to Ankara that it considers Turkey's military presence on its territory as a violation of its sovereignty, and warned that it will shoot down Turkish jets in Syrian airspace.
The US currently has an estimated 2,000 troops on the ground in Syria, deployed in the country without consent from Damascus. The Americans were involved in the Kurdish operation to capture the city of Raqqa from Islamic State jihadists last year. However, despite the defeat of the Islamists, Washington said it has no intention of withdrawing its forces.