プーチンが2017/12/11、エジプトに向かう途中でシリアのフメイミム基地に寄りました。シリアのテロリストが知れば、もちろん地対空ミサイルで撃ち落としたいところです。そのため、エジプトに行く途中にして万一、プーチンのスケジュールが漏れた場合にもシリアに寄ることが漏れないようにしています。
プーチンは、年末の記者に対する長時間の会見でフメイミム基地訪問に触れ、パイロットに対する謝意を表明しました。着陸時に大統領専用機の下に、専用機よりも低い位置を飛んだと言っています。これは赤外線を感知して追尾するミサイルを専用機からそらすためです。
ハニートラップならぬヒートトラップ、赤外線の罠ということです。
RT2017/12/17
Su-30 pilot who covered Putin's plane in Syria: Jets were 'heat traps' for possible enemy missiles
One of the Su-30SM pilots who covered Vladimir Putin's plane on his recent trip to Syria opened up on the mission. The jets were "heat traps" ready to take possible enemy missiles upon themselves, he said.
"In this case, the task was to meet [the Russian President's plane] and escort it to the landing strip," a pilot named Yury told a Rossiya 1 correspondent at the Russian Khmeimim airbase in western Syria. "One of the tasks was to hereby cover it with ourselves, roughly saying," he added.
According to the ace, the Su-30SM jets were a sort of "heat traps" for missiles that could've been fired at Putin's plane. "The temperature of the exhaust gases of the (Su-30SM) plane is much higher" than of presidential Il-96-300PU, he said. "We were flying at maximum capacity because our planes have different speed and it was that we were protecting the presidential plane from both sides with ourselves," the pilot added.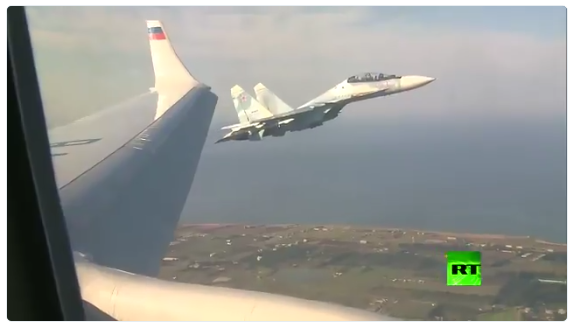 この画像を見たとき、なぜSU30が機首を不自然なまでに上に向けて飛んでいるのか、ガス噴出口を下に向けてミサイルを引き付けるためかと思いましたが、エンジンフルパワーで飛ぶとこのような体勢でないと速く飛びすぎるからなんですね。
進行方向の左側に広い海が見ますから地中海からシリア国内に入って着陸態勢に入ったところでしょう。地上がよく見えます。
上の地図のように経路を採れば上陸地点から飛行場中央まで直線距離で8.5km、時速200kmなら2分半だけ地上を飛びます。それでもこの警戒態勢。当然だと思います。